Airstrike kills dozens of migrants at detention center in Libya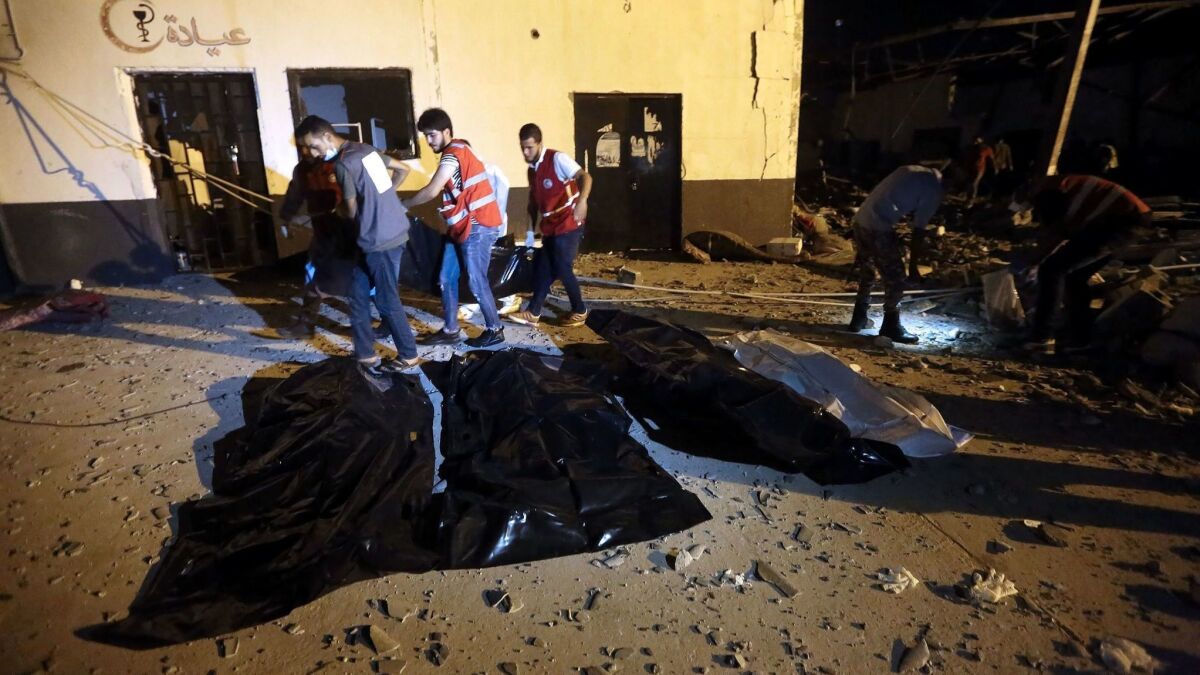 Reporting from Beirut —
An airstrike killed at least 44 migrants held at a detention center near the Libyan capital, Tripoli, late Tuesday, health officials and the United Nations said. The government blamed the attack on forces led by rogue warlord Gen. Khalifa Haftar.
The U.N. said more than 130 people were wounded, a significantly higher figure than the total — 69 — given earlier by Widad Bineiran, spokeswoman for the Health Ministry of the Tripoli-based Government of National Accord, in a phone interview Wednesday.
"There are many body parts strewn in the area, so we can't be sure how many people were killed," she said.
The U.N. mission in Libya said 44 people had been killed and 130 wounded.
"This bombing clearly rises to the level of a war crime, since it affected innocent people whose harsh circumstances had forced them to be in that shelter," Ghassan Salame, the U.N.'s envoy to Libya, said in a statement Wednesday.
"With this unjust, bloody murder, the futility of the ongoing war has reached … its most tragic consequences," he said.
Midnight in Tripoli brings kebab stands and picnics, but the enemy is at the gates »
The Office of the United Nations High Commissioner for Refugees called for an immediate investigation into who was responsible. A video posted by local news website Al Marsad depicted multiple blasts striking what was said to be part of the detention center.
Other images showed scenes of bedlam, with rescue personnel sifting through the rubble to find survivors.
"It was around 10:30 at night, and we were sitting in the room when we suddenly heard a loud blast. There was a mess everywhere," said Othman, a migrant who was in the detention center but in a different building than the one that was hit. He gave only his first name for reasons of privacy.
"We saw someone cut in half … the whole place was completely destroyed."
It wasn't the first time that the Tajoura detention center had faced danger in the latest brawl between armed factions loyal to either the U.N.-recognized government or Haftar's self-styled Libyan National Army. Since April, Haftar has waged an all-out offensive to take over Tripoli and consolidate his grip over the country.
In May, an airstrike hit a target less than 100 yards from the detention center. A number of armed groups are headquartered or have ammunition stores in the area.
Tuesday's attack comes after Haftar's forces said they would escalate their air campaign this week after "having expended all traditional means in our war to liberate" Tripoli.
Morgan Ortagus, a spokesman for the U.S. State Department, condemned the attack, calling it "abhorrent."
"We extend our deepest condolences to families of those killed and wish a speedy recovery to those injured," Ortagus said. "This tragic and needless loss of life, which impacted one of the most vulnerable populations, underscores the urgent need for all Libyan parties to de-escalate fighting in Tripoli and return to the political process, which is the only viable path to lasting peace and stability in Libya".
Still, the Libyan National Army's media center issued a statement Wednesday denying it had targeted the center and blaming militias working with the government for the attack.
Libya's two wars: One on the battlefield and one on Facebook »
Since the NATO-backed ouster of Libyan dictator Moammar Kadafi in 2011, Libya, which holds the largest oil reserves on the African continent, has become a conduit for migrants, many of them fleeing violence and instability at home. Militias on both sides of the Libyan conflict benefit from smuggling rings promising to spirit migrants across the war-torn nation to Europe.
But the migrants' entry into Libya plunges them into a chaotic landscape of rival militias and factions (including Islamic State) before they make the potentially deadly voyage on fragile boats to the shores of Italy, about 280 miles away.
European nations, especially Italy, have supported the Libyan coast guard with boats and funds to ensure migrants never make it past Libya's territorial waters.
Those who are caught are sent to makeshift detention centers such as the one in Tajoura, where they face inhumane conditions as well as bad treatment at the hands of Libyan overseers ill-equipped to deal with them, human rights groups say.
"They make us work on the oil fields. They hit and beat us all the time if we don't do what they say," said Idriss Isaac, a 22-year-old Sudanese migrant who had entered Libya in 2018.
He said it had taken him seven months to reach Tripoli, where he was taken to a detention center in the south Tripoli district of Abu Salim.
"I was with 150 people. Every five or six of us would have to share a plate of pasta," he said. He managed to escape from the center and had hidden himself among the Sudanese migrant community in the capital.
The latest strike makes it clear that "the status quo cannot continue," said Charlie Yaxley, spokesman for the U.N.'s refugee agency in Africa and the Mediterranean.
"This is why rescued refugees cannot be returned to Libya. No one should be returned to a detention centre where they are trapped inside and at risk of death," he tweeted Wednesday.
"The detainees should never have been there in the first place. This is the result humanitarian agencies have been fearing."
He added that many of the detainees' families would have no way of knowing their loved ones were at the center, because they are not usually not allowed to have their cellphones inside.
Yet it's unclear whether any one party can stem the flow of migrants.
Abdul Rasool Ibrahim, a onetime accountant who escaped Darfur, Sudan, in September, said he doesn't feel safe in Tripoli and is constantly in fear of being rounded up by one of the armed groups that patrol the capital.
"Even a trip to the supermarket requires a calculation on your part. Any military car makes us afraid of getting kidnapped. We don't have any security at all," he said.
Yet he had no intention of returning to Sudan. Instead, he insisted he would make the sea crossing.
"As long as there's the fire of the bullets, the fire of the sea is better for me," he said.
---
Must-read stories from the L.A. Times
Get the day's top news with our Today's Headlines newsletter, sent every weekday morning.
You may occasionally receive promotional content from the Los Angeles Times.