The children of Mosul talk about life under Islamic State. They saw things no child should see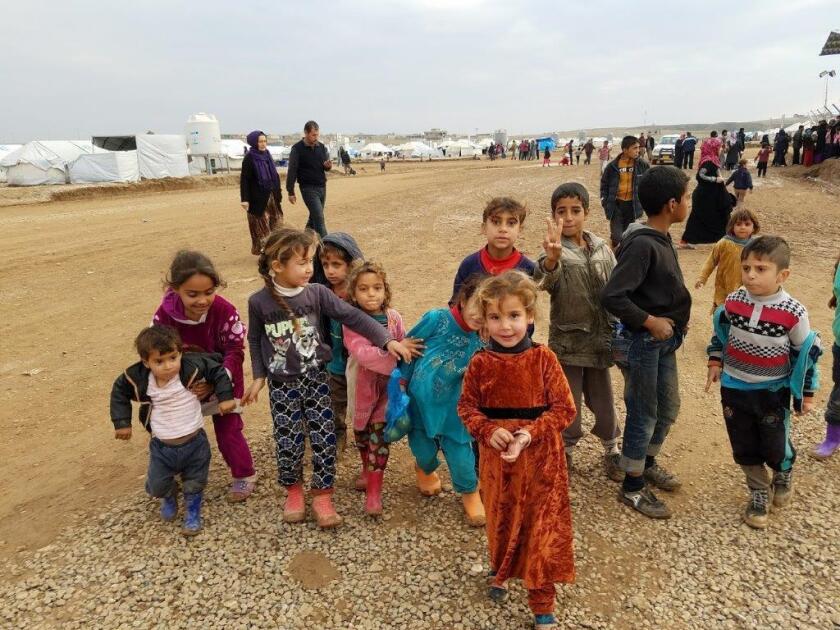 Reporting from Khazer, Iraq —
The boy started tagging along with me as I walked through the Hassan Sham displaced persons camp east of Mosul earlier this month.
Iyad Mohamed Yunus said he was 14 years old, but he looked several years younger. A black winter jacket and gray sweatpants hung on his wiry frame. His cheap black canvas sneakers were caked with mud from the camp's dirt streets, now wet with cold rain. He had a black cap pulled low on his face, and I could see his breath as he talked about life in Mosul under Islamic State.
His memories of the militants' bloody rule were still fresh. But he didn't talk about them right away.
As we walked, Iyad explained in a halting voice that his Turkmen Sunni family fled 20 miles east to the camp, along with 21,000 others. They fled after Iraqi forces launched an offensive Oct. 17, with help from a U.S.-led coalition, to drive militants from Mosul, Iraq's second-largest city.
Iyad noticed that I was not wearing a head scarf.
"If they saw you like that," he said, smiling, "they would kill you."
He had been attending the camp's school five days a week, studying Arabic, English, history and geography. His favorite subject: soccer.
I asked if he had attended Islamic State's religious schools in Mosul. Just for a day, Iyad said.
Militants required families to pay for school books, which his could not afford, he said. His father, who had worked cleaning a school before Islamic State captured the city in 2014, did not support the extremists, lost his job and had to sell cakes with his children to make ends meet.
"Those who declared their affiliation, they were giving them everything. Those who didn't join Islamic State, they didn't get anything," Iyad said.
I asked what he had learned at school that one day.
"Abu Bakr Baghdadi, he is the leader of the caliphate and we must follow him," Iyad said, then grinned, adding an Iraqi curse: "He is like my shoes."
What else did he learn, I asked. Iyad spoke quickly, excited.
"A gun plus a gun equals two guns. A bomb plus a bomb equals two bombs. After a while, you will grow up and be a suicide bomber and go to heaven," he said.
It sounded like more than could be learned in a single day, but Iyad insisted that he did not attend regularly. Then he paused, thinking about school.
"It wasn't good for me," he said. "I didn't like it."
As he began to open up, the boy shared memories forged outside of school.
I saw everyone hitting her and they were saying 'God is great!'
— Iyad Mohamed Yunus
Iyad recalled how last year, when he and his father were going grocery shopping, they heard militants driving through the neighborhood, broadcasting an announcement from speakers on their cars: An elderly woman was about to be stoned to death, and those in the neighborhood — adults and children — were required to watch.
"They were forcing people to come see it," Iyad said.
I sat down on the steps of a trailer belonging to a Swedish nonprofit working with families at the camp, closed for the day. Half a dozen boys formed a tight circle around us, all from Mosul neighborhoods near Iyad's. As he told the story of the stoning, each boy added details, their faces stern.
"I saw everyone hitting her and they were saying 'God is great!'" Iyad said, pretending to throw stones. "She was saying 'Leave me!' She was trying to run or to leave and they were saying 'She is an infidel, just kill her!'"
The militant leaders covered their faces, he said, pulling his hat over his eyes and shaking his fists.
"I got scared and ran home," he said.
But he couldn't shake the image of the militants in their masks.
"I saw in my dreams they were whipping me," he said.
Eventually, Iyad's nightmares stopped. Other children were not so lucky, the boys said.
"Some kids saw such scenes and they went crazy," said Mohamed Gazwan, 12, a short boy in a brown, faux-leather coat.
Another boy said he missed the stoning, but saw the bloody rocks after the woman was killed.
"It was her husband who told Daesh about her. They said she did dirty things," said a boy in a yellow sweatsuit, 12-year-old Nashwan Nazal, using the Arabic acronym for Islamic State.
"She had some affairs," added a boy in a striped turtleneck, Hasan Mohamed, 12.
After the stoning, he said, the militants "put her in a plastic bag and they took her."
"It's not a good thing to punish a woman like that," he said, and the other boys agreed.
Mohamed recalled how, after another woman reported two of his female neighbors to Islamic State for not covering their heads, their husbands disappeared. Two more men they knew were kidnapped and beheaded, he said.
No, another boy insisted — one was later freed. None of the boys had seen the bodies, so they decided he must be right.
The eldest and tallest in the group, 13-year-old Mustafa Salah, said he had seen the bodies of militants killed in an airstrike. The rest of the group were unfazed. They had all seen bodies.
None of them said they had been trained to fight. They saw foreign fighters' sons who were armed, and some older local boys were drafted to join Islamic State.
"Kids who are tough, they will take them. Kids who are weak, they will not," Salah said.
It was getting dark. The circle dispersed. Iyad trudged back to his family's tent, where his father was waiting.
Mohamed Yunus Abas emerged wearing a worn black winter coat over a blue pinstripe dishdasha robe, looking stern and tired. He confirmed his son's story about the stoning.
Abas, 50, said Iyad and his two siblings didn't need psychological help.
"My kids didn't see anything," he said, as his son stood quietly behind him.
molly.hennessy-fiske@latimes.com
Twitter: @mollyhf
ALSO
The Iraqi government told Mosul residents to stay put. Now they are paying a heavy price
With Christmas Eve Mass, Iraqi Assyrians reclaim church from Islamic State
This roadside salesman outside Kabul is known for selling the best hashish: 'Everyone loves me'
---
Must-read stories from the L.A. Times
Get the day's top news with our Today's Headlines newsletter, sent every weekday morning.
You may occasionally receive promotional content from the Los Angeles Times.