A U.S. airstrike took her mother and threatened her eyesight. For 4-year-old Hawra, the real struggle is to forget
Hawra Hassan, 4, survived a U.S. airstrike in west Mosul last March that killed her mother and landed her in a hospital bed. It seemed certain she would be blind.
Reporting from Mosul, Iraq —
She survived a U.S. airstrike in west Mosul in March, but at what cost? It killed her mother and sent shrapnel ripping into her eyes.
Sitting on a hospital bed barely two weeks after the attack, 4-year-old Hawra Hasan had her hair shorn, her eyes sealed shut as she awaited multiple operations.
It seemed certain she would be blind.
The city of Mosul has been freed from the grip of the militant group Islamic State, but in the months since, many of its children have been paying the price of a long war.
Some were pulled out of the rubble, still alive, and had to be nurtured back to health. An Iraqi army doctor at a field hospital near the Old City said medics found malnourished babies of Islamic State fighters abandoned in the wreckage. West Mosul was left as a wasteland of cratered streets and collapsed buildings, and in many of them could be heard the wails of children — some injured, some terrified, some protesting a future that no longer included parents.
Months later, Hawra Hasan is still battling the effects of her injuries — yet her story also highlights the stubborn resilience of a country that has been in a continuous state of war for more than 14 years, with no end in sight.
"Children escaping Mosul have gone through horror piled upon horror. They have been starved and abused inside the city. Explosive weapons have been dropped in narrow streets by all sides with little regard to their impact…. Even if they make it out alive, they are left scarred and broken," said Ana Locsin, director in Iraq for the nonprofit Save the Children, which studied children displaced by battle in Mosul.
The research on 65 children in a displacement camp south of Mosul found that 90% had lost a loved one. Many were so affected by memories of extreme violence that they expressed constant fear of an unidentified "person" or "monster." Many were unable to show emotions, and suffered from what researchers called "waking nightmares."
Hawra resettled with what was left of her family at the home of her grandparents in east Mosul, a part of the city that suffered less damage. One hot afternoon there, an air conditioner was humming outside. Unlike west Mosul, the east side of the city has electricity and running water.
Inside, Hawra's older sister Adra, who wasn't home when the airstrike hit, was using a laptop to search for Barbie cartoons on YouTube.
Hawra appeared in the doorway, transformed. Her brown hair had grown into a pixie cut with short, choppy bangs. Below them, her eyes were wide. She could see.
When she first opened her eyes after surgery, her father said, Hawra was full of questions: "Whose clothes am I wearing? Whose house am I in? Where is your beard?"
Operations cost the family $2,000. To protect Hawra's eyes afterward, doctors said she had to stay inside and out of the sun for at least another month.
Her face is still scarred by shrapnel, bumps she can feel when she runs her small hands over her forehead. She has to take medication to sleep. And she still cannot stand to be left alone.
Hawra remembers the March 17 airstrike, how it buried her alive, burned off her hair and blackened her body. Somehow, said her grandmother, Aliya Ismail, it has given her a keen sense of other people's pain.
"Yesterday I was sitting and crying and she came and held me and said, 'I know why you're crying,'" Ismail said.
At other times, she said, her granddaughter is quick to anger and lash out. To Ismail, that says she is as scarred on the inside as she looks on the outside.
Hawra's father, Alaa Hasan, said he hopes his daughter's psychological state improves, so that she can start school.
"She is too short-tempered, to be honest," Ismail said as she watched Hawra play.
"I think she misses her mother and she takes it out by hitting," said Hasan, 26.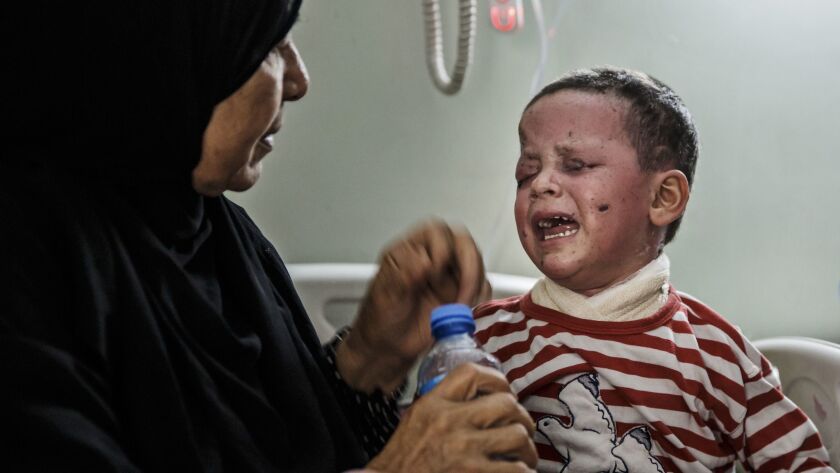 A two-month Pentagon investigation into the airstrike that injured Hawra found the U.S.-led coalition attack inadvertently ignited explosives that killed at least 105 civilians. Residents have insisted several hundred people died.
Her father applied for compensation from the Iraqi government, but has not received a response.
When Hawra was being treated after the airstrike about 50 miles east in Irbil, her father vowed never to return to Mosul. But Hasan ultimately didn't have a choice. In order to stay in Irbil's Kurdish semiautonomous region, he had to reassemble the family's identification paperwork, destroyed by the airstrike.
He was gathering the paperwork as quickly as he could, forced to wait as Mosul's government offices slowly reopened.
Hawra sat that day quietly in a corner, entranced by the Barbie video her sister selected. Her bent head exposed a rough pink scar down the back of her neck.
Hasan was trying to decide when to take her to see her mother's grave. Maybe when she's older, he finally decided. For now, "I don't want to remind her."
molly.hennessy-fiske@latimes.com
Twitter: @mollyhf
ALSO
'Take Ahmed and let me die' Victims of U.S. airstrike in Mosul recount a day of horror
Civilian casualties from airstrikes grow in Iraq and Syria. But few are ever investigated.
More than 200 civilians killed in suspected U.S. airstrike in Iraq
---
Must-read stories from the L.A. Times
Get the day's top news with our Today's Headlines newsletter, sent every weekday morning.
You may occasionally receive promotional content from the Los Angeles Times.