Iraqi forces close in on historic mosque where Islamic State declared its 'caliphate'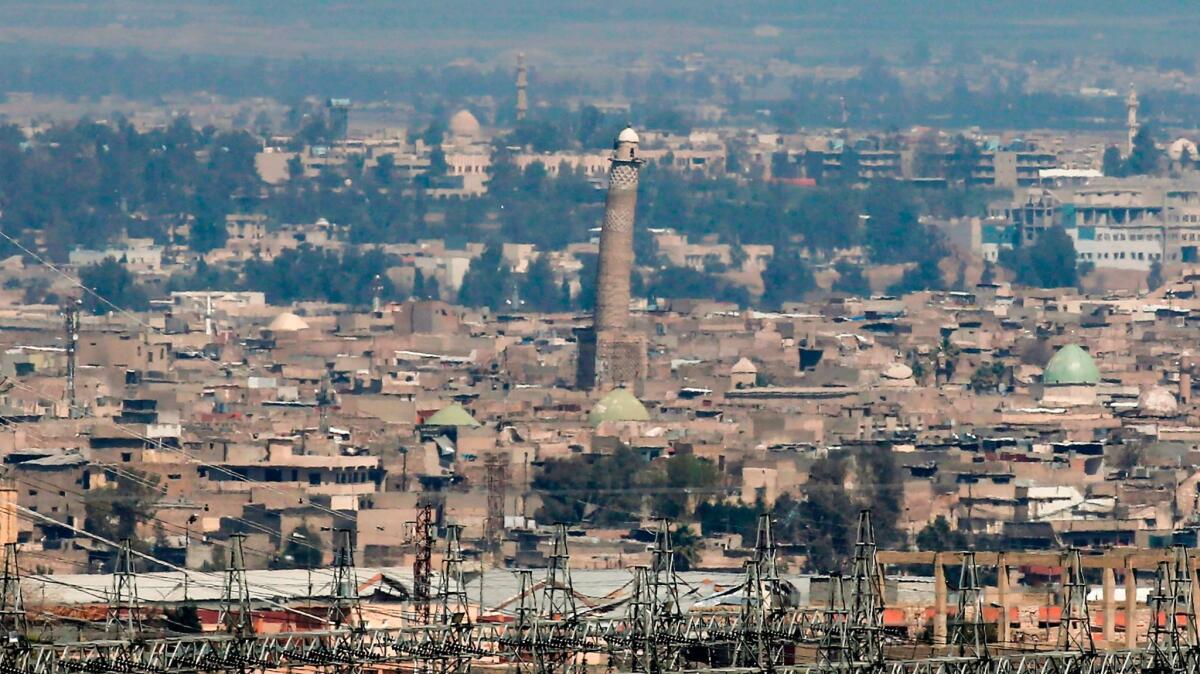 Reporting from Amman, Jordan —
For more than 800 years, the leaning minaret of Great Nuri Mosque had called Muslims to prayer. A beloved landmark in west Mosul, its nickname, the Hunchback, has become synonymous with what was once Iraq's second largest city.
But as Iraqi forces punched their way to within a few hundred yards of the mosque Thursday, they had its more recent history in mind.
It was there, one month after Islamic State overran Mosul in an audacious offensive in mid-2014, that Islamic State leader Abu Bakr Baghdadi took to the pulpit to proclaim the rise of a new Islamic caliphate over large swaths of Iraq and Syria. Mosul would be its de facto capital in Iraq.
"If you see that I am right, assist me," he said.
That made the mosque, located in west Mosul's Old City, an especially coveted and symbolic target for Iraqi forces.
"Federal Police and Rapid Response units tightened the noose on the elements of Daesh in the areas surrounding the Nuri Mosque," Lt. Gen. Raed Shaker Jawdat, head of the Iraqi federal police, said in a statement Thursday, referring to the extremist group by its Arabic acronym.
Jawdat added that troops were closing in on the mosque from three sides, and that Islamic State "had lost its supply routes" and there was "confusion in its ranks."
This month, the Old City became the epicenter of a large-scale U.S.-backed campaign to oust the jihadists from Mosul.
Baghdadi's choice of the Great Nuri Mosque for his first (and only) video appearance was no accident. The mosque, built sometime around 1172, is named after Nur Al-Din Zenki, the scion of the Turkish Zengid dynasty that once controlled both northern Syria and Iraq.
Nur Al-Din's ambitions, however, went further; he sought to bring together all Muslim forces between the Euphrates and the Nile to fight as one against the Crusaders. He brought not only Damascus but also Egypt and parts of modern-day Lebanon under his grip. It was Saladin, however, the indefatigable military commander and future Sultan, who would eventually realize Nur Al-Din's dream of unification of Muslim lands.
But Nur Al-Din remains an important figure in Islamic history, held in high esteem for his adherence to the edicts of Islamic law. His efforts to strengthen the Sunni strand of Islam (he once ousted Shiite scholars from Aleppo, Syria) made him a hero for the Sunni-dominated insurgency against Syrian President Bashar Assad. One of the top opposition factions operating around Aleppo was named after him.
It was that history that Baghdadi chose to evoke when he placed himself as caliph even though he claimed he was not the "best of you" to the militants who crowded into the mosque for his inaugural speech.
That the Nuri Mosque still stands, despite almost three years of Islamic State rule, is a surprise. The group, which espouses a particular harsh interpretation of Islamic law, believes archaeological sites promote apostasy. The jihadists have smashed and blown up some of Mosul's most cherished sites: the Prophet Yunus Shrine, the city's central library, even the statues in its museum.
But for Muslawis, as Mosul residents are called, destroying the Nuri Mosque was a transgression they could not accept. Local media outlets reported that Islamic State militants had already mined the structure and were about to blow it up when residents gathered around the minaret while others remained bunkered inside the building.
Yet years of neglect, not to mention damage from decades of war in Mosul, may do the militants' work for them. The iconic minaret, which stands at more than 148 feet with ornamental bands of brickwork adorning its cylindrical shaft, was already listing in the 14th century.
Locals say it gained the tilt when it bowed to the prophet Muhammad as he ascended to heaven.
Experts blame the leaning on more quotidian factors, including powerful winds buffeting the minaret and irregular expansion of the bricks in its base. It now leans more than 9 feet off the perpendicular axis, despite repeated attempts over more than 40 years to stabilize it.
Bulos is a special correspondent.
ALSO
U.S. airstrike was responsible for civilian deaths in Mosul, Iraqi officials say
Is Islamic State luring U.S. coalition forces into killing civilians in airstrikes?
These camps take those fleeing 'that hell' of Mosul. First, prove you're not Islamic State
---
UPDATES:
4:50 p.m.: Updates with details about minaret's tilt.
This article was originally posted at 2:55 p.m.
Sign up for Essential California for news, features and recommendations from the L.A. Times and beyond in your inbox six days a week.
You may occasionally receive promotional content from the Los Angeles Times.