Israelis, Palestinians differ on factors leading to official's death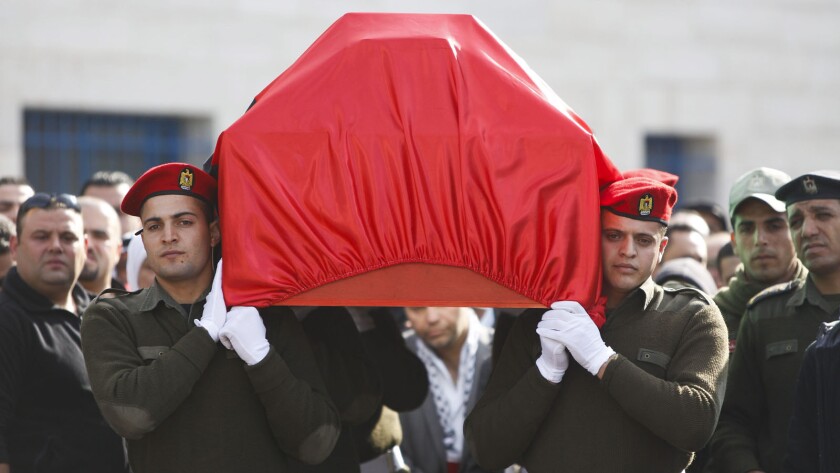 Reporting from Ramallah, West Bank —
Israeli and Palestinian pathologists largely agreed Thursday on the cause of death for a Palestinian official who collapsed during clashes with Israeli soldiers at a protest but were divided on the factors that contributed to his death.
Ziad Abu Ein, a Palestinian Authority official, died Wednesday following a scuffle with soldiers who were trying to prevent him and other activists from planting olive trees near a village north of Ramallah in protest of Israeli settlement plans.
The debate over the causes of his death came as thousands of people, including Palestinian Authority President Mahmoud Abbas, turned out in Ramallah on Thursday for Abu Ein's funeral.
A preliminary report following an autopsy conducted overnight by two senior pathologists from Jordan and the chief Palestinian pathologist, with the head of Israel's forensic medicine institution and another doctor attending as observers, attributed Abu Ein's death to a narrowing or blockage of a main artery that supplies blood to the heart and to hemorrhaging.
In a news conference in Ramallah before the funeral, chief Palestinian pathologist Saber Aloul said preliminary results of the autopsy revealed a "narrowing of the coronary artery accompanied by bleeding in the inner lining of the heart as a result of pressure that goes with severe agony and distress."
A statement from Israel's Health Ministry drew similar conclusions, saying that Abu Ein died of "blockage of the coronary artery due to hemorrhaging underneath a layer of atherosclerotic plaque."
"In lay terms, a heart attack," Dr. Chen Kugel, director of Israel's forensic medicine institute, told Israeli media.
However, the two sides disagreed on the circumstances leading up to Abu Ein's death, including the role played by bruising around his neck and injuries inside his mouth, which the Palestinians said were caused during the clash and contributed to his death.
Aloul said the death was not a natural one but caused by a powerful blow that eventually led to the blockage and hemorrhaging. The preliminary results, he added, showed that Abu Ein received the blow to the face, pushing his front teeth further inside his mouth and throat.
There were bruises on the neck due to pressure and force, he said, adding that inhalation and vomit had also blocked his respiration.
The Palestinian pathologist said blockage of the coronary artery happened at the same time as hemorrhaging in the artery, which he said were signs of stress from anxiety and trauma and from pressure to the face and neck, prompting him to conclude that the death was "due to a strike and it was not a natural death."
Parts of Wednesday's clash were caught on cameras. News video showed pushing and shoving and an Israeli border policeman grabbing Abu Ein's throat.
Kugel said the bruising and mouth injuries could be consistent with CPR.
The blood vessels in Abu Ein's heart were 80% blocked, and scarring indicated previous heart attacks, Kugel said. A person in such medical condition "walks on the edge of an abyss," he added, saying that even a modest push or stress could cause collapse.
Kugel said doctors were still waiting for lab results before drawing further conclusions but said it was not likely that the official had died from inhaling tear gas, as one version of events claimed Wednesday.
A final joint report is expected upon completion of lab tests.
In a statement Wednesday night, Israeli Defense Minister Moshe Yaalon said: "The event in which Ziad Abu Ein died is under investigation" by the Israel Defense Forces. "We express sorrow over his death."
He said Israel proposed holding a joint investigation with the Palestinians.
Thousands of people turned out for Thursday's funeral, which was held at Abbas' headquarters. The body of Abu Ein was laid in a casket wrapped with the Palestinian flag and carried to the site in an ambulance from a Ramallah hospital, followed by security vehicles.
The body was later taken to a nearby cemetery for burial as shots were fired in the air.
Abbas has called for three days of mourning in the West Bank and convened the Palestinian leadership for an urgent meeting in Ramallah on Wednesday evening to discuss the aftermath of Abu Ein's death and its impact on Palestinian-Israeli relations.
The meeting ended without decisions but with agreement to gather again Friday for further deliberations over action that could include halting security coordination with Israel and joining United Nations organizations as well as the International Criminal Court, steps opposed by Israel.
Special correspondents Abukhater reported from Ramallah and Sobelman from Jerusalem.
---
Must-read stories from the L.A. Times
Get the day's top news with our Today's Headlines newsletter, sent every weekday morning.
You may occasionally receive promotional content from the Los Angeles Times.