Pope Francis heads to Egypt on Friday with a peace and mercy message for Muslims and Christians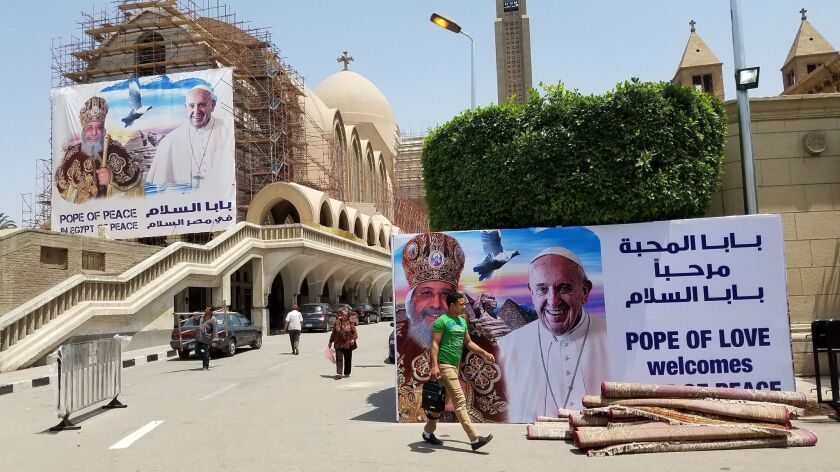 Reporting from Cairo —
In video posted online this week by the Vatican, Pope Francis sounds excited about his two-day trip to Egypt starting Friday, despite recent terrorist attacks.
"As salaam alaikum — peace be with you!…Thank you for having invited me to visit Egypt, which you call Umm al Dunya, Mother of the World," the pope read from prepared remarks in Italian as he sat behind a desk at the Vatican. "Our world, torn by blind violence, which has also afflicted the heart of your dear land, needs peace, love and mercy."
This will be the first papal trip to the Muslim-majority nation since Pope John Paul II visited in 2000. Pope Francis plans to fly from Rome to Cairo to encourage dialogue with Muslim leaders and to show solidarity with Christians across the Middle East at a time of great division and violence.
Islamic State extremists this year declared a campaign against Egypt's Coptic Christians, who account for about 10% of the country's population of 92 million, making the group the nation's largest religious minority. About 270,000 of the country's Christians are Catholic.
Extremists have attacked a monastery, churches and Christian strongholds to the north, east and south of the capital.
In December, a suicide bomber detonated explosives at St. Peter and St. Paul's Church, also known as Botroseya church, a chapel next to Saint Mark's Coptic Orthodox Cathedral in Cairo, killing 29 people.
Religious leaders are coming together in Cairo where Pope Francis plans to visit.
On Palm Sunday this month, Islamic State suicide bombers again targeted churches to the north in Alexandria and Tanta, killing 47 people.
Naguib Gobrael, a Coptic Christian activist who leads the Egyptian Organization for Human Rights, said he hopes victims of the attacks are able to meet the pope. Many Coptic Christians were encouraged by the pope's bravery in not canceling his trip, he said.
"It will send a message to the whole world when the pope visits Egypt, that the pope visited even after the churches were attacked," said Gobrael, who met Francis in Rome in 2013 and is scheduled to see him during his visit.
Francis is expected to start his visit by meeting with Egyptian leaders including President Abdel Fattah Sisi, Coptic Orthodox Church Pope Tawadros II and Sheikh Ahmed Tayeb, the grand imam of Al Azhar mosque, Sunni Islam's paramount seat of learning, in Cairo's Heliopolis district.
Sisi has been seen as an ally of Coptic Christians. He declared a state of emergency after the Palm Sunday attacks and issued a statement on the pope's forthcoming visit.
"Egypt welcomes Pope Francis and looks forward to this significant visit to strengthen peace, tolerance and interfaith dialogue as well as to reject the abhorrent acts of terrorism and extremism," Sisi said.
Tayeb, an Islamic philosophy professor, visited the Vatican last year after a decade of tension between Muslim and Catholic leaders. Francis' predecessor, Pope Benedict XVI, was seen by many as damaging relations in a 2006 speech that linked Islam to violence and a 2011 condemnation of what he called "a strategy of violence that has Christians as a target" following a bomb attack outside a church in Alexandria that killed 23 people.
Francis is also expected to attend a conference on international peace sponsored by Al Azhar, where he and Tayeb will address the crowd.
"It's exciting to be a part of it," said Father Luke Barder, a Dominican friar from Chicago pursuing a master's of Islamic studies in Cairo.
Barder attended the first day of the conference Thursday with religious leaders and academics from around the world. He was scheduled to meet the pope and serve at his mass Saturday.
"I feel welcomed and I feel encouraged," he said. "The fact that the pope is here in Egypt with the Sheikh of Al Azhar, that image is going to be monumental, especially in a time when Egypt needs to have Christians and Muslims gathered together more to show it's possible to live together in peace."
Standing nearby was Hossam Ed-Deen Allam Azhary, a scholar at Al Azhar, who said the meeting came "at a time when there is a dire need for people to come together" in Egypt, particularly religious leaders, "to address issues of mutual concern based on mutual respect and mutual understanding."
After the conference, the pope will visit Botroseya church near downtown to pray with Pope Tawadros for victims of terrorism. Marble columns in Botroseya are still pocked from the December attack, the blood of victims preserved under glass in a courtyard next to their photographs.
"He will pray for all the victims and all of the church," said Fady Francis, a spokesman for the Catholic Church in Cairo.
Nadia Salah's husband was a guard at Botroseya church who was killed in the December attack. She and her children still live next to the chapel, and although they have been warned to stay inside during the visit because of stepped up security, she's hoping to glimpse the pontiff and maybe get him to bless her toddler son and 15-year-old daughter.
Workers had already erected signs near the cathedral Thursday featuring the Catholic and Orthodox popes with a dove in between that said "Pope of love welcomes pope of peace."
Francis will end the night Friday at the Vatican embassy on central Gezira Island, where he will greet hundreds of Egyptian youths. On Saturday, the pope's scheduled events include a mass at Cairo's Air Defense Stadium, where more than 50,000 people are expected to attend, Fady Francis said.
The pope plans to lunch with Catholic bishops at the Vatican embassy, where extra guards have already been stationed and streets cordoned off and cleared of parked cars. He will finish his trip by meeting with priests and other religious workers at St. Leo's Coptic Catholic Seminary in the western neighborhood of Maadi before departing for Rome.
Sister Charlotte Greer, a Palmdale native who moved to Egypt eight years ago from California to become principal of St. Clare's College for girls in Heliopolis, secured free tickets to see the pope at the stadium. She also plans to then board a bus with other sisters to see him at the seminary.
Greer said the pope is coming "to bring us courage" at a time when "there's the real possibility of martyrdom."
"It's about being a person of faith," she said.
Greer this week asked her staff — Muslims and Christians — to pray for the pope's safety, "because he's coming to be a bearer of peace, and if there' s anything we need, it's that."
Sister Ensaf Dimous, who came to serve at the school from Syria, said relatives in Damascus plan to watch coverage of the pope's visit on television, perhaps glimpsing her in his presence. She said she hopes the pope can encourage people to seek peace across the region.
Despite the risk, the pope will not travel in a bullet-proof vehicle while in Egypt, a spokesman said.
"The pope will use a closed car to move around, but not an armored one," said Vatican spokesman Greg Burke. "That's how he wanted it."
Gobrael, the Coptic activist whose name is on a wanted list published by Muslim extremists, said "the pope himself will be well protected," but he still worried about militants.
"The country can protect the pope, but they can attack somewhere else," he said.
molly.hennessy-fiske@latimes.com
Twitter: @mollyhf
---
Must-read stories from the L.A. Times
Get all the day's most vital news with our Today's Headlines newsletter, sent every weekday morning.
You may occasionally receive promotional content from the Los Angeles Times.