Saudi Arabia to allow movie theaters for the first time in 35 years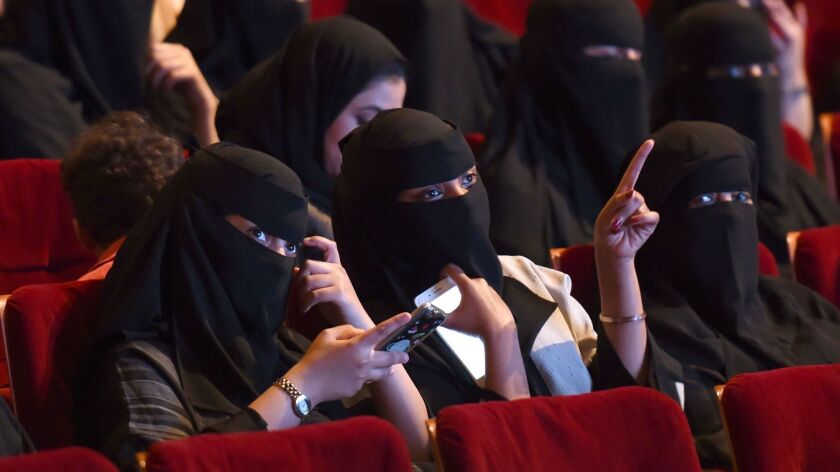 Reporting from Beirut —
Saudi Arabia announced Monday that it will allow movie theaters to open for the first time in more than three decades, part of a broad modernization drive led by the conservative kingdom's reform-minded crown prince.
The announcement was hailed by the American exhibition industry, but also raised questions about the kinds of restrictions and censorship the kingdom is likely to impose.
Licensing regulations are being finalized with the first multiplexes slated to open in March, the Ministry of Culture and Information said in a statement. There are plans to build hundreds of movie theaters, including the kinds of upscale venues seen in cities such as Los Angeles, New York and London.
The move is part of Crown Prince Mohammed bin Salman's so-called Vision 2030, a strategy to open the desert kingdom's economy, reduce its dependence on oil and ease the social strictures imposed on its mostly young population.
Authorities have also announced measures to allow women to drive next year, permit concerts and rein in the feared religious police, the force responsible for ensuring morality and adherence to Islamic law.
"Opening cinemas will act as a catalyst for economic growth and diversification," the Saudi culture minister, Awwad bin Saleh Alawwad, said in the statement. "By developing the broader cultural sector, we will create new employment and training opportunities, as well as enriching the kingdom's entertainment options."
Luxury cinemas aim to tap into the oil-rich country's large concentration of wealth and strong consumer class, as well as young citizens who are used to watching movies on their computers and phones.
"I think there's definitely demand for movie theaters," said Eric Handler, a media and entertainment analyst at MKM Partners. "The question is how much Hollywood content or other content from throughout the world will be let in. Will it be like China, where they're very restrictive?"
China, which places strict quotas on the number of foreign movies that can be shown on domestic screens, has imposed censorship laws that restrict certain kinds of content, such as violence or political messages. Recent movies that were banned there include "Deadpool" and "Suicide Squad."
The Saudi government said films shown at its cinemas would be censored to ensure they comply with the kingdom's moral values and Islamic laws.
Although the 32-year-old prince has encouraged a more moderate brand of Islam than that promoted by the country's religious establishment, Saudi society remains deeply conservative. Sex and nudity will almost certainly be barred, and theaters could be required to segregate women and families from all-male audiences.
Criticism of the monarchy is also unlikely to be tolerated, as there has been no increase in political freedoms.
Regional politics could enter into the equation. Lebanon recently banned Warner Bros.' "Wonder Woman" because actress Gal Gadot is from Israel. The blockbuster movie was also banned in other countries, including Qatar and Tunisia.
Some American cinema owners are already developing plans for screens in Saudi Arabia, including upscale venues, according to the National Assn. of Theatre Owners, an American trade organization.
The association said a delegation has been in the Saudi capital, Riyadh, over the last week meeting with government officials in anticipation of the announcement.
"Movies are one of the great shared pleasures that highlight our common humanity," John Fithian, the association's president and chief executive officer, said in a statement.
"The growing and young population of the kingdom is hungry for the cinematic experience. We anticipate that the Saudi market will grow quickly."
AMC Entertainment Holdings, the world's largest movie theater owner, said it has signed a nonbinding memorandum of understanding with the Public Investment Fund of Saudi Arabia to explore opportunities in the kingdom.
Movie theaters have been barred in Saudi Arabia since the early 1980s, when the kingdom began enforcing an ultraconservative version of Islam that discourages public entertainment and mixing between men and women.
That hasn't prevented Saudis from watching films online or on satellite TV. Many also travel to nearby countries such as Bahrain and the United Arab Emirates to get their entertainment fix. But for members of the country's fledgling film industry, that has never been good enough.
"So much of our life has been behind closed doors," said Hisham Fageeh, who starred in and co-produced the film "Barakah Meets Barakah," billed as the kingdom's first romantic comedy, which premiered at the Berlin International Film Festival in February 2016. "If you didn't have the privilege of being rich and being able to buy it for your own consumption, you missed out on so much."
News that the ban would be lifted was met with rejoicing by Saudi movie buffs, who posted images of buckets of popcorn on their social media accounts.
"It is a beautiful day in #SaudiArabia!" tweeted the Los Angeles-based Saudi director, Haifaa al-Mansour, whose 2012 film "Wadjda" became the country's first entry for the Academy Awards.
She recalled standing outside the local Blockbuster Video as a child, while an attendant collected her movie selections for her. The shop wouldn't allow women inside, she said.
"Just watching movies, I learned all sorts of things," she said. "That experience made me love storytelling and seeing the world. I hope that happens to kids who will get to see movies in theaters."
Nadia Malaika, a Saudi businesswoman who has also acted in films and underground theater, said she was looking forward to showing her work to a local audience. "Most Saudis go and watch movies whenever they travel abroad, so it only makes sense to have them here," she said.
A Twitter user uploaded a joke movie poster for a film titled "Cinema 500km" with the tagline "Bring your passport, we're going to the cinema."
"Now it's time we say: Cinema 500 meters," he wrote.
However, the move will probably face pushback from conservative Saudis and powerful clerics who give the monarchy legitimacy. The grand mufti, Saudi Arabia's highest-ranking religious authority, has labeled cinemas "a depravity" and warned of their potential to corrupt public morals.
"If cinema led to cultural development, Lebanon would be a developed country," said one Twitter user Monday. "If it led to economic growth, Egypt would be economically prosperous. They promote evil with these ridiculous justifications."
Zavis reported from Beirut and Ng from Los Angeles. Special correspondents Nabih Bulos and Micheline Tobia in Beirut contributed to this report.
Twitter: @alexzavis
Twitter: @davidnglat
---
UPDATES:
8:40 p.m.: This article was updated with AMC Entertainment Holdings saying it has signed a non-binding memorandum of understanding with the Public Investment Fund of Saudi Arabia and other details.
6:30 p.m.: This article was updated with reaction from members of the Saudi film industry and Twitter users.
This article was originally published at 2:15 p.m.
---
Must-read stories from the L.A. Times
Get the day's top news with our Today's Headlines newsletter, sent every weekday morning.
You may occasionally receive promotional content from the Los Angeles Times.