After simple rites, Saudi King Abdullah laid to rest in unmarked grave
Mourners gather around the grave of Saudi Arabia's King Abdullah at Al Oud cemetery in Riyadh on Jan. 23 following his death in the early hours of the morning.
(Mohammed Mashhur / AFP/Getty Images)
Saudi King Abdullah's shrouded remains are carried from his funeral at the Imam Turki ibn Abdullah Mosque in Riyadh on Friday.
(Associated Press)
Saudi Foreign Minister Saud al-Faisal, center, speaking with Turkish President Recep Tayyip Erdogan during the funeral of the Saudi King Abdullah.
(Saudi Press Agency / EPA)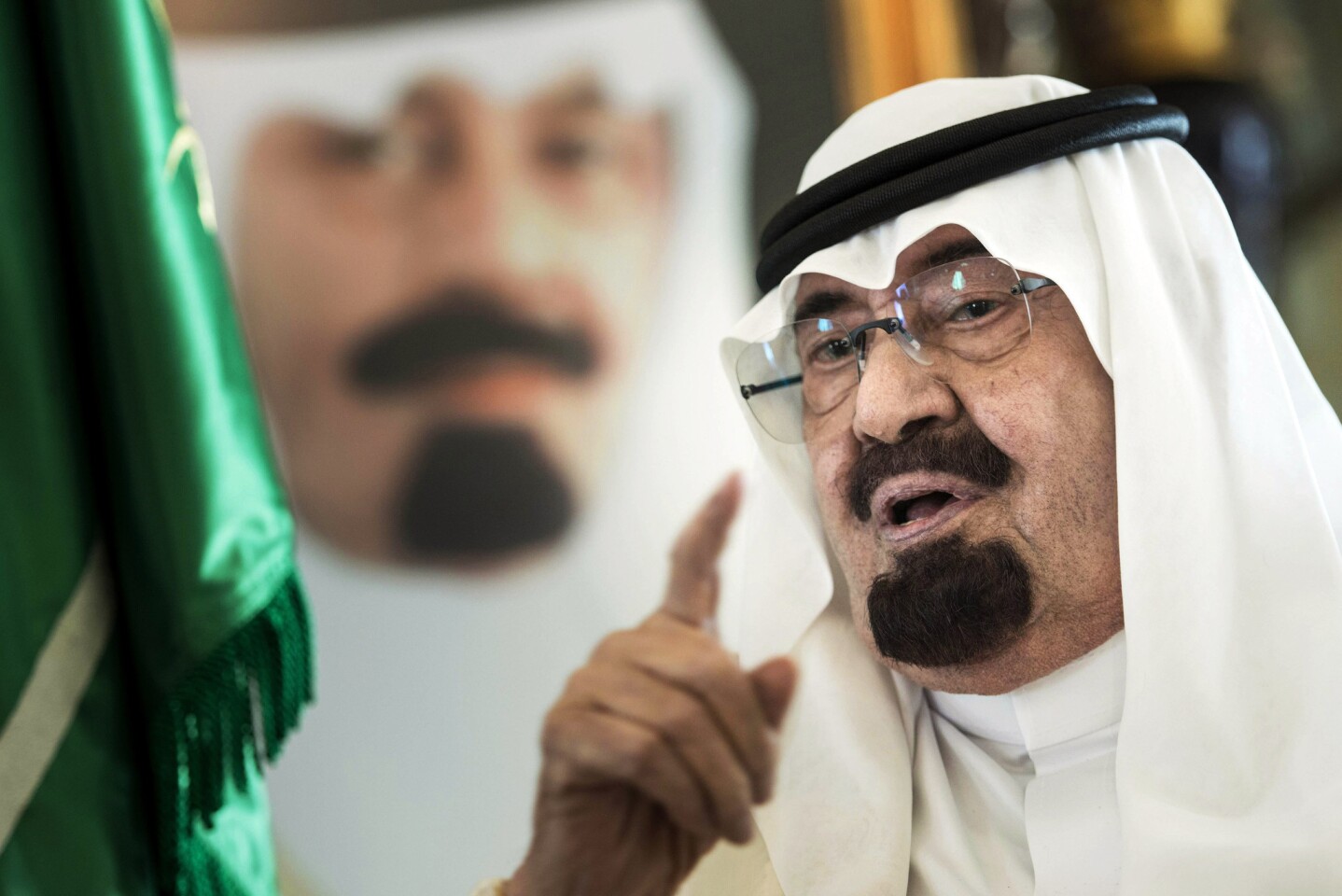 King Abdullah at his residence in the Red Sea city of Jiddah, Saudi Arabia, on June 27. Abdullah became king in 2005 with the death of King Fahd, who had been incapacitated by a stroke 10 years earlier.
(Brendan Smialowski / Associated Press)
On Nov. 6, 2007, Pope Benedict XVI welcomed King Abdullah to the Vatican.
(Chris Helgren / Associated Press)
President George W. Bush greets Abdullah, then the Saudi crown prince, at his ranch in Crawford, Texas, on April 25, 2005.
(Gerald Herbert / Associated Press)
On March 11, 2009, King Abdullah, center, speaks with Egyptian President Hosni Mubarak, left, and Syrian President Bashar Assad in Riyadh, the Saudi capital. Saudi Arabia hosted the leaders in an effort to persuade Syria to move away from Iran and instead work with U.S.-allied Arab countries.
(Hassan Ammar / Associated Press)
In a photo circa 1980, Crown Prince Abdullah, center, meets with Sheik Zayed ibn Sultan al Nuhayya, left, president of the United Arab Emirates; and Saudi King Khaled.
(Hulton Archive/Getty Images)
King Abdullah II of Jordan, from left, Saudi Crown Prince Abdullah, President George W. Bush, Egyptian President Hosni Mubarak, Bahraini King Hamed ibn Isa Khalifa and Palestinian Prime Minister Mahmoud Abbas before a meeting in Sharm el Sheik, Egypt, in 2003.
(J. Scott Applewhite / Associated Press)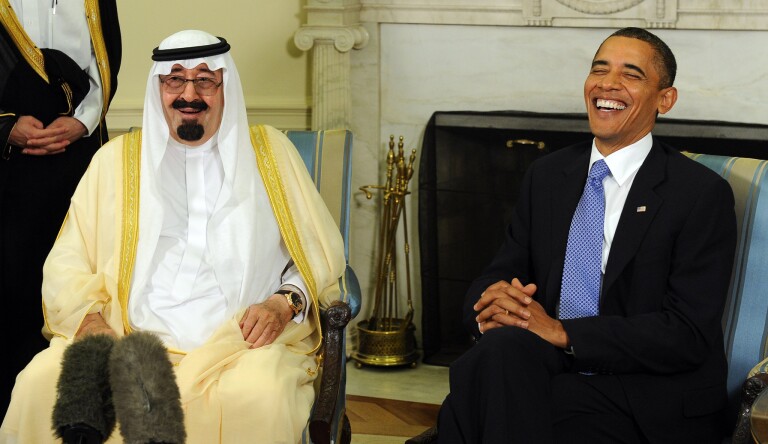 King Abdullah and President Obama at the White House on June 29, 2010, after a meeting to talk about the Middle East peace process.
(Roger L. Wollenberg / Pool Photo)
Leaders of the Muslim world and thousands of Saudi subjects paid their final respects to King Abdullah at a simple ceremony at a Riyadh mosque Friday before the late ruler was buried in an unmarked grave in a public cemetery.
In accordance with royal custom, the body of the 90-year-old king, who died at 1 a.m., was swathed in white and laid out for visitation at the Imam Turki ibn Abdullah Grand Mosque in the capital, Riyadh.
The afternoon funeral was attended by Middle East monarchs and a few presidents from countries near enough to Saudi Arabia to travel to the ceremonies that by Islamic practice must be conducted before the next sundown following a believer's death.
World leaders who plan to attend memorials scheduled this weekend sent condolences and praise for Abdullah's role as a mediator between the West and Islam.
"The closeness and strength of the partnership between our two countries is part of King Abdullah's legacy," President Obama said in a statement from Washington. Vice President Joe Biden, currently in Southern California, planned to lead the U.S. delegation to commemorations this weekend.
In London, Prime Minister David Cameron said Abdullah would be remembered for "his commitment to peace and for strengthening understanding between faiths." Prince Charles announced he would travel to Riyadh to represent the British monarchy at the weekend memorials.
Jordan's King Abdullah II left the World Economic Forum in Davos, Switzerland, to attend the funeral and declared 40 days of mourning in his own kingdom.
Palestinian Authority President Mahmoud Abbas declared "much sadness" at the news of Abdullah's passing and announced three days of mourning in the Palestinian territories.
Turkish President Recep Tayyip Erdogan praised Abdullah for "strengthening cooperation and solidarity in the Muslim world, especially concerning the Palestinian question and the situation in Syria."
Iran, Saudi Arabia's chief rival in the Muslim world, sent condolences to the Saudi people and said Foreign Minister Mohammad Javad Zarif would travel to Riyadh to pay respects.
Saudi Arabia's more austere form of Islam eschews public displays of grief and elaborate ritual, even for its monarchs, who are among the world's richest men. Abdullah was reported to have a net worth of $20 billion.
The funeral was open to the public, including women in their separate section of the mosque, and shops and businesses will remain open during a three-day mourning period.
Among the heads of state and government in attendance, according to the Saudi Press Agency and state television, were Pakistani Prime Minister Nawaz Sharif, Sudanese President Omar Hassan Ahmed Bashir, Egyptian Prime Minister Ibrahim Mehleb, Bahraini King Hamad bin Isa al-Khalifa, Qatari Emir Sheik Tamim bin Hamad al-Thani and Kuwaiti Emir Sheik Sabah al-Ahmad al-Sabah.
Follow @cjwilliamslat for the latest international news 24/7
---
Must-read stories from the L.A. Times
Get all the day's most vital news with our Today's Headlines newsletter, sent every weekday morning.
You may occasionally receive promotional content from the Los Angeles Times.