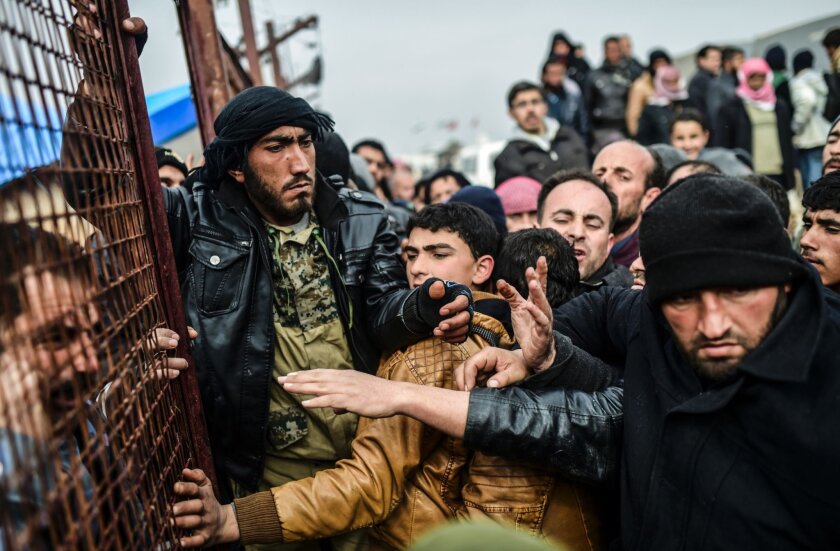 reporting from BEIRUT —
Syrian officials and their Iranian allies on Saturday warned Saudi Arabia to drop any plans to send troops in support of retreating Syrian rebels facing a potentially shattering defeat in the northern province of Aleppo.
At a news conference in Damascus, Syrian Foreign Minister Walid Moallem declared that any foreign forces intervening against the government would not come out alive.
"Those who launch an aggression against Syria will return in wooden boxes, be they Saudis or Turks or anyone," Moallem told reporters.
The fast-deteriorating state of Syrian rebel forces in the north has led to speculation that Saudi Arabia and its ally, Turkey, might boost aid to the insurgents or even dispatch forces to Syria.
On Thursday, Riyadh announced that it would consider sending ground troops to assist a U.S.-led coalition fighting the Islamic State militant group, a suggestion welcomed by the Obama administration.
But Syria and its allies view any such move as a hostile act aimed at the Syrian government, not the Al Qaeda breakaway faction that controls territory in Syria and neighboring Iraq.
Russia, which has provided massive air power in recent months to help turn the war in Damascus' favor, warned last week that Turkey may be preparing "an armed invasion" of Syria — a suggestion later dismissed as "laughable" by Turkish President Recep Tayyip Erdogan. Turkey shares a more than 500-mile border with Syria.
Ankara, like Riyadh, is a major supporter of mostly Islamist rebel groups fighting to overturn the secular government of Syrian President Bashar Assad.
While he called the idea of Saudi intervention "far-fetched," the Syrian foreign minister added that "the craziness of the Saudi regime makes me believe that anything is possible."
There was no immediate response from Saudi officials.
In Tehran, the head of the Revolutionary Guard mocked Riyadh, saying the kingdom lacked the resolve to fight in Syria.
"If Saudi Arabia sends forces to Syria, that will be the end of Saudi Arabia," Gen. Mohammad Ali Jafari told reporters. "That of course will not be bad."
Tehran and Riyadh are fierce rivals for influence in the Middle East and are backing opposite sides in the Syrian conflict.
The Iranian general spoke as the nation held a funeral Saturday for six soldiers, including another general, killed while fighting alongside pro-government forces in northern Syria. Tehran says it has sent "advisors" to Syria but insists it has not dispatched ground troops — though various Iranian-backed militias are also fighting alongside Syrian government forces.
Still, the toll of Iranian forces killed in Syria has been steadily rising, with reports of funerals of "martyrs" from Syria now a regular item on Iranian news broadcasts.
In his comments in Damascus, the Syrian foreign minister asserted there would be no cease-fire until Syria's borders with Turkey and Jordan — longtime corridors for arms and other supplies destined for Syrian rebels — were sealed to such clandestine traffic.
The Obama administration, which has funneled aid to antigovernment rebels and called for Assad to step down, has sought a cease-fire and urged Moscow to curb its bombing campaign. Russia says it is targeting only Al Qaeda-linked "terrorists," but Washington says the country's warplanes are also targeting "moderate" rebels.
The multi-sided Syrian conflict has drawn in an array of international powers. Most outside nations, including the United States and Russia, have refrained from dispatching ground forces to Syria and have instead acted through proxies or relied on aerial bombardment.
Whether Saudi Arabia was being forthright about its willingness to send troops to Syria remained unclear. Riyadh is already bogged down in a costly war in neighboring Yemen that has achieved few strategic goals while leading to thousands of civilian deaths and wide-scale destruction, according to human rights monitors, and abetting the growth of extremist groups like Al Qaeda and Islamic State.
Recent Syrian government advances against rebel forces in northern Aleppo province have raised the prospect of Damascus regaining full control of the city of Aleppo, once the nation's economic hub. Aleppo has been divided into opposition and government spheres for almost four years.
Join the conversation on Facebook >>
Pro-government forces sweeping through towns and villages outside Aleppo are also seeking to cut off rebel supply routes from the Turkish border.
Antigovernment insurgents could now be facing a total defeat in the north, which, analysts say, would mark a major turning point in the Syrian war. The intense Russian bombing campaign, along with bolstered forces from Iran and Iranian-backed militias, appear to have helped turn the tide of the conflict, which is about to enter its sixth year.
Along the Syrian-Turkish border, tens of thousands of Syrians fleeing the latest fighting in the Aleppo area remained stuck in rough camps just outside the international gate as Ankara refused to let them in. Turkey, home to more than 2 million Syrian refugees, has tightened border controls with Syria amid security and other concerns. But Turkish officials told reporters Saturday that they were providing aid for more than 30,000 displaced Syrians on the Syrian side of the border.
As the Syrian government advance on Aleppo continued, reactions in the long-divided city tended to vary from one side to another.
In opposition-held eastern Aleppo, reportedly home to more than 200,000 people, a group of first-responder volunteers known as the Civil Defense Units of Aleppo issued a statement Saturday labeling as a "disaster area" the surrounding countryside, where most of the recent fighting has been taking place.
"We demand the international community and relevant national organizations ... immediately and decisively intervene to stop the intentional killing and destitution," the group said.
In government-held western Aleppo, however, home to more than 1 million people, many were looking forward to the possible unification of the city after years of shortages, blackouts and bombardments on both sides.
"We are hoping that this will end very soon," said Adel al-Jammal, a lawyer who heads a group seeking reconciliation in the divided city.
Peace talks in Geneva broke down last week amid deep divisions between the warring sides. The opposition delegation demanded an end to Russian and Syrian government bombing; Damascus said it would not accept preconditions. The talks are tentatively scheduled to resume Feb. 25.
Bulos is a special correspondent. Special correspondent Ramin Mostaghim in Tehran contributed to this report.
MORE FROM WORLD
North Korea fires rocket seen as covert missile test
In Brazil, Carnival-goers won't let Zika or economic woes ruin the party
Kremlin strikes back: Russian dissident artist ordered to psychiatric clinic
---