In Syria's capital, residents recall a sectarian tolerance gone by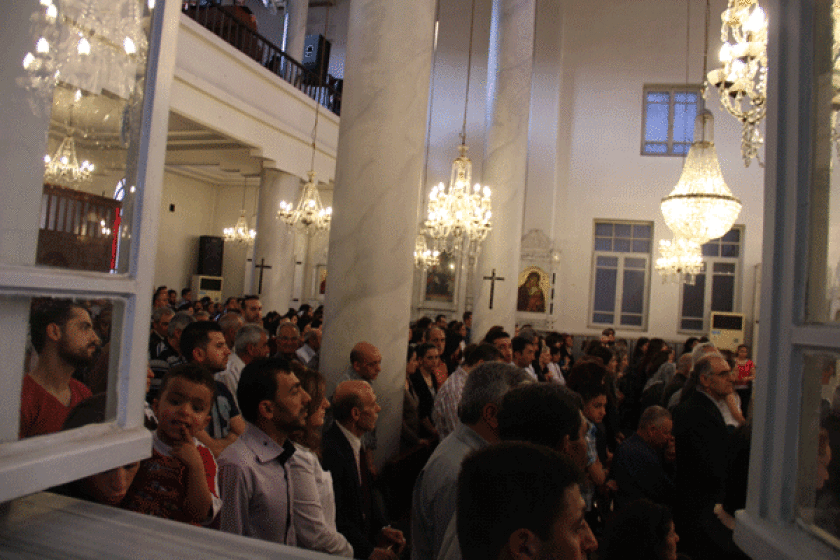 DAMASCUS, Syria — The thud of mortar shelling alternated with tolling church bells Friday as the Christians of this capital's ancient Bab Touma district marked Good Friday amid extremely tight security.
The Easter Week processions that once featured tens of thousands walking the cobblestoned streets of the Old City now are confined to the close vicinity of churches. Soldiers and militiamen checked everyone coming and going on Friday; vehicular traffic was largely closed off as a precaution against car bombs.
Three years into its civil war, Syria is deeply wounded, its 23 million people in a state of shock at the magnitude of the destruction, incredulous that their nation, once known for its religious moderation and cultural tolerance, has become a sectarian killing ground.
Some express hope that major combat could be over by the end of the year, as President Bashar Assad has predicted. Others worry that the war could drag on for years, perhaps rivaling neighboring Lebanon's 15-year sectarian conflict, which ended in 1990.
A wave of rebel mortar attacks that have struck Bab Touma and other districts of the capital in recent weeks has further eroded the muted optimism that was evident earlier this year. Authorities call the strikes on the government-controlled capital indiscriminate acts of desperation by opposition forces facing disarray and defeat in the battlefield.
Christian worshipers in Bab Touma were on edge Friday after a mortar attack this week that struck the yard of a nearby Christian school, killing a 10-year-old boy and injuring dozens of children. A banner hung on the neighborhood's Roman-era stone gate memorialized the dead boy, Sinar Matanyos, as a "victim of the rotten crime they called revolution."
At the other end of the Old City, at the landmark Umayyad Mosque, a shoemaker and grandfather who goes by the nickname Abu Bessam bemoaned the embittered state of his native land.
"We never thought about sectarianism; I never knew the word," Abu Bessam, 71, said after Friday prayers, as others in the vast courtyard nodded in agreement. "We all used to live together and never care about sect or religion."
Over and over, individual Syrians insist to visitors that they never knew the faith of their closest friends. Now, however, one's sect has become a defining trait, something that can mean life or death, detention or freedom.
One young banker here says he lets his mostly Christian co-workers think he is a Christian, though he is in fact a Sunni Muslim. It eases suspicion, he explains. Similar stories abound.
"I used to go to cafes and sit with my friends — Sunnis, Christians, Alawites — it never mattered to me," Abu Bessam said, shaking his head in disbelief. "I never even asked where people came from. Those days are gone."
Many can't bring themselves to point the finger at their fellow Syrians. Militants from across the globe imported this toxic view to Syria, they insist
"It wasn't Syrians — it was the Saudis, the Chechens, the ones who cut people's heads off," said a baker in a Christian town in Homs province, running his fingers across his neck in a throat-slitting motion.
Still, many on each side blame the other for the enmity.
The uprising against Assad, a member of the minority Alawite Muslim sect, arose from the disaffected ranks of the nation's Sunni majority, though many Sunnis remain aligned with the government and serve in the military. Alawites, Christians, Shiites, Druze and other minority groups have generally remained on the loyalist side, fearing that the rise of Sunni Islamist militants to power could threaten their existence in Syria.
Opposition activists say the Assad government fueled hatred in a bid to portray itself as a defender of Syria's suddenly vulnerable minorities. It is an article of faith among many opposition advocates that the government somehow facilitated the rise of Al Qaeda-style militant rebel groups, though no definitive evidence exists for the allegation, and the government dismisses it as absurd.
In largely loyalist districts, residents inevitably blame "terrorists" and foreign backers, from Riyadh to Washington.
"The West is practicing a double standard: Would they let these militants into their countries to destroy everything?" asked Father Gabriel Daoud, one of a number of Syriac Orthodox priests presiding at traditional Good Friday Mass.
A few blocks away, Rashed Gebara stood outside his home next to the Manar school, where the mortar shell struck early Tuesday as students were gathered there. He showed cellphone photographs of the bloodstained yard and a sneaker that he said belonged to a girl who lost a leg.
"We lived together for years — our closest neighbors are Shiites," said Gebara, a Christian whose comments were seconded by Shiite residents listening from a second-floor window above. "For years we had many Jewish people and shop owners in this neighborhood. Their clients were Sunnis. No one cared. Now this.... What is it they want? To push the Christians out of Bab Touma? We have been here for thousands of years."
Over at St. George's Cathedral, Daoud prepared for the Good Friday service. Outside the church were the posters of Yohanna Ibrahim and Paul Yazigi, the Syriac Orthodox and Greek Orthodox archbishops of Aleppo who were kidnapped a year ago near that northern city. Church officials suspect Islamic radicals were behind the abduction. There is no official word on the fate of the bishops.
"Easter is a time to celebrate resurrection," said Daoud, seated in his office before the start of services. "Just as Jesus Christ was resurrected from the dead, we hope and pray that Syria, too, will be resurrected."
Special correspondent Nabih Bulos contributed to this report.
---
Must-read stories from the L.A. Times
Get all the day's most vital news with our Today's Headlines newsletter, sent every weekday morning.
You may occasionally receive promotional content from the Los Angeles Times.