Syrian fighters start evacuating from last rebel-held neighborhood in Homs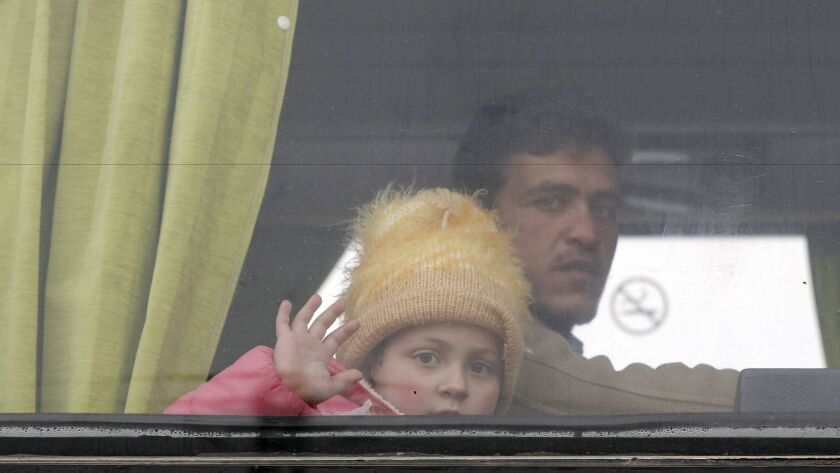 Reporting from Beirut —
"The capital of the revolution." That's what opposition supporters called the city of Homs in the early days of the war ravaging Syria.
On Saturday, opposition fighters and their families began leaving the last rebel-held enclave in the city under a Russian-backed deal reached earlier in the week, marking the official end of that moniker.
More than 400 gunmen and about 1,000 family members were evacuated from Waer in green Pullman buses and will be taken to areas still under the rebels' sway, according to the Syrian state news agency, SANA.
The neighborhood has been under government siege since 2013 and was subject to relentless bombardments over the past month, according to rebel activists.
About 10,000 people in all are expected to leave Waer in the coming weeks, Homs Gov. Talal Barazi told SANA.
They are being given the choice of going to rebel-held areas in the northern provinces of Idlib and Aleppo, as well as in rural parts of Homs province.
Those who remain in Waer, state media said, will be required to disarm and accept an amnesty deal that will pave the way for a return of government institutions and security forces to the neighborhood.
"The evacuation is being overseen by the Syrian Arab Red Crescent, Syrian Interior Security forces and Russian military police," said Barazi.
The pro-government Ikhbariyah TV channel quoted an unidentified Russian officer as saying, "We're here to help our friends and restore safe life to this country."
Mohammed Salameh, an opposition activist in Waer reached via a cellphone messaging service, said the departing fighters left with their personal weapons and were headed toward Jarablus, a town on the border with Turkey.
"This process will continue for two or three months, once a week," he said.
Salameh described the evacuation, which he plans to join, as a "forced displacement."
"In two months, this neighborhood will be completely emptied of its inhabitants," he said.
Similar agreements have been forged around the country. In December, rebel fighters accepted safe passage out of their redoubt in the city of Aleppo after an intense government military campaign that saw their ranks collapse after a months-long siege.
Opposition representatives accuse the government of engaging in "submit or starve" tactics, changing the country's demographic map by removing the Sunni Muslim-dominated populations that support the opposition from besieged communities and replacing them with loyalists from other sects.
But Barazi rejected such claims, saying he expects that more than 40,000 of Waer's residents will remain in the neighborhood, and that many of those now departing will eventually return.
"More than 40% of residents have already returned to Homs' Old City quarter," Barazi told Ikhbariyah, referring to a former rebel-held pocket that was evacuated in 2014.
Homs was one of the first cities to embrace the 2011 uprisings against Syrian President Bashar Assad. It fell to the opposition after fierce street battles between government soldiers and the then-nascent rebel forces.
But the government soon countered with a heavy bombardment campaign to subdue rebel neighborhoods such as Baba Amr and later the Old City.
The evacuations come as the Syrian crisis enters its seventh year with no clear end to the conflict in sight.
The government has touted such "reconciliation" agreements as the best path toward stability in the country, even while grudgingly engaging in United Nations-brokered peace talks. But although it has rolled back rebel gains throughout the country, even so-called secure areas remain at risk.
This week, waves of suicide bombers struck parts of the capital, Damascus.
Bulos is a special correspondent.
---
UPDATES:
2:20 p.m.: This article was updated throughout with staff reporting.
This article was updated at 10:10 a.m.
---
Must-read stories from the L.A. Times
Get all the day's most vital news with our Today's Headlines newsletter, sent every weekday morning.
You may occasionally receive promotional content from the Los Angeles Times.