Good Friday processions move through ruins of Syria's civil war
Reporting from Homs, Syria —
They marched past bullet-riddled storefronts, bombed-out apartment blocks and makeshift shrines to pro-government "martyrs" lost in the war.
Clergymen hoisted on their shoulders a miniature coffin filled with flowers, a symbol of the death of Christ on this most solemn day of Holy Week. Soldiers and black-clad militiamen toting AK-47s provided a measure of security in a pulverized city where rebel car bombs and suicide attackers remain a constant threat.

For the record:
1:47 p.m. June 24, 2019An earlier version of this article said two Syrian bishops were kidnapped outside Aleppo in 2003. They were kidnapped in 2013.
The Good Friday evening procession through the narrow streets of this war-traumatized city highlighted how a reeling but resilient Christian community is gradually coming back to their roots in Homs' Old City, traditional hub of the city's ancient Christian minority. In keeping with the message of Easter, their measured return marks a rebirth, however halting.
That return comes amid widespread fears that sectarian-tinged conflicts such as the Syrian war could drive much of the Christian population from the Middle East. Participants in Friday's procession, however, vowed never to abandon their beloved albeit war-ravaged neighborhoods in central Homs.
"Christians will always be in Syria," declared Archbishop Selwanor Boutros Alnemeh in an interview shortly before presiding over services at Our Lady of the Holy Belt Syrian Orthodox Church in Old Homs, famed for a venerated relic said to be a portion of a belt worn by Mary, mother of Jesus. "This is our home. We will never leave Syria."
Christians will always be in Syria. This is our home.
— Archbishop Selwanor Boutros Alnemeh
The celebrated church, which traces its origins to the early days of Christianity, has been largely rebuilt after suffering heavy damage.
During the two-year rebel occupation of the zone, clerics said, opposition fighters dug up portions of the church interior seeking the relic or rumored stashes of gold. But church authorities had removed the relic for safe-keeping, preserving the cherished item that is a vivid symbol of Hom's Christian pedigree.
Most Old City residents fled the area during heavy fighting that erupted here in in 2012. Two years later, in May 2014, the rebels decamped from the Old City in a United Nations-brokered deal.
Since then, Christians and other former residents have trickled back to the Old City, undertaking massive repairs on their damaged homes. But many buildings could not be salvaged. Large-scale reconstruction awaits the end of the war. The Old City still has the eerie feel of a ghost town.
Today, authorities say, Homs' Old City is home to perhaps 50,000 people, compared with a pre-war population of more than 300,000. Returnees recount the grief they felt at having been away from the familiar streets and places of worship. And they also speak with exhilaration about being back.
"I still feel something is missing in my life, we lost so much time," said Victoria Jabbour, 16, who said her family of four recently returned after being away from the Old City for five years. They all live in one room. Even so, "it's wonderful to be here now," added Jabbour, who was among many young and old participating in the torch-light procession. "It's like being home again."
Joseph Farkough, 63, came back to the Old City and opened a cafe where patrons sip coffee and tea and smoke shisha pipes just across the street from the church of Our Lady of the Holy Belt. Photos on the wall of the cafe document residents' return to the rubble-filled district. A proclamation, in English, captures people's resolute attitude amid many hardships:
"In this neighborhood, we suffered, we went through difficult times and we fled our homes. Today, we may still suffer, difficult times remain, but we are holding on to our land … believing the sun will rise again."
While there are no precise figures, Christians today are believed to represent less than 10% of Syria's population. The war has accelerated the emigration of many Christians.
Throughout the Syrian conflict, some hard-line Sunni Islamist opposition groups have targeted Christian churches and clerics. Christians, like other minorities, are generally viewed as supportive of the government of President Bashar Assad.
Two Syrian bishops were kidnapped outside Aleppo in 2013 and remain missing. An Italian Jesuit, Father Paolo Dall'Oglio, went missing the same year in northern Syria. Rebels linked to Al Qaeda abducted 13 Catholic nuns from the historic Christian town of Maaloula in 2013; they were later released in a prisoner exchange.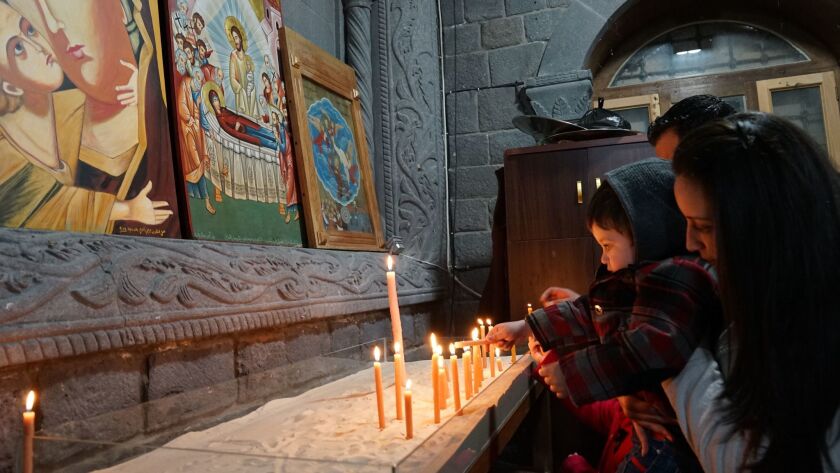 Here in Homs, a Dutch Jesuit, Father Frans van der Lugt, who had spent decades in Syria, was executed in April 2014 by a masked gunman at the Jesuit residence in the Old City. A month later, government forces recaptured the zone.
The elderly priest, known as Father Francs and just three days shy of his 76th birthday, had refused to leave the rebel-occupied neighborhood, staying behind to help remaining residents, many of them elderly Christians who faced starvation. He bicycled about the zone, providing food and other aid to those stranded inside.
Van der Lugt, also known as Father Francis, was buried in the garden of the Jesuit residence where he spent the last years of his life. His grave has become a kind of pilgrimage site, a testament to the legacy of a priest who sought to build bridges between Syria's diverse communities.
"To Father Francis, we were all the same, Muslim, Christian, Jewish — we are all humans," noted Father Magdi Seif, the current Jesuit superior in Syria, who spoke Friday at the Jesuit residence in Homs alongside the grave of the slain Dutch cleric. "Every day we see more and more people returning to the Old City, more shops open, more children playing in the streets. This is what Father Francis would have wanted."
twitter: @mcdneville
---
Must-read stories from the L.A. Times
Get the day's top news with our Today's Headlines newsletter, sent every weekday morning.
You may occasionally receive promotional content from the Los Angeles Times.