Pentagon says U.S.-trained rebels gave weapons to militants in Syria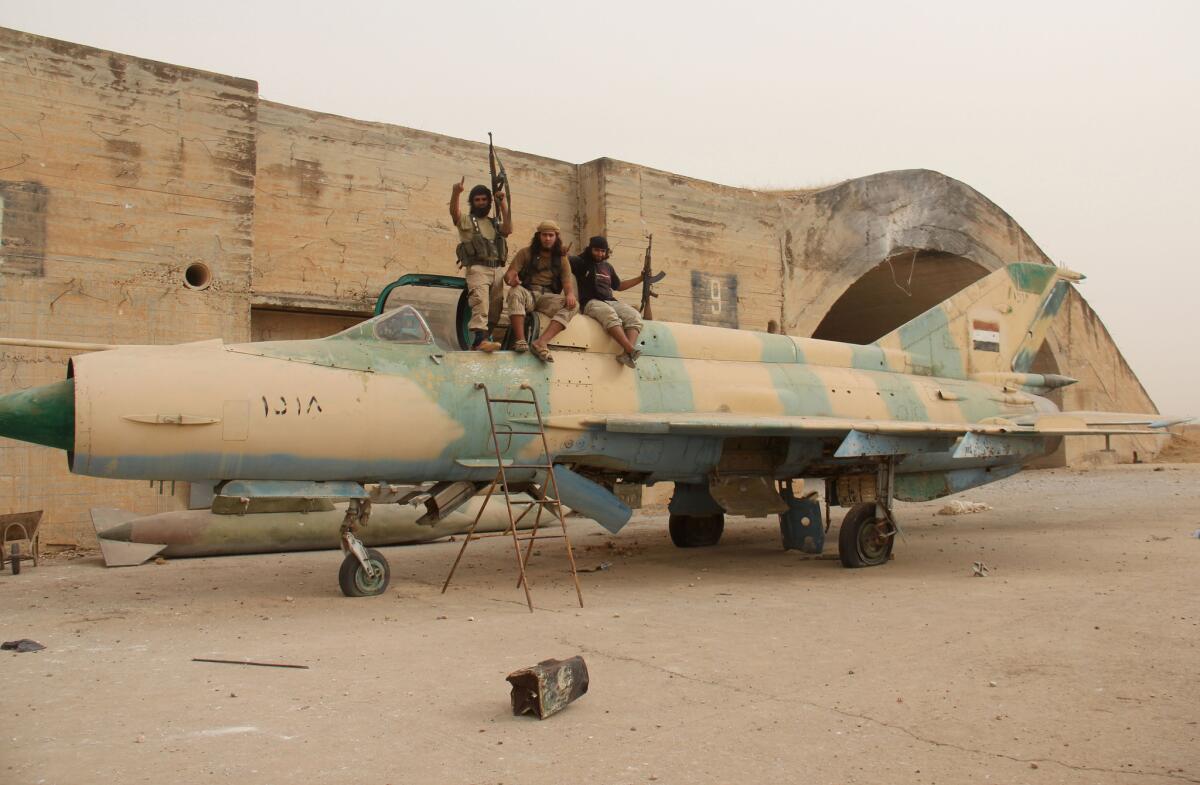 Reporting From Washington —
After two days of denials, the Pentagon disclosed late Friday that a U.S.-trained and equipped proxy force in Syria had turned over some of its supplied weapons to an Al Qaeda affiliate.
U.S. officials said rebels told them a commander of a group of trained fighters gave six pickup trucks with mounted machine guns and a portion of their ammunition, or about 25% of their issued equipment, to Al Nusra Front in exchange for safe passage within their operating area in northern Syria.
The information "is very concerning and a violation of Syria train and equip program guidelines," said Col. Patrick Ryder, spokesman of U.S. Central Command, which oversees the military effort in the Middle East.
The development was the latest embarrassment for the U.S. military's $500-million program to train and equip 5,400 Syrian rebel fighters considered to be moderate to confront Islamic State extremists.
The plan has been beset with problems since it was announced by President Obama more than a year ago.
On Wednesday, there were reports and social media posts that a U.S.-backed commander, along with 70 fighters, had joined Al Nusra Front after receiving training and a cache of weapons in neighboring Turkey.
The Pentagon said at the time the claims were "patently false" and that "coalition-issued weapons and equipment are under the positive control" of the so-called New Syrian Force fighters.
Meanwhile, Al Nusra Front supporters uploaded a picture of assault rifles reportedly taken from the rebels.
At the time, Central Command said it determined the claim to be false because it conducted "an analysis" of the image and "the tweeted image was an old picture repurposed from" a rebel Facebook page.
Central Command also said that the rebel group told them all equipment was accounted for and there were no defections. The rebel group has not reported any defections, the Pentagon said.
"In light of this new information, we wanted to ensure the public was informed as quickly as possible about the facts as we know them at this time," Ryder said. "We are using all means at our disposal to look into what exactly happened and determine the appropriate response."
The Pentagon's train and equip program started in May after months of delays and disagreements about its goal.
The four countries where the military training would take place — Turkey, Jordan, Saudi Arabia and Qatar — wanted the training to focus first on ousting Syrian President Bashar Assad, while the White House wanted the fighters to target Islamic State.
Rebel trainees, meanwhile, chafed under a condition that they engage Islamic State and abandon the fight against government forces. Others quit or did not pass a difficult vetting process.
The program has thus far generated only two classes of coalition-trained fighters in Syria: The class of 71, who turned over its weapons, and an initial class of 54 who were ambushed by Al Nusra Front.
The Pentagon would not disclose where the class of 71 was located. Of the ambushed class, the military said nine fighters have since returned to Syria, 14 returned to Syria but quit the program, 11 left Syria altogether and 18 are missing. Of the remaining two, one was killed and the other was captured by Al Nusra Front.
Follow @wjhenn for military and defense info.
Sign up for Essential California for the L.A. Times biggest news, features and recommendations in your inbox six days a week.
You may occasionally receive promotional content from the Los Angeles Times.