Potential U.S. allies? Syrian rebel groups at a glance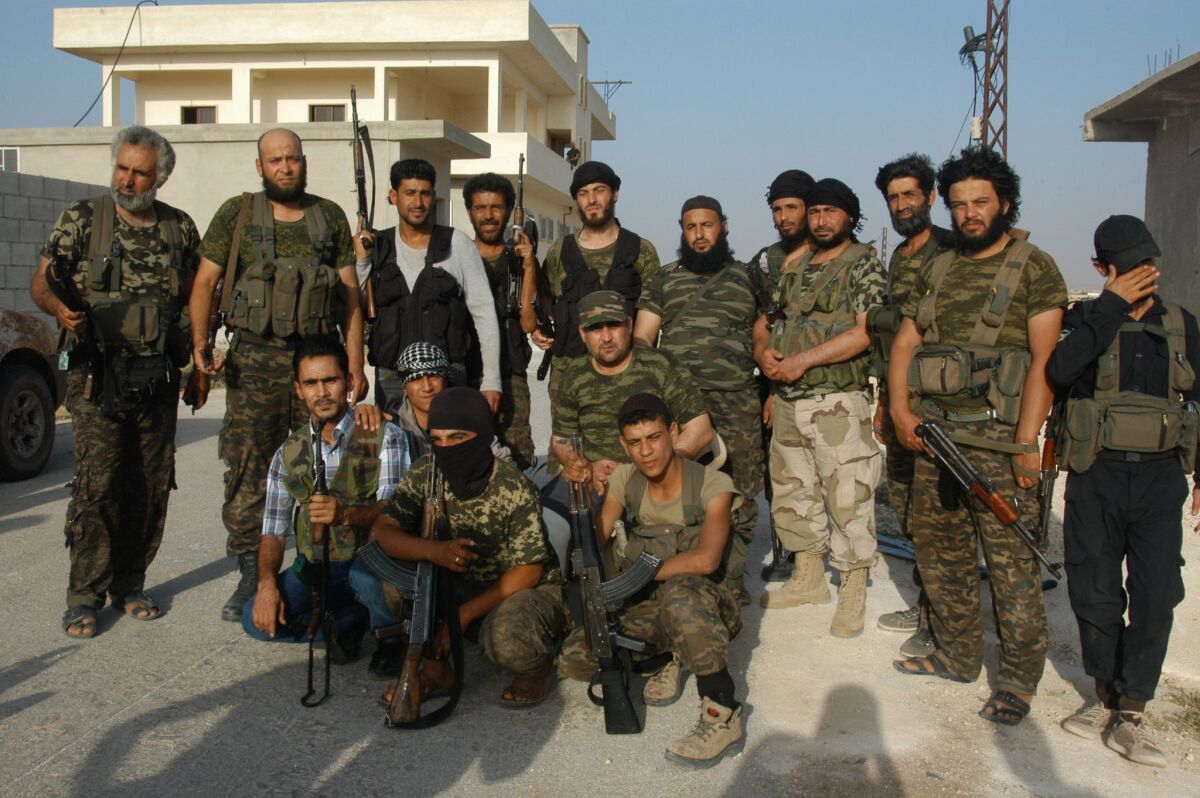 President Obama has said a key part of his strategy to degrade and defeat Islamic State militants will be working with moderate Syrian opposition groups. He has called on Congress to authorize $500 million to train and arm Syrian rebels to become America's partners. But who are these groups, and to what degree can the U.S. rely on them?
The U.S. has already begun supporting some of them, sending non-lethal aid as well as covert weapons shipments. These select rebels have been vetted to ensure they have secular and moderate views that satisfy the U.S. But other groups are considered by the American government to be terrorists who pose a threat to the U.S.
Here's a guide to the armed opposition groups operating now in Syria:
FREE SYRIAN ARMY: This is the group the U.S. already is working with, and which will almost certainly be the sole recipient of any weapons or training mobilized by the U.S. to help defeat Islamic State. The U.S. has elected to form a partnership with the FSA because the group has been deemed moderate and secular. The army is actually a coalition of eight large battalions and many smaller groups, formed to try to overthrow the government of Syrian President Bashar Assad and fight Islamic State. Some of the groups in the Western-backed FSA have received covert training and arming by the United States, including small shipments of American-made BGM-71 TOW antitank missiles. In theory, the FSA is under the leadership of the opposition Syrian National Coalition, but in effect it operates independently. Though FSA groups have denounced the Syrian Al Qaeda affiliate, Nusra Front, in reality they continue to cooperate with it on the battlefield.
NUSRA FRONT: The Syrian Al Qaeda branch has pledged its allegiance to Ayman Zawahiri, the successor to Osama bin Laden, and in 2012 the U.S. formally designated Nusra Front as a terrorist organization. The group fights alongside both moderate and more extremist rebel groups against Assad. Its participation against Islamic State is less dependable, with many Nusra fighters unwilling to take up arms against forces they regard as fellow Muslims. On Thursday, Nusra released 45 United Nations peacekeepers in the Golan Heights who had been captured at the border crossing between Israel and Syria. Nusra dropped several demands for the peacekeepers' release, including the group's removal from a United Nations terrorist list.
ISLAMIC FRONT: A coalition of seven Islamist brigades, some of which were once part of the FSA. The Islamic Front also fights against Assad's forces and Islamic State. Because of its alliance with Nusra and because it doesn't espouse a secular political agenda, it is not expected to receive Western military aid. When it formed late last year, it united some of the largest and strongest rebel groups throughout Syria, but it has struggled to form a cohesive union and has suffered significant military setbacks, including the recent killing of its political leader, Hassan Abboud. The Front, with both political and religious wings, is more than just a fighting force and wants sharia law imposed in Syria. It cooperates with both the FSA and Nusra Front.
POPULAR PROTECTION UNITS (YPG): The YPG controls parts of northern Syria and has had moderate success in battling against Islamic State. It is the Syrian wing of the Turkish-based Kurdistan Workers Party, which is considered a terrorist group by the U.S. because of its armed rebellion against Turkey, a North Atlantic Treaty Organization ally. The YPG is not expected to receive any Western military aid. Its relationship with Syrian rebels is complicated. Rebels accuse the YPG of working with Assad's government, which has pulled out of most northern Kurdish areas, giving the group a large measure of autonomy.
For more news about Syria, follow @RajaAbdulrahim on Twitter
---
Must-read stories from the L.A. Times
Get the day's top news with our Today's Headlines newsletter, sent every weekday morning.
You may occasionally receive promotional content from the Los Angeles Times.