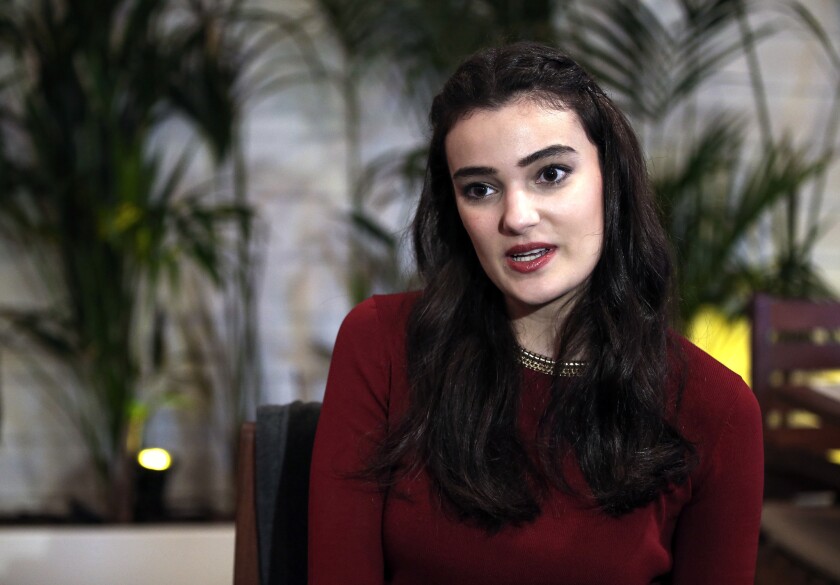 Reporting from Van, Turkey —
A former Turkish beauty queen Tuesday was convicted of insulting President Recep Tayyip Erdogan by sharing a poem on social media, raising more concerns about what many consider the government's crackdown on freedom of expression.
The 27-year-old model, Merve Buyuksarac, shared a poem from the popular Turkish comic book, Uykusuz, on her Instagram account in 2014, while Erdogan was prime minister. He became president that year.
The poem, known as the Master's Poem, critiqued Erdogan's rule, particularly corruption allegations that have plagued him for years, and riffed off the Turkish national anthem.
See more of our top stories on Facebook >>
"I shared it because I found it funny," Buyuksarac, who was named Miss Turkey in 2006, said at the time, according to local media reports.
But Erdogan's lawyers sought a more than four-year prison sentence, arguing that her post exceeded the "boundaries of criticism" and amounted to an "attack" against Erdogan's "personal rights."
"We want the defendant to be punished," Erdogan's lawyer, Hatice Ozay, said Tuesday according to Hurriyet Daily News.
A Turkish court Tuesday said Buyuksarac insulted a public official and handed down a 14-month suspended sentence.
NEWSLETTER: Get the day's top headlines from Times Editor Davan Maharaj >>
Buyuksarac has denied insulting Erdogan and her lawyer has vowed to appeal her case to the European Court of Human Rights in Strasbourg, France.
Rights groups worry that Erdogan is systematically invoking obscure legislation, barely used in the history of the Turkish Republic, to intimidate critics and crush dissent.
The goal is to muzzle any kind of criticism. Such cases terrorize people… and stifles lively discussion in a democratic society.
Emma Sinclair-Webb, senior Turkey researcher at Human Rights Watch
"The goal is to muzzle any kind of criticism," said Emma Sinclair-Webb, senior Turkey researcher at Human Rights Watch. "Such cases terrorize people… and stifles lively discussion in a democratic society."
Since Erdogan rose to the presidency in 2014, prosecutors have opened some 2,000 cases claiming insults against the president. They have targeted rival politicians, teenagers, doctors, now a former Miss Turkey.
The government also has sought to prosecute "insults" from abroad.
Germany recently allowed for the prosecution of a comedian on charges of insulting Erdogan. Meantime, the Turkish consulate in Holland sparked outrage after asking Turks in that country to inform the consulate of "insults" against Erdogan within their communities.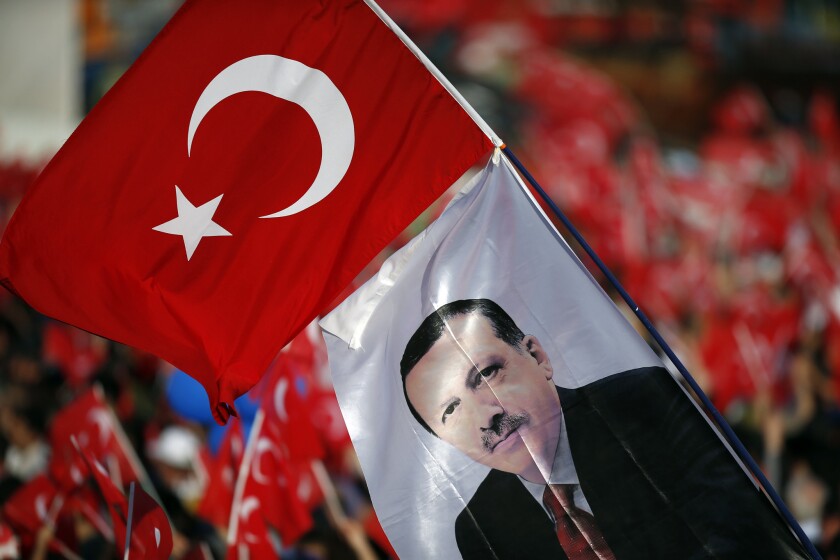 Analysts and other observers say the cases raise questions about the rule of law in Turkey. Erdogan has seized control over much of the judiciary, with the Constitutional Court now seen as the last independent court.
In one recent case, a Turkish court reportedly had to bring in a team of experts to assess whether the creature Gollum in "The Lord of the Rings" film series was a force of good or evil.
A doctor, Bilgin Ciftci, had posted images on social media likening Erdogan to J.R.R Tolkien's fictional creature last year. He was fired from his job and accused of insulting Erdogan.
ALSO
Iraqi forces press on in Fallouja as concerns rise over 'human catastrophe'
Turkish premier says it's 'unacceptable' for U.S. troops to wear Kurdish insignia
Former beauty queen convicted of insulting Turkey's president by sharing poem on social media
Johnson is a special correspondent.
---