Turkey and U.S. at loggerheads over purge of top military officers in wake of coup attempt
Reporting from Istanbul, Turkey —
Turkey's military formally ousted a large part of its general officer corps Friday for alleged participation in the failed July 15 military coup, and a public clash broke out between the Turkish leadership and senior U.S. security aides who appeared sorry to see the cashiered officers go.
Turkish defense minister Fikri Isik said more than half the 358 top officers had supported the coup attempt as well as 1,676 rank and file soldiers and 1,214 military students. Of the senior officers, 149 generals and admirals were dismissed effective Friday.
Meanwhile, some of the dozens of detained journalists appeared in court, suspected of ties to the coup.
Top Turkish civilian and military officials agreed late Thursday that chief of staff Hulusi Akar and the commanders of the land, air and naval forces, all of whom remained loyal to President Recep Tayyip Erdogan, will retain their posts, as will the commander of the army division who made it possible for Erdgoan to return to Istanbul. But the housecleaning was widespread below that.
The mass firings apparently didn't sit well with senior U.S. military officials, who spoke in surprisingly positive terms about the ousted officers.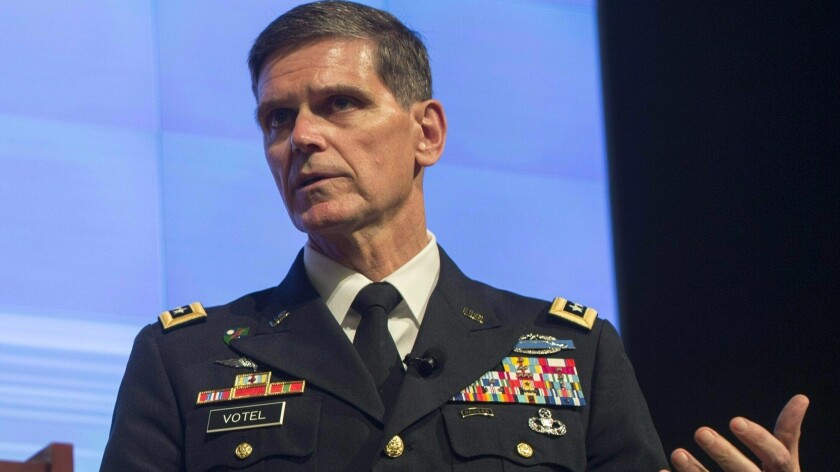 The purge of the Turkish military ranks is "something to be very, very concerned about," said Gen. Joseph Votel, the commander of the U.S. Central Command, which overseas military operations in the Middle East.
"We have certainly had relationships with a lot of Turkish leaders, military leaders in particular," Votel told the Aspen Security Forum on Thursday. "I am concerned that it will impact the level of cooperation and collaboration that we have with Turkey, which has been excellent, frankly."
Echoing him was James Clapper, the Director of National Intelligence, who said the purge had affected all areas of the national security apparatus in Turkey. "Many of our interlocutors have been purged or arrested. There is no question that this is going to set back and make more difficult" the U.S.'s Middle East strategy.
But seen from the Turkish perspective, the stress on excellent relations with the accused officers suggested that official Washington didn't take the coup seriously and was even sorry to see fired officers go.
"Instead of thanking this government for thwarting the coup attempt and for [maintaining] democracy, you are standing by the putschists," Erdogan told reporters Friday. "Who are you? You have got to know your place."
Erdogan also criticized the U.S. for not handing over Fethullah Gulen, a Muslim cleric and former political ally living in U.S. self-exile, whom Erdogan claims is responsible for the coup attempt. He stopped just short of accusing the U.S. of supporting the coup.
"The putschist is already in your country, you are looking after him," he said of Gulen. "You can never deceive my people. My people know who is involved in this plot, and who is the mastermind. With such statement you are just revealing yourself," he said.
Clapper had already upset Erdogan after asserting last week, in response to a columnist's question, that Erdogan's allegations against Gulen didn't pass the "smell test" of credibility. He said Secretary of State John F. Kerry was "right on the ball" in asking Turkey to provide evidence to support the request for extradition. "We haven't seen it yet," he said.
The growing differences over Gulen indicated a rocky road ahead in relations between the two NATO allies, and the latest remarks by U.S. security officials seemed likely to add to the estrangement.
Published opinion polls here indicate overwhelming public support for the government's contention that Gulen sympathizers staged the coup attempt, and even the main opposition parties in the parliament have demanded that the U.S. extradite Gulen from his home in Pennsylvania's Poconos mountains.
The Turkish government is using language that suggests no compromise. "We will absolutely bring back the head of the Fetullah Terrorist Organization, the one responsible for the coup, who is now in the U.S.," Prime Minster Binali Yildirim said Friday. "We will bring him back to Turkey."
Gulen has claimed that Erdogan himself staged the coup to tighten his increasingly autocratic control.
The government has done its part to stoke patriotic fervor, promising pensions and salaries to the families of the 237 people who died in the coup attempt and decorations to members of the public who took to the streets to oppose the coup.
On Friday, Yildirim announced the Akinci military base in Ankara, where military chief of staff Akar and the air, navy and land commanders were taken in handcuffs the night of the coup, will be closed and transformed into a place "to commemorate our martyrs." Also to be closed are the barracks in Ankara and Istanbul from which coup plotters launched helicopters and tanks.
But outside Turkey, Erdogan's actions are being watched with skepticism and concern by government and human rights monitors shocked by the scale of the mass firings and detentions.
Nearly 60,000 people have been suspended from their jobs on suspicion of being supporters of Gulen's moderate Islamist Hizmet movement, judges and prosecutors have been thrown in jail, university rectors and deans ousted wholesale, and more than 1,000 schools and other institutions affiliated with Gulen closed.
Under a week-old state of emergency, the government published a decree shutting down 131 media institutions, including 18 television channels, three news agencies, 23 radio stations, 45 newspapers and 15 magazines. A government official said the media, which included Zaman, once Turkey's biggest daily newspaper, were closed because they have financial ties to Gulen. Similarly, he said 42 journalists ordered detained on July 25 and another 47 ordered detained Wednesday are being questioned for their links to the movement.
"The prosecutors aren't interested in what individual columnists wrote or said," said the official, who could not be identified by government protocol. "At this point the reasoning is that prominent employees of Zaman are likely to have intimate knowledge of the Gulen network and as such could benefit the investigation."
Meanwhile, the purge continued on Friday as officials confirmed that that nearly 50,000 people, nearly all state officials, have had their official passports suspended. And Foreign Minister Mevlut Cavusoglu has announced that as many as 300 diplomats including two ambassadors, are likely to be fired from the Foreign Ministry for alleged links with Gulen.
Gutman is a special correspondent. Times staff writer Brian Bennett in Washington and special correspondent Duygu Guvenc in Ankara contributed to this report.
Turkish lawmakers approve state of emergency, giving President Erdogan more power after attempted coup
U.S. officials assure Turkey of America's support for democratically elected governments
Powerful Syrian opposition group splits with Al Qaeda — but not with its philosophy
---
Must-read stories from the L.A. Times
Get the day's top news with our Today's Headlines newsletter, sent every weekday morning.
You may occasionally receive promotional content from the Los Angeles Times.