Egypt army defends role in deadly clashes with Morsi supporters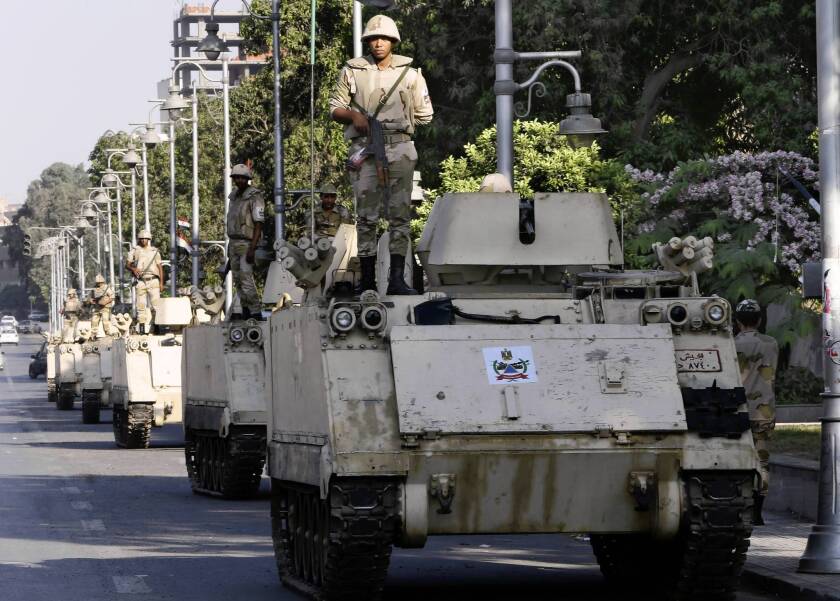 CAIRO — With supporters of ousted President Mohamed Morsi calling for another mass rally Friday, Egypt's military gave a fuller accounting of its role in deadly clashes this week, saying it opened fire only after encountering stones, gunfire, Molotov cocktails and even toilets hurled from rooftops.
The military's version of events — accompanied by an edited video — came during a briefing Thursday for journalists and suggested the army was in a propaganda battle with the Muslim Brotherhood over which side was more complicit in the violence Monday in front of the Republican Guard's Cairo headquarters. At least 51 protesters were killed.
The clashes between the armed forces and supporters of Morsi and his Muslim Brotherhood movement have further inflamed the country and led to calls from Islamists for a national uprising.
Witnesses say they were attacked during predawn prayers on the third day of a peaceful sit-in to demand Morsi's release from military detention.
However, army spokesman Ahmed Ali said security forces were targeted with live ammunition.
Ali said the army responded by firing tear gas, blanks and rubber bullets. Finally, he said, "we used live ammunition in non-deadly parts of the body."
Doctors who treated the wounded at a makeshift field hospital, however, said many of the victims had neck, chest and head wounds.
Ali said the army's investigation determined that the assailants were "outlaws; they are criminals."
"This was not peaceful protest.... It was premeditated violence."
He said that immediately after the bloodshed, pro-Morsi forces turned to "propaganda warfare" by posting pictures and video online suggesting an "array of lies," including that soldiers had killed children. Ali said the two dead children in pictures used by pro-Morsi forces were Syrian children killed in March in that country's civil war.
Other videos played by the army showed Islamists threatening holy war and warning that Gen. Abdel Fattah Sisi, commander of the armed forces, "created a new Al Qaeda, a new Taliban" when the army overthrew Morsi.
But the army video did not show exactly what unfolded between 4 a.m. and about 5:30 a.m., when many of the deaths occurred. The military said an attack had not been expected and no cameras were ready when the violence broke out.
Muslim Brotherhood officials have expressed outrage that the army is trying to blame them for the attack.
Prosecutors on Wednesday called for the arrest of Muslim Brotherhood leader Mohamed Badie and other top figures, with state media reporting that Badie is accused of inciting violence before deadly clashes.
"We will continue our peaceful resistance to the bloody military coup against constitutional legitimacy," the Brotherhood said in a statement Thursday. "We trust that the peaceful and popular will of the people shall triumph over force and oppression."
The group is calling for thousands of its supporters to turn out after Friday prayers for a mass rally calling for Morsi's reinstatement.
The military-led interim government is expected to finish forming a new Cabinet to replace Morsi's as early as Sunday.
Interim Prime Minister Hazem Beblawi and other officials are inviting representatives from the Muslim Brotherhood's Freedom and Justice Party to join the coalition.
Muslim Brotherhood leaders scoffed at the offer, calling the interim government illegitimate and noting that the army has arrested many of its leaders.
Separately, Egyptian authorities said Thursday they are holding two Muslim Brotherhood members suspected in the killing last week of an Alexandria teenager, who was thrown from a rooftop during clashes between pro- and anti-Morsi demonstrators.
Security officials said the men had confessed to throwing Hamada Badr, 17, off a six-story building. Muslim Brotherhood officials in Alexandria have denied that their members took part in the attack.
A cellphone video of the grisly incident was widely disseminated on YouTube, sending shock waves through the country.
One suspect was detained Sunday, authorities said. On Thursday, prosecutors asked a court to hold the men for an additional 15 days pending investigations, according to the state news agency MENA.
Hamada's family said the teen was celebrating Morsi's ouster with friends when a gang attacked them. Some witnesses said the youths were throwing rocks at pro-Morsi supporters, but Hamada's friends denied doing anything to provoke the attack.
---
Must-read stories from the L.A. Times
Get all the day's most vital news with our Today's Headlines newsletter, sent every weekday morning.
You may occasionally receive promotional content from the Los Angeles Times.