Bomb detonated at Beijing airport; suspect is only one hurt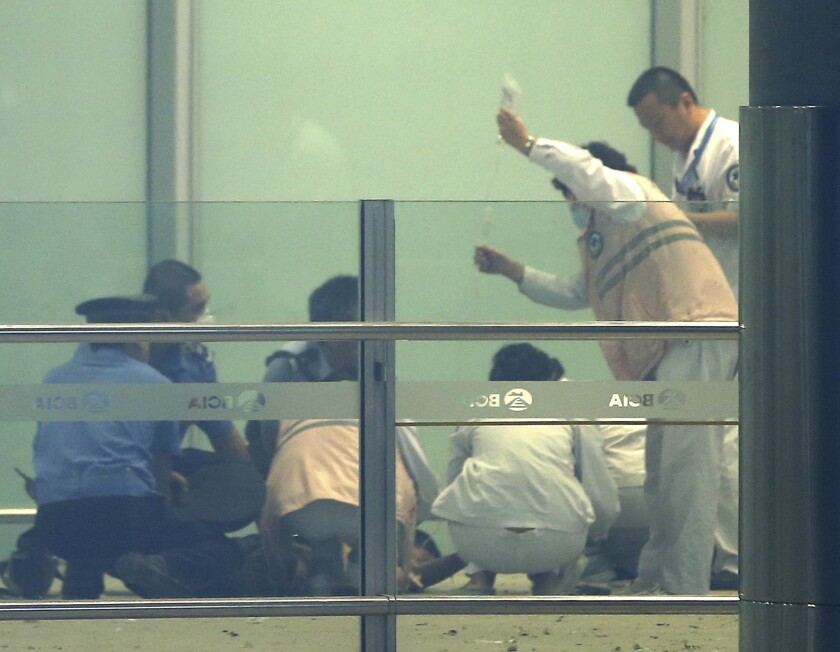 BEIJING — A man in a wheelchair who was airing grievances set off a homemade bomb in a crowded terminal at Beijing's main airport Saturday, injuring himself but no one else, Chinese state media and witnesses said.
Order was quickly restored and no flights were affected by the explosion at the airport's main international terminal, state-run China Central Television said on its microblog.
The official Xinhua News Agency said a Chinese man in a wheelchair set off the device outside the arrivals exit of Terminal 3 at Beijing Capital International Airport at around 6:24 p.m. local time. It said the man was being treated for injuries, but that no one else was hurt in the explosion.
CCTV identified the man in the wheelchair as Ji Zhongxing, born in 1979 and from the eastern province of Shandong.
It was not immediately clear why the man allegedly set off the bomb, but Xinhua said that before the blast went off, he had been stopped from handing out leaflets airing his complaints. Xinhua, which cited an initial police investigation, did not say what his complaints were.
In an online blog entry from 2006, a writer who uses the same name, the same year of birth and the same hometown in Shandong province as Ji complained of his disabilities resulting from cruel beatings by security personnel in the southern province of Guangdong. He said he had been seeking justice and compensation, but to no avail.
"Because we are peasants and we are poor, no one is willing to help us," the author wrote in the entry, which was the latest one in the blog.
The blog, which was available immediately after the explosion, was removed within hours, and it was not possible to verify its authenticity.
The incident occurred as outrage rippled through Chinese social media about a case involving a watermelon seller who was allegedly beaten to death by security personnel in Hunan province, in south-central China.
A witness to the airport bombing, who gave only his family name, Chen, said he was about 25 yards away when it occurred. "The explosion sound was loud," he said.
Chen said there was only one explosion, and that the terminal was crowded with people. "Since there was no second explosion, many people took out their phones and gathered near the explosion spot to take photos," he said.
He said police responded to the explosion immediately.
Another witness, who gave only his last name, Qing, said there was no one around the man when he set off the bomb.
"It sounded like the sound of big firecrackers," said Qing, who was about 70 yards away from the explosion. "We couldn't see really what happened afterward. There was a lot of smoke and the police arrived very fast."
ALSO:
State Dept. says former CIA base chief Lady headed for U.S.
Cambodian opposition leader Sam Rainsy returns to stir up election
---
The Latinx experience chronicled
Get the Latinx Files newsletter for stories that capture the multitudes within our communities.
You may occasionally receive promotional content from the Los Angeles Times.