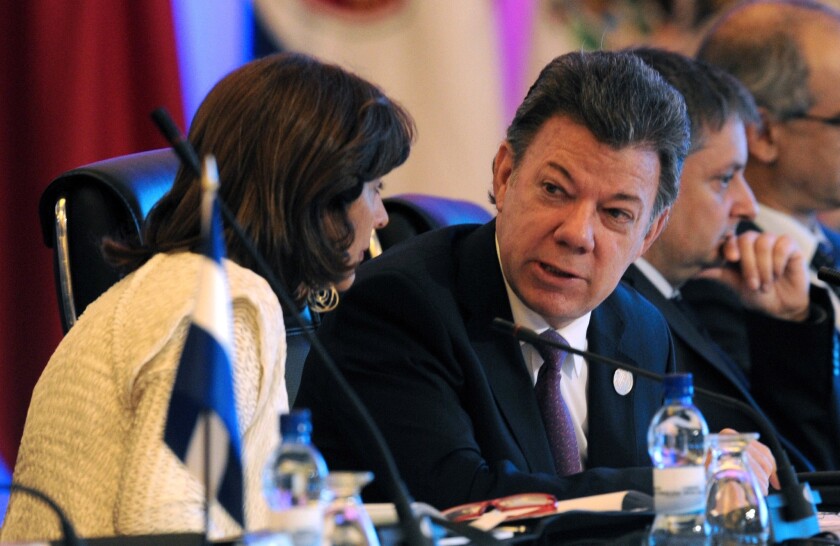 BOGOTA, Colombia -- Colombia on Wednesday recalled its ambassador to Nicaragua, a day after the Central American nation filed a complaint with an international court alleging Colombia "made threats of force" regarding disputed territory in the Caribbean.
Although details of the alleged threats were not available Wednesday, Colombian Defense Minister Juan Carlos Pinzon acknowledged that "three or four" navy ships were patrolling the disputed area, insisting that they were there to combat drug trafficking and to "protect rights of Colombian citizens."
Foreign Minister Maria Angela Holguin said at a news conference that she was recalling ambassador Luz Stella Jara because "it is impossible to have a dialogue with Nicaragua."
In an earlier interview with Caracol Radio of Bogota, she described Nicaragua as "the worst neighbor" for allegedly failing to engage in bilateral talks as called for in September by President Juan Manuel Santos to hammer out a treaty covering access to the disputed territory.
The two countries have been at loggerheads since the International Court of Justice ruled in November 2012 that 27,000 square miles of marine territory under Colombian control since 1803 belonged to Nicaragua. The area is a rich fishing ground and is thought to have large subsea deposits of natural gas.
Nicaragua on Tuesday filed another complaint against Colombia to report the alleged threats and protest that Colombia had not observed last year's court ruling.
Nicaragua used the ICJ decision to announce plans in August to offer offshore blocks to foreign oil explorers, prompting Santos to declare the court's 2012 decision "inapplicable." He also said his country would retain jurisdiction until the two countries agreed on a new treaty laying out the rights of Colombian fishermen and others.
"We have not ignored the [court's] decision, we have not ignored the court. What we have said is we cannot apply it," Holguin told reporters Wednesday. "For all these reasons and for the hostility of Nicaragua, we have taken the decision to recall our ambassador."
Pinzon said Colombian ships will continue to patrol the waters and noted that vessels had recently seized 9 tons of marijuana.
"Colombia has historically maintained a peaceful and responsible attitude in promoting stability. That has not changed and will not change," Pinzon told reporters. But he went on to denounce Nicaraguan "threats against its neighbors" as "pre-adolescent" behavior.
In addition to claiming the marine territory formerly held by Colombia, Nicaragua is involved in territorial disputes before the ICJ with neighbors Costa Rica and Panama, actions that have spurred the leaders of those two countries to criticize Nicaraguan President Daniel Ortega as "expansionist."
Colombia's recall of its ambassador is the latest incident signaling deteriorating relations. On Tuesday, Nicaragua's legislature approved the incursion of U.S. and Russian ships, troops and aircraft in and over its offshore territory to fight drug trafficking, a measure whose omission of Colombian armed forces was conspicuous.
Nicaragua and Russia previously had signed a drug trafficking treaty that permitted the presence of Russian armed forces within its boundaries. Critics have viewed the deal as a subtle endorsement by Russia of Nicaragua's territorial claims. This month, the overflight of two Russian military aircraft provoked a note of protest from Colombia.
ALSO:
Pakistan names career infantry officer as new military chief
Italy's Senate expels Silvio Berlusconi after tax fraud conviction
Why Ukraine is staying in Russia's orbit instead of turning West
Kraul is a special correspondent.
---