Gunmen torch vital records of rights group in El Salvador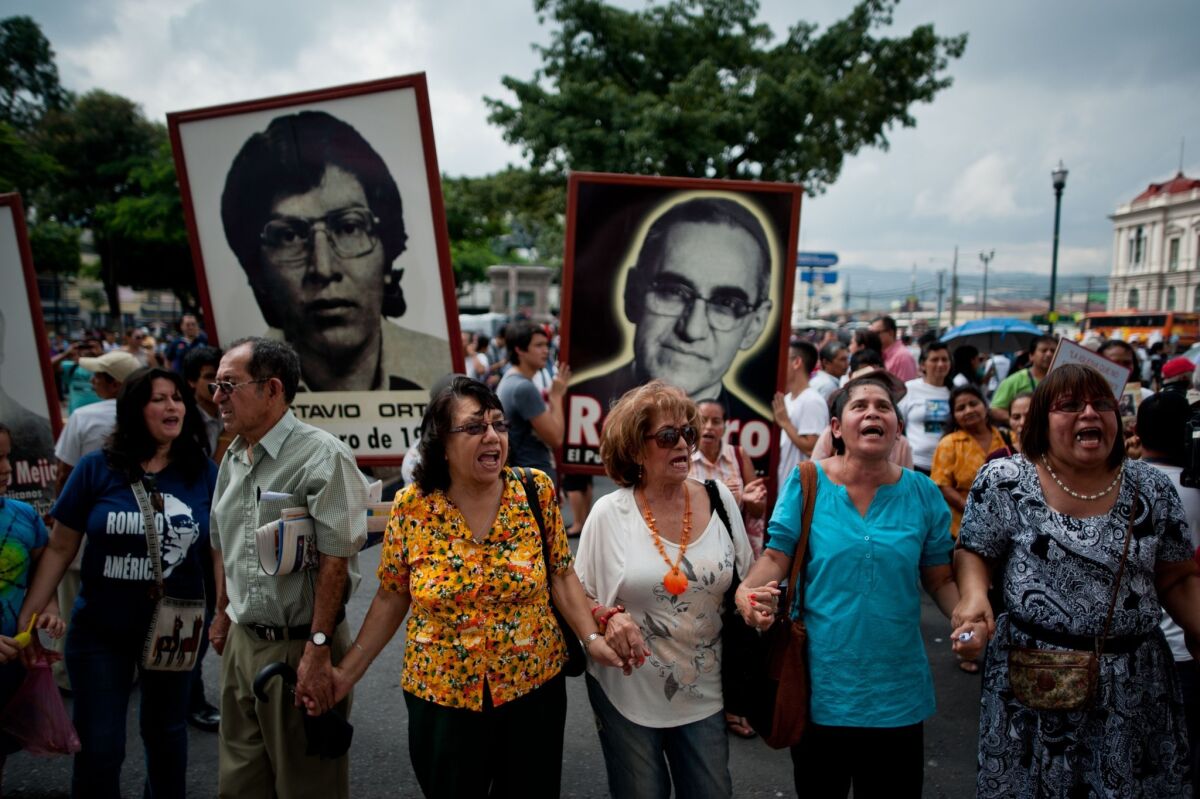 MEXICO CITY -- Gunmen in El Salvador early Thursday burst into the offices of a human rights agency that focuses on children missing from the country's civil war, torching documents and taking away computers, activists said.
The attack was a major blow against a group that had reunited numerous children with families from which they were wrenched in the 1980s. It follows by less than six weeks the abrupt closure of another human rights organization, one connected to the Roman Catholic Church, which had documented massacres and other egregious abuses over several decades.
Both incidents come as the Salvadoran judiciary reviews an amnesty law that prevented the prosecutions of army officers, right-wing political leaders and leftist guerrillas for crimes committed during the 1980-92 civil war, which killed 75,000 people in that tiny country. The U.S.-backed government at the time used brutal tactics to put down a Marxist-inspired insurgency.
If all or part of the amnesty law is overturned, those prosecutions could be opened. It is believed much of the evidence would come from the files in a number of grass-roots human rights organizations that work in El Salvador.
Thursday's incident involved the Pro-Busqueda ("search") Assn. for Missing Children (link in Spanish), which since 1994 has attempted to find the 1,000 or more children who disappeared in the war.
"This is a clear sabotage of our work," Pro-Busqueda Director Ester Alvarenga said in a news conference.
Gunmen tied up a guard, removed computers and other equipment, then doused the files with gasoline and set them on fire, the organization said on its website. Someone with a radio stood outside, giving the assailants instructions, according to a person briefed by investigators.
About 80% of crucial documentation is believed to have been destroyed, said Abraham Abrego, a representative of the Studies Foundation for the Application of Law (link in Spanish), a left-leaning legal rights organization that was one of several groups denouncing the attack.
"This sends a message of terror," Abrego said by telephone from the capital, San Salvador.
Pro-Busqueda was the subject of a 2011 Times article recounting the difficult task of reuniting families and long-lost children nearly two decades after the war ended.
Children during the conflict vanished when they fled army incursions or strayed when their guerrilla parents were killed in firefights. Some ended up in orphanages and were adopted, either by corrupt lawyers or through well-meaning applications.
Pro-Busqueda, using DNA testing and old-fashioned detective work, has pored through adoption records and interviewed survivors of massacres to track down missing children. Leads have taken them mostly to cities in the United States but also Europe.
The organization says it has put about 175 people in contact with families; the bodies of at least 50 children, found in unmarked or clandestine graves, have also served as the sad end to some cases.
Last month, the archbishop of San Salvador abruptly shut down another important human rights office, Tutela Legal, which had served as the preeminent chronicler of massacres, killings and other war crimes throughout the civil war and afterward. Bishop Jose Luis Escobar argued that with the war over, the office no longer had a purpose; human rights organizations the world over protested the decision and demanded that Tutela Legal's enormous archive of more than 50,000 cases be preserved.
Given both incidents, "all human rights archives in the country are really at risk," said Geoff Thale, programs director for the Washington Office on Latin America, a U.S.-based human rights group. He was in San Salvador.
"The human rights community, victims and the government need to think about systematic strategies to protect these archives," he said.
ALSO:
China increases aid to Philippines after drawing fire
Obama cautions Congress against fresh sanctions on Iran
Must-read stories from the L.A. Times
Get the day's top news with our Today's Headlines newsletter, sent every weekday morning.
You may occasionally receive promotional content from the Los Angeles Times.