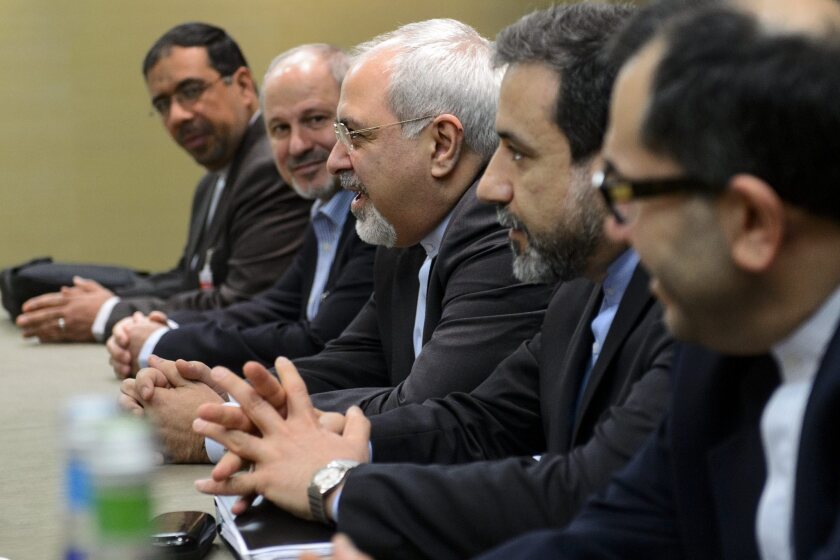 GENEVA -- Iranian officials spoke more optimistically about the chances for a deal on their disputed nuclear program following a Friday morning meeting with the chief representative of the six major powers at talks aimed at curbing that program.
In a contrast to gloomier assessments on Thursday, Iranian Foreign Minister Mohammad Javad Zarif and his deputies said the group was making progress on a draft agreement that lays out the terms of a six-month preliminary deal.
Considering the slow pace of the 10-year effort to get a deal "it could be said that considerable progress has been made up to this point," Zarif told FARS, the official Iranian news agency.
"Negotiations are moving on a positive track," said Takht Ravanchi, a deputy foreign minister.
At the same time, Iranian officials cautioned that other unresolved issues could still disrupt the up-and-down negotiations.
The two sides are seeking a deal that would give Iran limited, temporary relief from economic sanctions in return for temporary curbs on its nuclear program. The preliminary deal would halt the program -- which many countries fear is aimed at acquiring a nuclear weapons capability, despite Tehran's denials -- while a final, comprehensive agreement is nailed down in bargaining expected to take many months.
Zarif met Friday morning with Catherine Ashton, the lead diplomat for the six world powers engaged in the talks, to further pursue their discussions of a draft agreement. The six include the five permanent members of the United Nations Security Council -- the United States, Britain, Russia, China and France -- plus Germany.
Ashton and senior diplomats from the six nations later met to go over the discussion. The envoys then broke up to fill in their superiors back home about the state of play.
If all sides are satisfied, they could summon the six countries' foreign ministers, including Secretary of State John F. Kerry, for a formal blessing of the deal, perhaps on Saturday, diplomats said.
Iran had seemed to stiffen its demands on Thursday. Abbas Araqchi, deputy foreign minister, said Iran wanted immediate recognition of its authority to enrich uranium and quick easing of the West's tough sanctions on its oil industry and banking.
The two sides have been trying to carefully calibrate language on the sensitive enrichment issue. U.S. officials take the position that Iran can bargain with world powers for approval to pursue limited low-level domestic enrichment once it has settled other aspects of its dispute and has provided assurances that its nuclear program will be limited to non-military purposes.
But Iran has been unhappy with changes that were made in the draft agreement in the last negotiating round early this month, when France pushed publicly for tougher language in several areas.
Other key issues on the table are whether construction can continue at the partially built Arak heavy water reactor, which Western countries view as a special threat because it will be able to produce plutonium, and the question of how much sanctions relief Iran should receive under the accord.
The diplomats are facing the tough task of emerging with a deal that has enough political support to survive during the expected long and bruising negotiations for a final agreement. During that period, the interim accord is likely to come under fire from hard-liners in Tehran, congressional hawks in the U.S., the Israeli government and fearful Persian Gulf states.
Diplomats are expected to meet again Friday afternoon, and the U.S. and Iranian delegations may at some point resume a bilateral meeting.
ALSO:
Ukraine bows to Russian pressure, suspends EU entry bid
Supermarket roof collapses in Latvia; dozens may be trapped
Philippine typhoon survivors get a warm, even festive welcome
Twitter: @richtpau
---