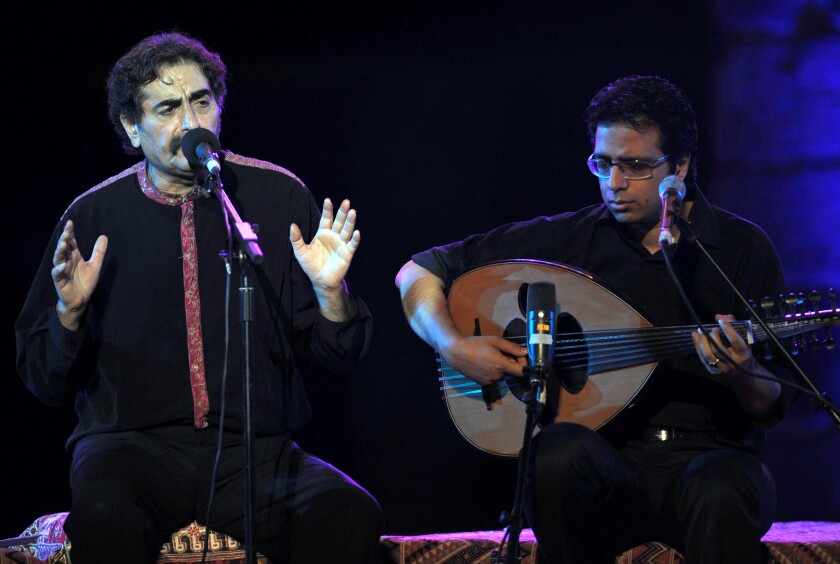 TEHRAN -- A technical blunder? Or the latest episode in the culture wars between Iran's hard-liners and moderates?
Confusion is rife in the Iranian capital about a recent showing of musical instruments on Iranian state television that broke a three-decade taboo.
Last weekend, Iran's Channel One aired a live concert by a group of musicians playing traditional instruments on a show called "Good Morning Iran."
Some Shia Muslim clerics say that broadcasting music clashes with religious tenets. So in Iran, a country with a long history of both religious and secular music, the state broadcaster has come up with a somewhat convoluted solution.
When it airs performances of traditional Iranian music for a domestic audience, singers are allowed in front of the cameras, but musical instruments are absent from the screen. When musicians play, Islamic Republic of Iran Broadcasting (IRIB) shows shots of the studio or pastoral scenes, such as waterfalls, birds and mountains.
So the episode in which instruments were shown caused a minor sensation in the Islamic Republic.
The move was welcomed by many social network users and liberal Iranian media outlets. The reformist daily Sharq newspaper splashed the news on its front page and declared that the "spell … was finally broken." [Link in Farsi]
Shahram Nazeri, an acclaimed classical Iranian vocalist who plays a four-stringed lute called a setar, welcomed the move, according to local news reports.
But hopes of a relaxation of the ban on showing instruments were dashed when the producer of "Good Morning Iran" described what happened as an unintended mix-up.
"The footage of instruments which was aired has nothing to do with a change in the approach or practice of IRIB, and it was just an unintentional mistake by us," Gholamreza Bakhtiari was quoted as saying by Iran's hardline Fars news agency. [Link in Farsi.]
The band was shown with its instruments for about 10 seconds, Bakhtiari said.
Some, however, wondered if the incident was part of a power struggle between conservatives at IRIB and more moderate figures. Iran's President Hassan Rouhani, a moderate, has previously clashed with hard-liners about cultural restrictions.
"It seems a decision was made at some level in the management [to show the instruments], but top managers did not dare to ... defend the decision, and now they're recanting," Sobhan Hasanvand, a Sharq editor, told the Los Angeles Times.
Many cultural observers have followed the dispute closely. Mohammed Ayubi, a music instructor, shook his head in disbelief over the twists and turns in the case. A lot of fuss about nothing, he contended.
"Why can't they stand 10 minutes of showing instruments that are heard but not seen?" he said. "It's ridiculous. In the foreign films that are dubbed here and aired on state-run TV channels, men and women are shown playing the violin and the piano. Why can't Iranian musicians be seen while they are playing?"
Special correspondents Mostaghim reported from Tehran and Sandels from Beirut.

---