Rouhani to show Iran's 'true face' at U.N., seek sanctions relief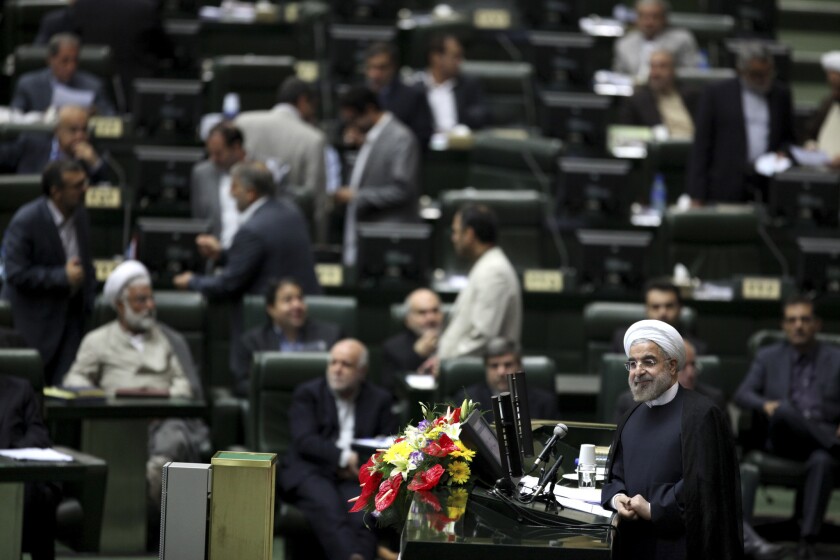 Iranian President Hassan Rouhani embarked on a five-day visit to New York on Monday with a vow to press for sanctions relief by showing the peaceful and cultured "true face" of Iran at the annual U.N. General Assembly, Iranian news agencies reported.
The newly inaugurated president hinted at a mission of damage control, alluding to the combative and incendiary posture of his predecessor, Mahmoud Ahmadinejad.
"Unfortunately in recent years the face of Iran, a great and civilized nation, has been presented in another way," the official Islamic Republic News Agency quoted Rouhani as saying as he prepared to depart Tehran's international airport for New York. "I and my colleagues will take the opportunity to present the true face of Iran as a cultured and peace-loving nation."
Rouhani urged the United States and its allies to negotiate with Iran to resolve differences over its nuclear program, rather than maintaining the crippling sanctions imposed for Tehran's alleged pursuit of nuclear weapons.
"On this trip, I will try to deliver the voice of the oppressed people of Iran to the world, and we should say that sanctions are an illegal and unacceptable path," Rouhani said, according to the Tehran Times.
"The path of sanctions is an unacceptable and unrealistic path. Those who have opted for [sanctions] will not achieve their objectives," the semiofficial Iranian Students' News Agency, or ISNA, quoted Rouhani as saying as he prepared to board his flight.
Rouhani reiterated Iran's long-standing declaration that its nuclear program is exclusively for civilian purposes, such as power generation and medical research.
Security officials in the United States, Israel and several Western European countries suspect Tehran has been engaged in uranium enrichment because it needs the highly refined fuel for nuclear weapons.
At the Western states' urging, the United Nations Security Council has imposed crippling sanctions on Iran's oil industry and financial sectors, which have cut oil revenue in half and stripped the currency, the rial, of more than 50% of its value. Inflation and widespread shortages of imported food and consumer goods have made life increasingly difficult for ordinary Iranians over the last few years.
As Rouhani was making his way to New York, Iranian Foreign Minister Mohammad Javad Zarif met with European Union foreign policy chief Catherine Ashton and agreed to a gathering Thursday with the foreign ministers of six countries with which Iran has been negotiating over its nuclear program.
Talks between Iran and the six powers -- the United States, Russia, China, Britain, France and Germany -- have been suspended since April because of Iran's failure to respond to demands that it cease enriching uranium to levels that could easily be converted to weapons-grade fuel.
The foreign ministers' meeting on the sidelines of the General Assembly will be the highest-level, face-to-face contact between U.S. and Iranian officials since the 1979 Islamic Revolution brought the clerical regime to power.
Rouhani pulled off a surprising victory in Iran's June 14 presidential election after campaigning on promises to end the country's international isolation and to improve living conditions by pursuing sanctions relief.
In the few weeks since his early August inauguration, Rouhani has persuaded the all-powerful religious hierarchy to move responsibility for negotiating on the nuclear issue to his Foreign Ministry and pledged that Iran will never try to create nuclear weapons.
About a dozen political prisoners were freed last week in what was seen as a gesture of moderation after the Ahmadinejad era of repression of opposition figures and human rights advocates. An additional 80 prisoners, most of them arrested after mass protests against Ahmadinejad's disputed reelection in 2009, were released Monday, ISNA reported.
In a separate news item, the news agency quoted an unnamed senior official of the Iranian delegation in New York as saying that "the atmosphere of talks between Iran and G5+1 has been totally changed compared to the past, following the presidential elections in Iran and other regional and international developments."
Referring to the stymied six-power talks, the official was quoted as saying that "new operational approaches and conceptual frameworks" will be presented with the aim of "a win-win" result for Tehran and the foreign powers.
And in another possible signal of Iran's interest in improving relations with the United States, the Associated Press reported that former President Ali Akbar Hashemi Rafsanjani said in an interview posted on his website that the U.S.-Iran diplomatic deep freeze cannot go on forever.
"The method that we have now — no talk and no relations with the U.S. — is not capable to be continued," said Rafsanjani. Noting that Iran has formal ties with Russia, China and Europe, he asked rhetorically: "Why shouldn't we talk with the U.S.?"
ALSO:
War-free for two centuries, Swiss still vote to keep big army
Egyptian court bans Muslim Brotherhood, orders its assets confiscated
Germany's Angela Merkel begins tricky task of forming new government
Twitter: @cjwilliamslat
---
Must-read stories from the L.A. Times
Get the day's top news with our Today's Headlines newsletter, sent every weekday morning.
You may occasionally receive promotional content from the Los Angeles Times.