Israel legal saga ends as Avigdor Lieberman acquitted of fraud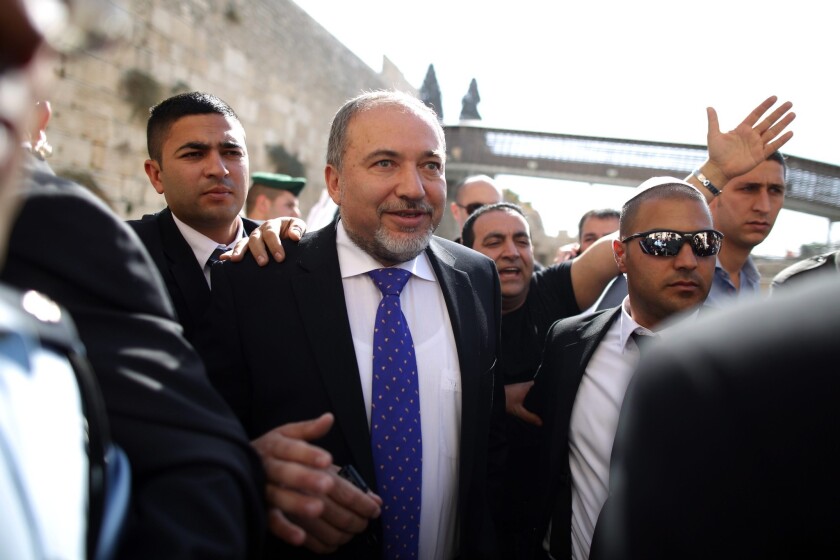 <i>This post has been updated. See the note below for details.</i>
JERUSALEM — A legal saga that has held Israel's political system in suspense for years came to an end Wednesday as Avigdor Lieberman, one of the country's most controversial and powerful politicians, was acquitted of corruption charges.
Lieberman was under legal investigation since the mid-1990s for suspected money laundering and bribery, but years of investigation failed to produce a solid case for an indictment. In December, he was indicted in a separate case exposed during the primary investigation and charged with fraud and breach of trust.
According to the indictment, Lieberman actively tried to promote an ambassadorial appointment for Zeev Ben-Aryeh, who had previously given Lieberman confidential information about an Israeli probe into his affairs in Belarus while Ben-Aryeh served as Israel's ambassador there.
The three-judge panel ruled Wednesday that Lieberman did not actively advance the appointment and acquitted him unanimously.
[Updated at 11:40 a.m., Nov. 6: The judges wrote that Lieberman had "acted improperly" by failing to inform government authorities of the ambassador's actions but that it did not constitute a criminal offense.]
"After 17 years, I'm putting this chapter behind me," Lieberman told media outside the Jerusalem courthouse shortly after the verdict. His attorney Jacob Weinroth welcomed the ruling, while state prosecutors said they would consider their next moves.
Prime Minister Benjamin Netanyahu called Lieberman to congratulate him and welcomed him back to the government. President Shimon Peres also congratulated him and expressed sympathy for Lieberman's years of legal suffering, while opposition leader Shelly Yachimovich urged the prosecution to continue fighting political corruption and appeal the ruling.
In late 2012, Lieberman resigned from his position as foreign minister after prosecutors announced he would be indicted but kept his seat in parliament.
When Netanyahu formed his new government and assigned new ministers, he kept the foreign ministry for himself, babysitting the post until Lieberman's legal and political fate was determined.
A conviction could have barred Lieberman from parliament and government for years, effectively ending his political career. The acquittal frees him to resume his political ambitions, starting with the ministerial position, which he may now reclaim.
Lieberman is a key ally of Netanyahu's. Their two parties -- Yisrael Beitenu and Likud, respectively -- pooled their power to form a joint list for parliament in Israel's general elections in January.
But the two could also find themselves competing to hold Israel's top leadership position, a post Lieberman is widely expected to seek now that his legal obstacles have been removed.
ALSO:
Bombings in China near Communist Party office in Taiyuan
9 million Syrians need help before winter, U.N. says
Toronto mayor admits to crack cocaine use; no sign he will step down
---
Must-read stories from the L.A. Times
Get all the day's most vital news with our Today's Headlines newsletter, sent every weekday morning.
You may occasionally receive promotional content from the Los Angeles Times.