Ukraine protesters take Kiev without a shot as Yanukovich flees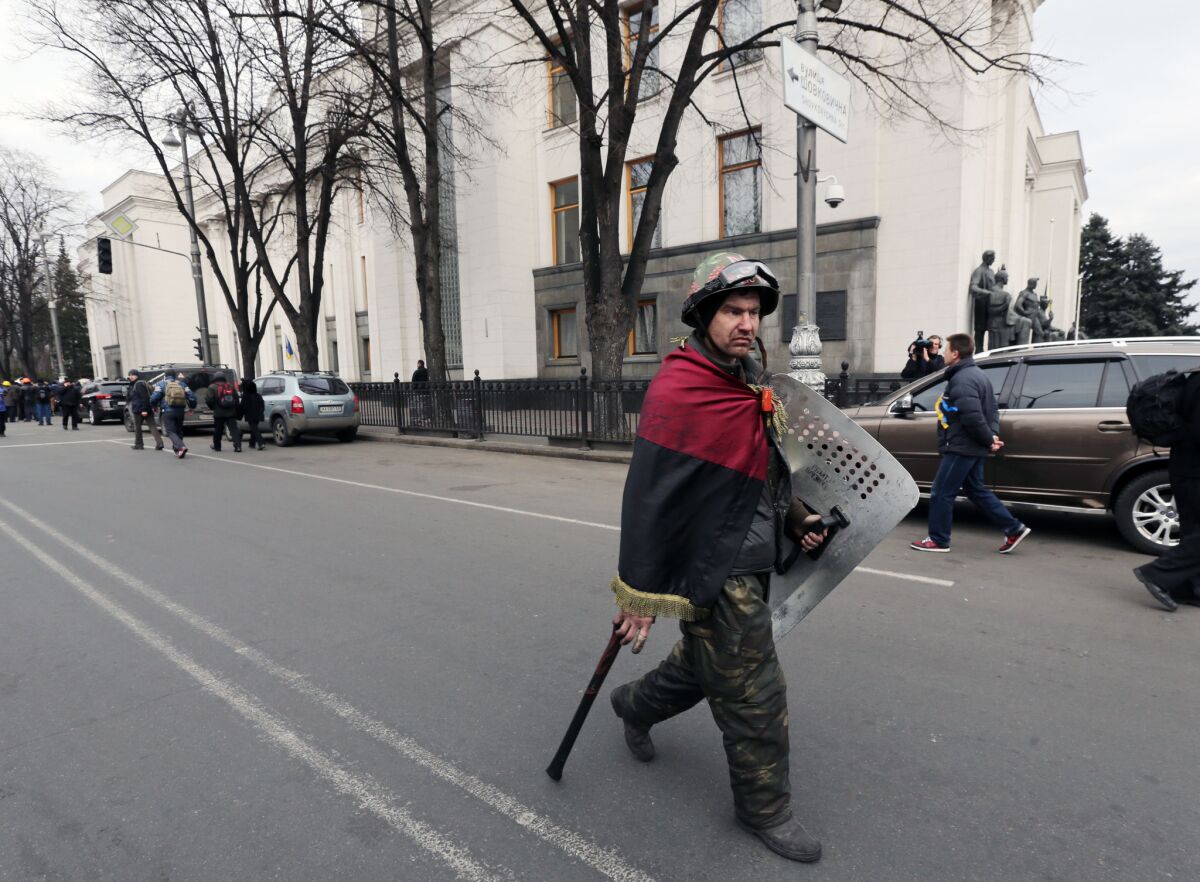 KIEV, Ukraine -- Ukraine's capital fell into the hands of anti-government protesters Saturday morning.
Without a shot fired, opposition units surrounded and took control of parliament, the Council of Ministers building and most important, the Presidential Administration building, when they discovered early in the morning that the riot police who had been guarding the sites were gone, an opposition leader said.
"[The opposition] today controls all of Kiev as we have taken control of all government quarters," Andriy Parubiy, commander of the opposition forces, told thousands of people in Independence Square. "We told those of [the police] who are decent and honest that they may join us."
Parubiy advised policemen wishing to switch sides to put blue and yellow ribbons on their uniforms, the symbol of the opposition.
Parubiy said earlier that the Interior Ministry troops stationed in Kiev had pledged allegiance to the opposition.
Friday night embattled President Viktor Yanukovich reportedly fled to Kharkiv, the industrial stronghold of Yanukovich's ruling party in eastern Ukraine, where he was expected to hold a conference with supporters.
Saturday's events marked what could be an end to this week's violent confrontation in central Kiev, which left more than 100 dead and hundreds injured but symbolized a victory for the opposition. The dramatic standoff with the government started in November after Yanukovich refused to sign an association agreement with the European Union and instead chose closer economic and political ties with Russia.
Ukrainian lawmakers made their way to an urgent session of parliament, walking past protesters in masks and helmets who were armed with makeshift shields and clubs. The lawmakers were expected to pass new laws to accommodate the new realities, the most important new measure being a law on impeaching the president.
Saturday morning, parliament speaker Volodymyr Rybak, a staunch Yanukovich supporter, resigned, the UNIAN information organization reported.
The streets of central Kiev, where the government complex lies and which previously had been protected by thousands of riot police, were empty and unusually quiet Saturday morning, with some groups of protesters patrolling them.
The president's headquarters were also surrounded by opposition guards. They said the government guards were still inside the building but there was no conflict, and the protesters were ordered to stay outside and protect the building's perimeter. Igor Melnik, a 45-year-old auto mechanic from the western town of Sambar, wearing a green military helmet, voiced determination:
"We were bracing for a bloody battle today, but the police are all gone and the victory is ours!" Melnik said in an interview with the Los Angeles Times. "But the war is not over for us until Yanukovich is captured and put on trial."
Experts agree the capture of Kiev is a big victory for the opposition, but they predict a tough road ahead to stability, one of the key steps being the ouster or resignation of Yanukovich.
"Yanukovich didn't leave anybody in charge in Kiev, didn't give any instructions to anybody," said Kost Bondarenko, director of the Ukrainian Police Institute, a Kiev-based think tank.
"But technically, since he is still in Ukraine, he remains president. As for the impeachment procedure expected to be launched, it will need the support of two-thirds of the lawmakers and a long procedure involving action by the Supreme and Constitutional courts."
Yanukovich still enjoys sizable support in the eastern regions of Ukraine, and there is still a danger of Ukraine breaking up, Bondarenko warned.
"Russia's role in our conflict shouldn't be underestimated as the Kremlin may still intervene in some way," Bondarenko said. "The best outcome for all will be Yanukovich's voluntary resignation, but he then will need guarantees of secure passage to some place where he will feel safe. Now he is only 25 miles away from Russia's border [in Kharkiv]".
The previous few days saw fierce fighting between riot police and the opposition. At least 20 of the protesters killed were shot by snipers. The opposition holds Yanukovich personally responsible for the carnage.
Friday night thousands of protesters in Independence Square rejected the peace deal signed by Yanukovich and three protest leaders. The deal provided for an early presidential election, the reduction of presidential powers and amnesty for all protesters. On the same day parliament fired Interior Minister Vitali Zakharchenko, who had reportedly given orders to suppress the opposition by force.
Another important measure passed by parliament Friday night was a criminal-code change that clears the way for the release of ex-premier and opposition leader Julia Tymoshenko.
Tymoshenko, Yanukovich's key political rival, is serving a seven-year term in Kharkv prison for abuse of power and is expected to be released any day now.
---
Must-read stories from the L.A. Times
Get the day's top news with our Today's Headlines newsletter, sent every weekday morning.
You may occasionally receive promotional content from the Los Angeles Times.