Libya jailbreak: More than 1,000 said to escape in Benghazi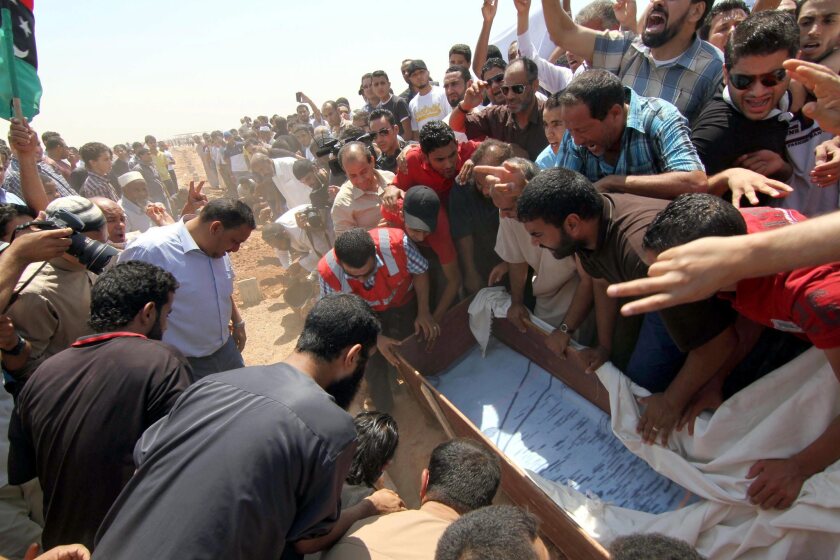 TRIPOLI, Libya — Libyan security officials say more than 1,000 detainees have escaped from a prison near the eastern city of Benghazi in a mass jailbreak.
A government security official in Benghazi, Mohammed Hejazi, said the jailbreak happened Saturday at Koyfiya prison, as protesters stormed the offices of Islamist-allied parties in Libya's main cities.
It wasn't immediately clear if the jailbreak was part of the protests or if inmates received outside help.
A security official from the prison confirmed the jailbreak occurred. He said most of the inmates were being held on serious charges. He spoke on condition of anonymity because he was not allowed to speak with journalists.
Benghazi's security situation is among the most precarious in post-revolution Libya. Last year, the U.S. ambassador and three other Americans were killed in an attack there.
The jailbreak occurred as protesters stormed the offices of Islamist-allied parties in Libya's main cities on Saturday, angry over the killing of an activist who was critical of the country's Muslim Brotherhood.
Hundreds gathered in Tripoli, the capital, after dawn prayers, denouncing the Friday shooting death of Abdul-Salam Al-Musmari. They set fire to tires in the street and demanded the dissolution of Islamist parties.
Protesters appeared to be inspired by events in neighboring Egypt, where millions took to the streets Friday to answer a call from the army chief, who said he wanted a mandate to stop "potential terrorism" by supporters of the country's ousted president, Mohammed Morsi, who hails from the Brotherhood.
"We don't want the Brotherhood, we want the army and the police," Libyan protesters chanted, repeating a slogan also used in Egypt. Libya's nascent security forces are struggling to control the country's militias, most of whom have roots in the rebel groups that overthrew dictator Muammar Kadafi in 2011.
ALSO:
Twin bombings in Pakistan kill at least 40
Edward Snowden welcome in Venezuela? Not so much
Sixty years of Korean armistice: One war, two histories, no peace
---
Must-read stories from the L.A. Times
Get all the day's most vital news with our Today's Headlines newsletter, sent every weekday morning.
You may occasionally receive promotional content from the Los Angeles Times.