Giant designer trunk on Moscow's Red Square sent packing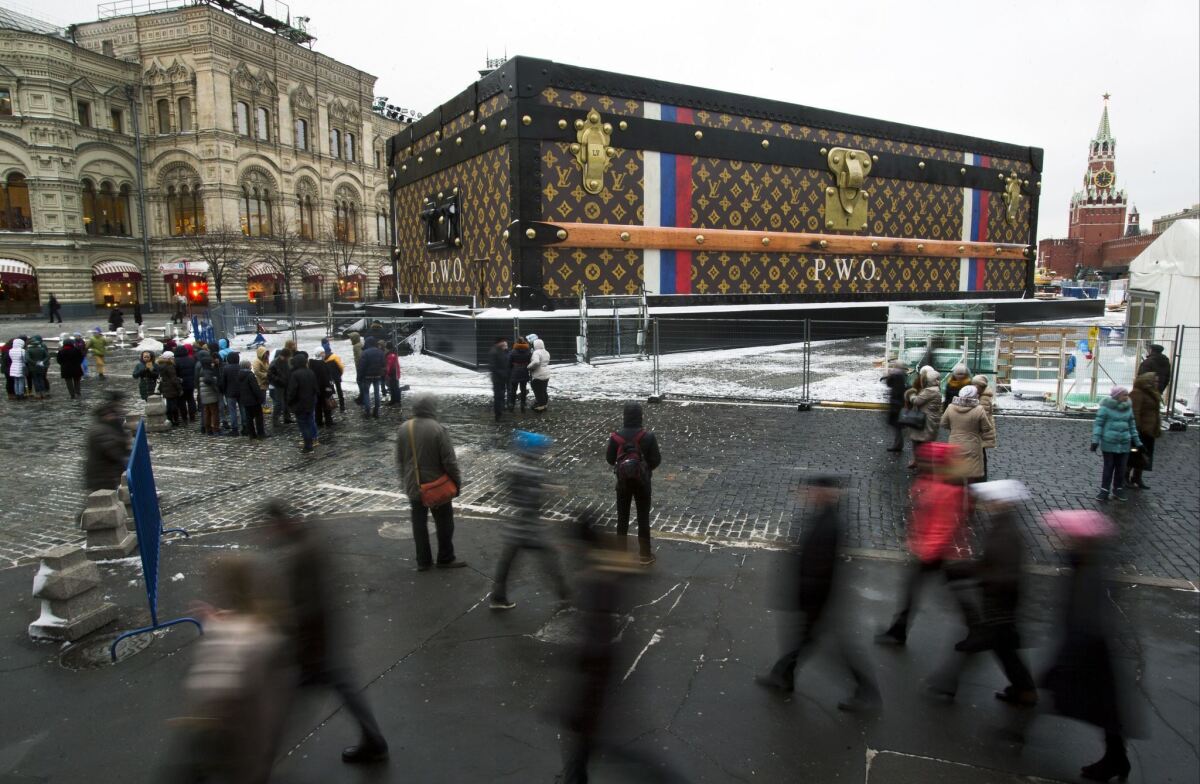 An exhibition hall in the shape of a giant Louis Vuitton trunk that was installed this week on Moscow's venerated Red Square has been sent packing before it even opened.
The designer luggage-motif construction, three stories high and 100 feet long, was to house the "Soul of Travel" exhibition organized by the Paris-based design house as part of commemorations of the GUM department store's 120th anniversary.
But Muscovites, Russian lawmakers and the construction's unamused Kremlin neighbors raised such fierce objections to the structure that its sponsors have agreed to take it down.
The exhibit featuring famous travelers' luggage and video histories was to have opened on Dec. 2 and run through Jan. 19.
Red Square, a cobblestone expanse linking the crenelated outer walls of the Kremlin with St. Basil's Cathedral, the GUM department store, Lenin's tomb and the Moscow River, is always thronged with tourists and Russians paying respects to Lenin's embalmed corpse and other historical landmarks.
On Dec. 31, revelers cram the square that is the size of 14 professional football fields to toast the new year. Many Muscovites were probably irked at the giant trunk's obstruction of the view of the Spassky Tower clock, which rings in Russia's biggest holiday.
Russians began complaining about the exhibit hall as soon as it appeared last weekend, and lawmakers in the nearby State Duma denounced it as an "obscenity," RIA Novosti reported Wednesday.
Others objected to the commercial promotion at "a sacred place for the Russian state," the news agency said.
President Vladimir Putin's spokesman, Dmitri Peskov, said the Kremlin chief hadn't intervened to order the pavilion removed but criticized its creators as lacking "a sense of proportion."
Russian media later Wednesday quoted an unnamed representative for GUM as saying that the structure would be removed in response to the protests.
Tickets to the travel exhibit were to have sold for about $6, and the proceeds were promised to the Naked Heart Foundation, a children's charity founded by Russian supermodel Natalia Vodianova nine years ago, RIA Novosti said.
Promoters were looking for an alternate venue for the exhibition and its controversial housing, and event organizers at other Moscow tourist sites, including Gorky Park, have expressed interest in hosting the show, RIA Novosti said.
ALSO:
China downplays U.S. bomber flight in disputed airspace
Pakistan names career infantry officer as new military chief
Italy's Senate expels Silvio Berlusconi after tax fraud conviction
Twitter: @cjwilliamslat
Must-read stories from the L.A. Times
Get the day's top news with our Today's Headlines newsletter, sent every weekday morning.
You may occasionally receive promotional content from the Los Angeles Times.