Mexico demands investigation into reports of U.S. spying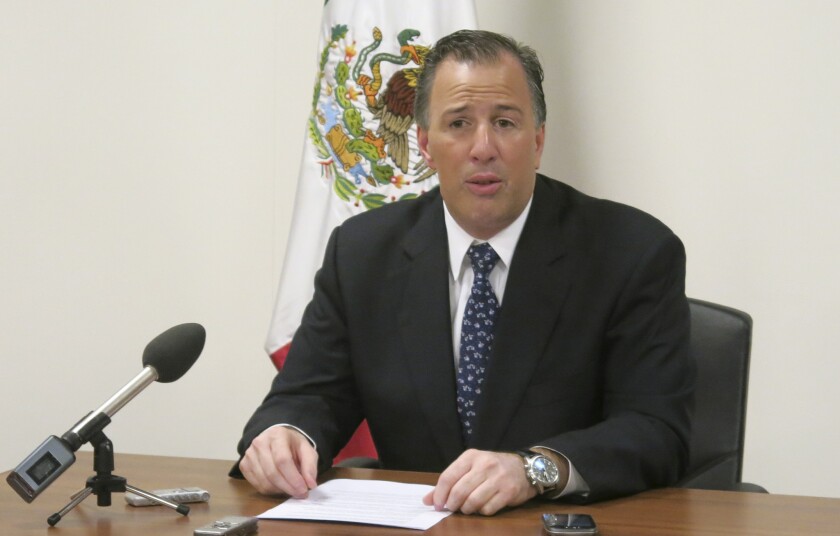 MEXICO CITY -- Mexico on Tuesday ramped up its protest over reports that the United States spied on numerous senior Mexican leaders, including the country's current and former presidents.
Foreign Minister Jose Antonio Meade, speaking in Geneva, said Washington's explanations were insufficient. "Mexico insists ... there is no room for explanations," he said. "But, rather, a timely investigation with clear responsibilities and swift corrective measures."
A short time later, Interior Minister Miguel Angel Osorio Chong went before TV cameras in Mexico City to announce that Mexico would investigate its officials, in addition to expecting Washington to look into its own possible transgressions.
Until now, Mexico's complaints had been largely limited to news releases, so it was unusual to see two senior officials speak out on the matter. Some analysts suggested that the government was attempting to evince a tougher stance after criticism that it had reacted too mildly.
In early September, President Enrique Peña Nieto said that President Obama promised him an inquiry into the alleged spying revealed by former National Security Agency contract analyst Edward Snowden. Reports in the Brazilian news media at the time said Peña Nieto's emails were hacked by NSA surveillance before he assumed the presidency in December.
Over the weekend, a second disclosure came when the German magazine Der Spiegel reported that the alleged spying also extended to Peña Nieto's predecessor, Felipe Calderon, during his administration -- a government marked by extraordinarily close ties to Washington.
Calderon, via his Twitter account, said he was appalled. "More than personal, this is an affront to the institutions of the nation," he said, calling on Meade to convey his "most forceful protest" to the U.S. government.
In both the Calderon and Peña Nieto cases, the alleged hacking purportedly tapped into the men's emails as well as those of other Cabinet officials.
Meade suggested that plenty of time had transpired for the Obama administration to have conducted an investigation.
"Obama gave his word there would be an investigation," Meade said. The alleged spying "was an abuse of the trust built between partner countries, and dishonors [their] historic friendship."
Osorio said the Mexican government would determine whether its officials "intentionally or by omission, negligence or any other motive" made sensitive Mexican communications vulnerable to spies. The Peña Nieto administration, from its first day in office, has strengthened the security of communications and networks to guard against hacking and other outside surveillance, Osorio said.
ALSO:
Syrian rebel leader reportedly killed in clashes
Irish authorities take custody of blond girl living with Roma
'Airpocalypse': Severe pollution cripples northeastern China
---
Must-read stories from the L.A. Times
Get all the day's most vital news with our Today's Headlines newsletter, sent every weekday morning.
You may occasionally receive promotional content from the Los Angeles Times.