Moscow 'safest place' for Edward Snowden? Global spy mystery deepens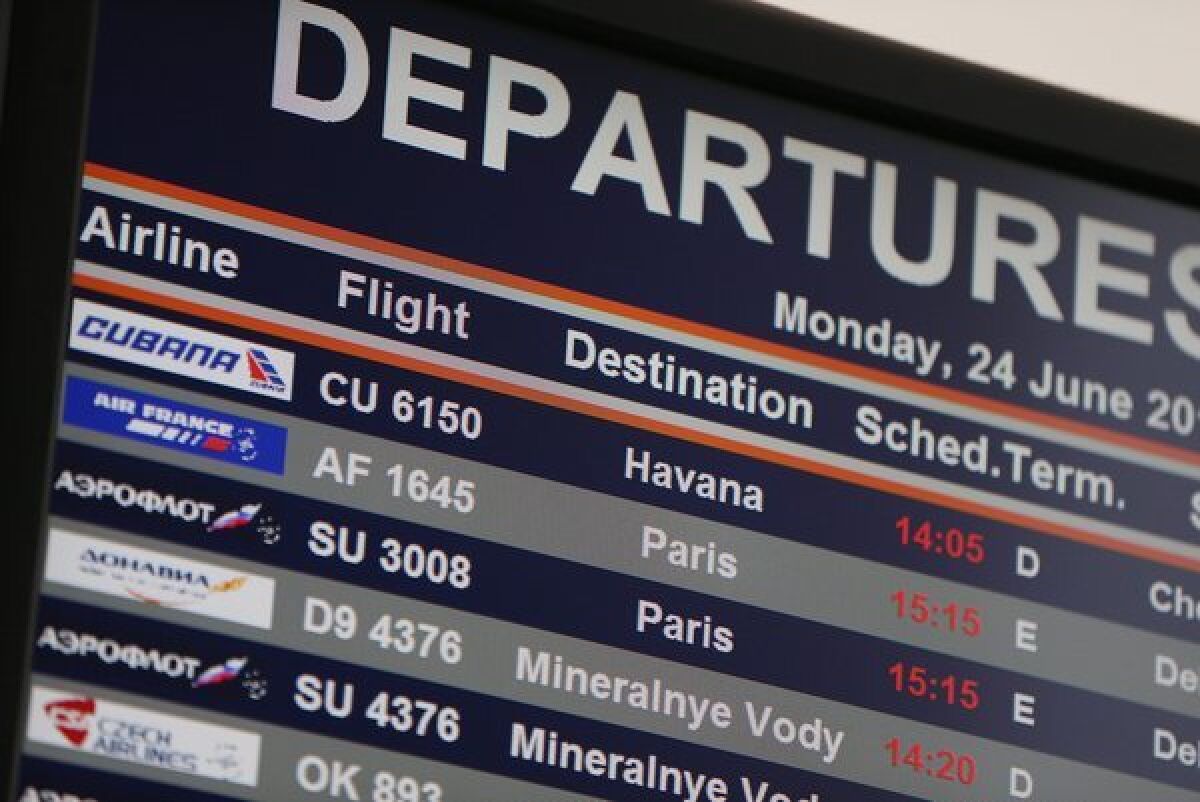 MOSCOW -- As an Aeroflot plane filled with journalists made its way to Cuba with or without fugitive Edward Snowden on board, Russian officials continued to keep silent about his whereabouts and experts dwelled on possible scenarios of what has become a global spy mystery.
Snowden had been expected to be on board the flight to Havana, from where he was expected to make his way to Ecuador. But journalists on board reported that no one on the flight resembled the former U.S. National Security Agency contractor.
Hence, the speculation.
IN-DEPTH: A step ahead of U.S., Snowden slips into Russia
Alexei Kondaurov, a former KGB general, said he believed Snowden had stayed in Moscow, partly because of the risk that he would be intercepted by the United States en route to Ecuador, partly because he would be too tempting an opportunity for Russian intelligence.
"This interesting fish has swum into our nets of its own accord, and it would be unthinkable of our special services to miss this rare chance to talk to a U.S. defector associated with the CIA," Kondaurov said in an interview with The Times. "I am sure he is worried as hell that the Americans could force a plane carrying him to land and that will be the end of the road for him."
Snowden is actually associated with the NSA, not CIA, and is not, strictly speaking, a defector at this point. He is wanted by the U.S. Justice Department for leaking top-secret documents to two newspapers, Britain's Guardian and the Washington Post.
"Right now Moscow is the safest place for him to hide, even if he has to pay the price of being debriefed by our special services," Kondaurov added.
Russia has eagerly joined a conspiracy of silence around Snowden to protect his life and security, said Igor Korotchenko, editor-in-chief of the National Defense monthly journal. Korotchenko said he is sure that if Snowden is still in Moscow, he is talking to the FSB, the Federal Security Service, the intelligence agency that is the successor to the Soviet KGB.
"It would be totally unprofessional of Russian special services not to use this chance and not to compel him to share with us some CIA secrets," Korotchenko said in an interview. "But we will never learn what he had to say, as by our laws state secrets are kept undisclosed for at least 50 years, some even longer than that."
Vladimir Zhirinovsky, the deputy speaker of the State Duma, the lower house of Russia's parliament, suggested in televised remarks that Snowden should become a bargaining chip in trading with the United States for convicted international arms trafficker Viktor Bout, now serving a long sentence in the United States.
But his colleague, Leonid Kalashnikov, deputy chair of the Duma's International Relations Committee, was adamant that Russia should not extradite Snowden under any pressure from Washington.
"The louder their demands and threats are, the less their chances become to see Russia hand Snowden over," Kalashnikov said in an interview. "Right now, Washington's chances to get Snowden with Moscow's help are zero and this situation will not change."
ALSO:
Israeli airstrikes follow rockets from Gaza

John Kerry calls for more cooperation with India
Silvio Berlusconi found guilty of paying for sex with minor
---
Must-read stories from the L.A. Times
Get the day's top news with our Today's Headlines newsletter, sent every weekday morning.
You may occasionally receive promotional content from the Los Angeles Times.