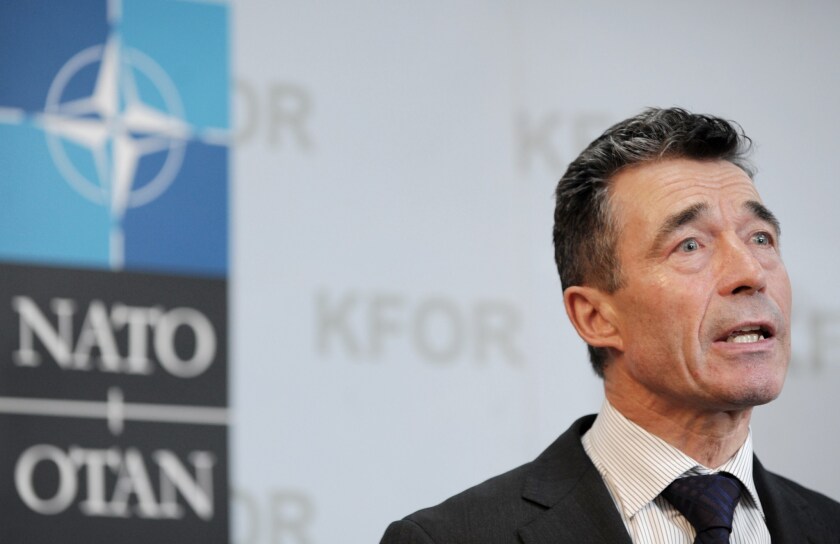 LONDON – NATO on Wednesday called the Syrian regime's alleged use of chemical weapons against rebel strongholds a "clear breach" of international norms that "cannot go unanswered."
"Those responsible must be held accountable," Anders Fogh Rasmussen, secretary-general of the North Atlantic Treaty Organization, said after a meeting of alliance members in Brussels.
He added that "information available from a wide variety of sources" strongly suggested the culpability of Syrian President Bashar Assad's forces in the "horrific use" of chemical agents in an attack on rebel strongholds outside Damascus last week.
"The Syrian regime maintains custody of stockpiles of chemical weapons," Rasmussen said.
The Syrian government denies it has used chemical weapons in the 2-year-old war and blames elements among the rebels fighting to unseat Assad.
Rasmussen expressed support for the on-the-ground investigation being conducted by United Nations inspectors but criticized the Syrian government for dragging its feet in granting the U.N. team access to the affected area.
There has been no indication that countries pressing for a military response against Damascus, including the United States and France, will turn to NATO for logistical or physical support, as they did when the alliance helped impose a no-fly zone over Libya in 2011.
Rasmussen's comments came as Britain said it would propose a resolution at the United Nations on Wednesday authorizing action to protect civilians in Syria from chemical weapons.
British Prime Minister David Cameron did not specify what that action would be or whether the resolution would explicitly lay out military intervention.
ALSO:
At least 66 killed as violence surges back in Iraq
Organized immigration of Ethiopian Jews to Israel ends
Iranian parliament pursuing lawsuit against CIA for 1953 coup
Twitter: @HenryHChu
---