Two Palestinian peace negotiators reportedly resign in frustration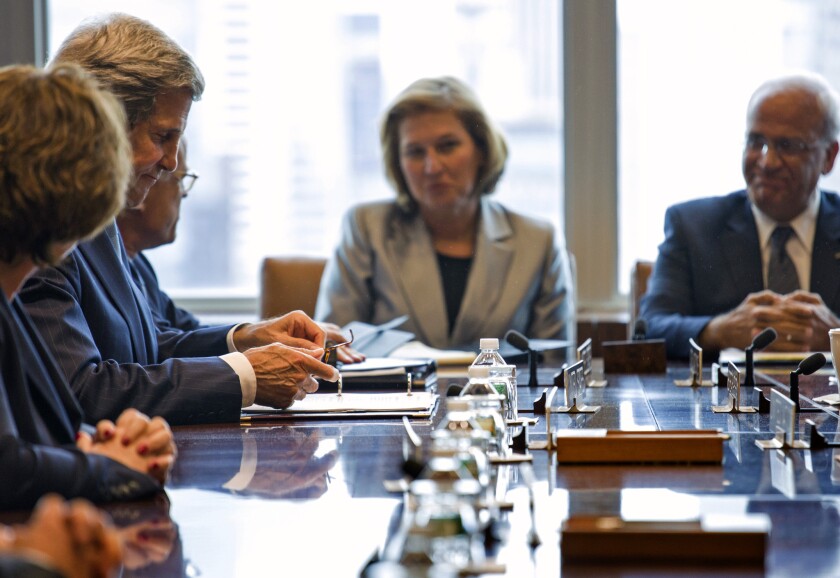 RAMALLAH, West Bank -- Peace negotiators Saeb Erekat and Mohammed Shtayyeh have submitted their written resignations to Palestinian Authority President Mahmoud Abbas, a member of the Palestine Liberation Organization's executive committee said Wednesday.
Abbas told Egypt's CBC-TV that his negotiators have resigned over the lack of progress in U.S.-brokered talks with Israel and over Israeli settlement activity, Reuters news service reported.
Hanan Ashrawi, a PLO official, told a Palestinian radio station that although the executive committee was not informed of the resignation, Erekat confirmed to her that he had submitted the letter to Abbas.
The Palestinian president reportedly has not yet decided whether to accept the resignations.
In the CBC interview, Abbas said the resignations would not affect the negotiations.
"Either we can convince them to return, and we're trying with them, or we form a new delegation," he said, according to the Reuters report.
Erekat said on official Palestinian radio Wednesday that the negotiations had stalled, and he blamed Israeli measures on the ground, including the construction of additional housing in West Bank settlements.
He accused the government of Israel, which he described as a "government of settlers, for settlers and by settlers," as working "to destroy the negotiations," and said the Palestinian Authority is considering asking the United Nations Security Council to discuss the issue of Israeli settlements.
Abbas vowed to the U.S. not to go to the international body or any of its agencies during the nine months of negotiations being brokered by the Secretary of State John F. Kerry.
ALSO:
Opium cultivation soars in Afghanistan, U.N. reports
U.N. denounces mortar attacks on schools in the Syrian capital
6 of 14 new states on U.N. Human Rights Council called abusers
Abukhater is a special correspondent.
---
The stories shaping California
Get up to speed with our Essential California newsletter, sent six days a week.
You may occasionally receive promotional content from the Los Angeles Times.