Critics censure Russian rights record by snubbing Sochi Olympics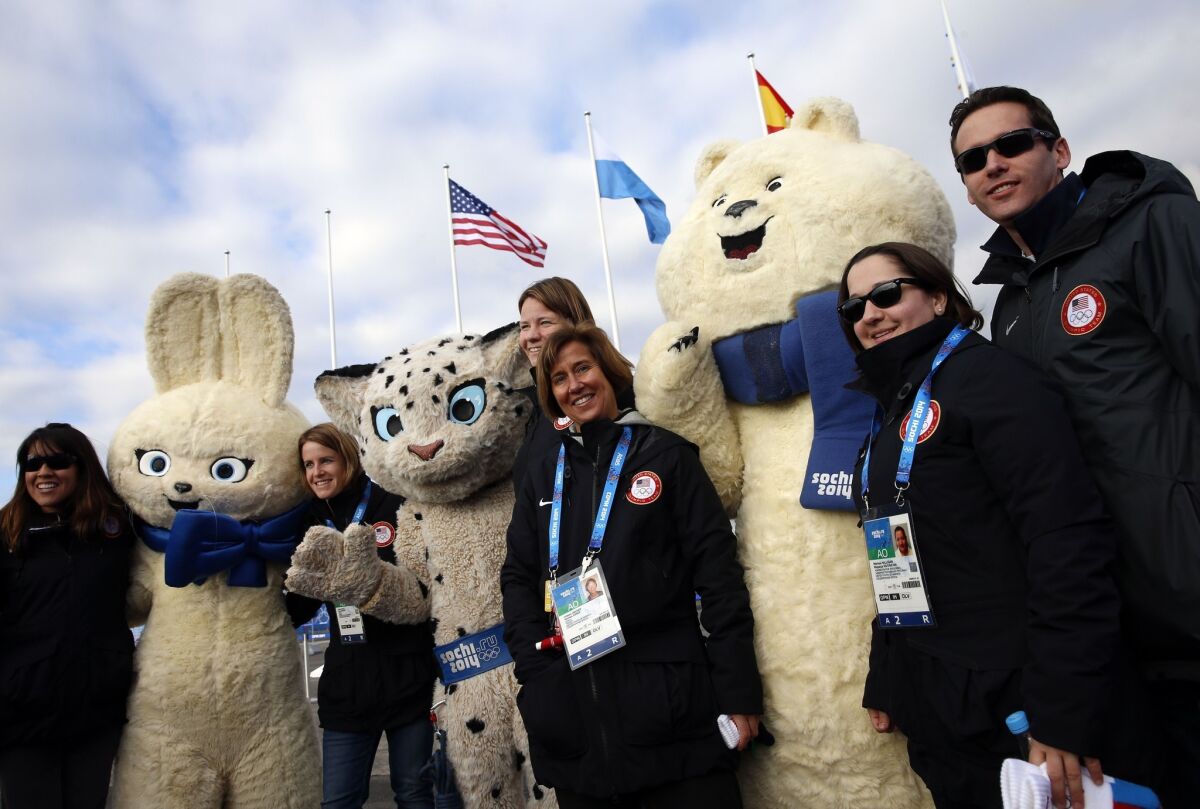 MOSCOW -- Chinese President Xi Jinping will be there. So too will the United Nations' top official, Secretary-General Ban Ki-moon.
But Friday's opening ceremony for the Olympic Winter Games in the Black Sea resort of Sochi will be notable for the absence of heads of state from the world's leading democracies. President Obama, British Prime Minister David Cameron, French President Francois Hollande and other Western dignitaries decided weeks ago to express their concern over Russia's human rights record by skipping the inaugural gala.
Sweden's Sports Minister Lena Adelsohn Liljeroth said last month that it was important for democratic leaders to issue a "political marker" on Russia's human rights policies. Her Finnish counterpart, Paavo Arhinmaki, also announced that he would boycott the opening ceremony to show his dismay over "human rights violations, restrictions to freedom of speech and the oppression of sexual minorities."
Prominent athletes such as Austrian skiing sensation and Olympic gold medalist Hermann Maier, rejected invitations to Sochi on human rights grounds. Some countries, including the United States, chose to make their concern over the treatment of gays in Russia apparent by including homosexuals in their official delegations.
Tennis legend Billie Jean King was to have attended the opening but announced Thursday that she would have to miss it to attend to her ailing mother. Two other openly gay U.S. athletes, figure skater Brian Boitano and hockey medalist Caitlin Cahow, remain among those officially accompanying the American team.
Protests on the eve of the prestigious games, both silent and vocal, have targeted Moscow's anti-gay legislation and the Kremlin's repression of political opposition and free speech. Although leading critics of the regime of President Vladimir Putin, such as former oil magnate Mikhail Khodorkovsky and the Pussy Riot punk rockers, were let out of prison in a pre-Olympics charm offensive, opposition activists have dismissed the gestures as empty and likely to be rescinded as soon as the games wrap up Feb. 23.
The chief executive officer of the Sochi competition, Dmitry Chernyshenko, boasted at a news conference Thursday that a record number of world political and organization leaders are expected at the opening ceremony Friday night. Chernyshenko said the Russian hosts were expecting 65 heads of state, government and international organizations, which he claimed was three times as many as attended the opening of the last Winter Olympics in Vancouver, Canada, in 2010.
Chernyshenko also vowed that the Sochi games would have record levels of protection, addressing the widespread security concerns that are believed to have discouraged many Western sports enthusiasts from making the long, complicated and expensive trip to Sochi.
Few nations have advocated an all-out boycott of the Sochi games, citing the injustice that would inflict on athletes who spend years training for their chance at Olympic glory. But national delegations from most democracies are smaller and of secondary stature as elected leaders send a subtle message of censure to the Russian hosts. The games will be the first in 14 years without a current or former U.S. president, vice president or first lady.
On Thursday, more than 200 prominent writers and intellectuals issued a letter protesting Russia's treatment of gays and political opponents and said they would join the Western political leaders in staying away from Sochi. The letter, published in The Guardian, was signed by Nobel laureates Gunter Grass and Orhan Pamuk and celebrated writers from 30 countries, including Salman Rushdie, Margaret Atwood, Jonathan Franzen and Ian McEwan.
A similar letter asking Putin to repeal the law criminalizing "gay propaganda" was signed by 27 Nobel prize winners three weeks ago and published in Britain's Independent newspaper.
The Chinese Ministry of Foreign Affairs announced in a statement that Xi would be in Russia for three days beginning Thursday. The Sochi trip is Xi's first attendance at a major international sporting event since assuming the leadership of China in 2012, ministry spokesman Qin Gang said, adding that the Communist Party chief wanted to demonstrate his country's support for the Russian hosts.
Ban, the U.N.'s South Korean chief, appeared to be trying to mute criticism of his attendance and support for the Games by criticizing discrimination against gays around the world.
"We must all raise our voices against attacks on lesbian, gay, bisexual, transgender or intersex people," Ban said in an address to the International Olympic Committee on the eve of the ceremonial opening. "We must oppose the arrests, imprisonments and discriminatory restrictions they face."
Human rights organizations also sought to pressure Russia to cease infringing on citizens' free speech and other rights by appealing to Olympic sponsors to speak out. Gay rights group All Out organized protests in 14 countries this week to call on companies tying their names and products to Olympic teams to demonstrate their opposition to anti-gay legislation passed last year by the host country.
The international campaign succeeded in eliciting a supportive statement from AT&T, a leading backer of Team USA for the last 30 years.
As "a long-standing sponsor of the United States Olympic Committee, we support [the Human Rights Campaign's] principles and we stand against Russia's anti-LGBT law," AT&T said in a blog post titled "A Time for Pride and Equality."
Twitter: @cjwilliamslat
---
Must-read stories from the L.A. Times
Get the day's top news with our Today's Headlines newsletter, sent every weekday morning.
You may occasionally receive promotional content from the Los Angeles Times.