Turkey scandal deepens with raid on charity accused of Al Qaeda ties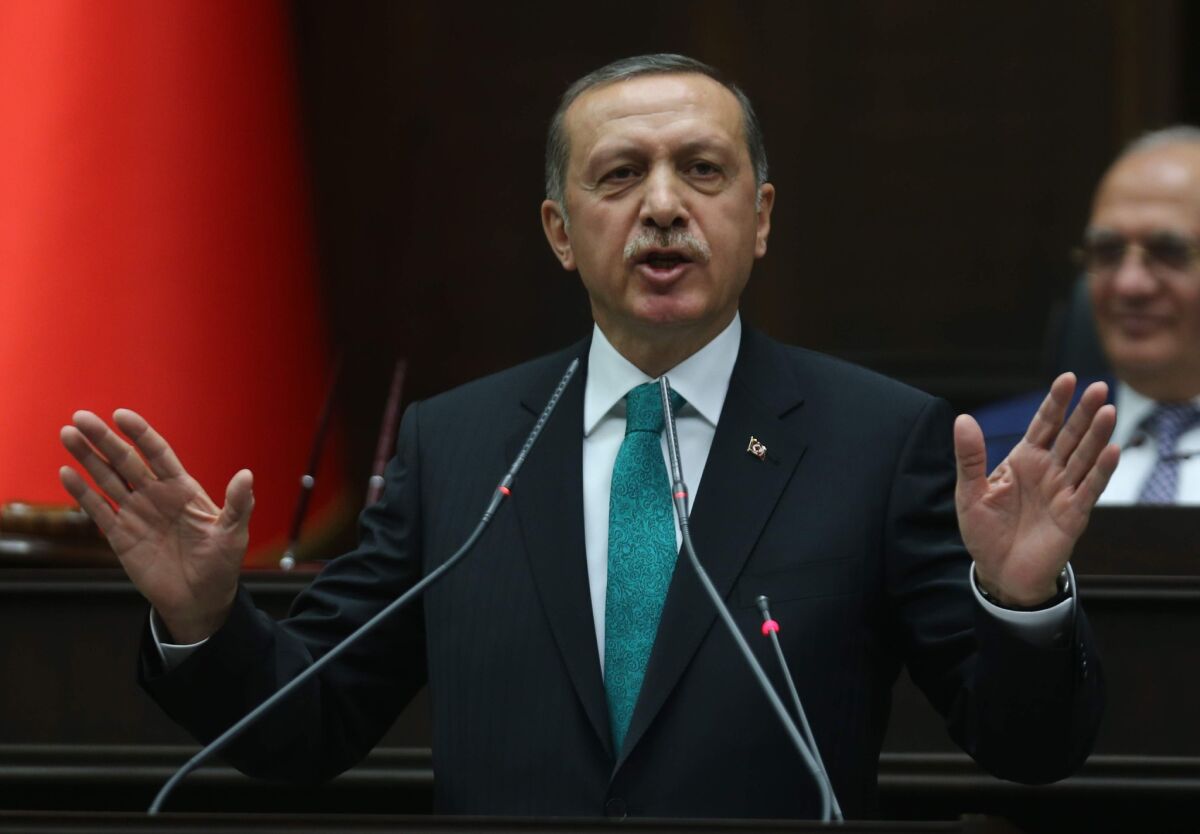 Turkish police raided offices of a government-backed Islamic charity in six provinces on Tuesday and detained at least 23 people accused of having links with Al Qaeda, local media reported.
The coordinated operation against the Humanitarian Relief Foundation, or IHH, prompted the leadership of Prime Minister Recep Tayyip Erdogan to sack the senior police official responsible for conducting the raid at the charity's Kilis headquarters, the Hurriyet Daily News reported.
Erdogan's government, the target of a major, monthlong anti-corruption drive by justice authorities, has fired or demoted nearly 2,000 senior police involved in the sweeps of government offices and business allies, Hurriyet has reported.
The sacked police and local prosecutors have been accused of being under the sway of prominent Islamic cleric Fethullah Gulen, who runs a global empire of private schools and interfaith dialogue from his U.S. compound in Pennsylvania where he lives in self-exile.
IHH issued a statement condemning the raids on its offices as an attempt to besmirch its relief work on behalf of refugees from Syria and its aid to Turkish communities in the war-torn neighboring nation and border region.
"They are trying to show the IHH as if it is related to terror organizations," the agency's leader, Yasar Kutluay, said in the statement.
IHH was behind the ill-fated attempt to bring aid to Palestinians in the Gaza Strip during an Israeli blockade of the territory in May 2010. Nine Turkish activists were killed when Israeli commandos raided the Mavi Marmara, the Turkish-flagged lead vessel in the flotilla. Gulen has been critical of the Gaza mission, calling it a provocative effort to intervene in a conflict between Israel and the Palestinians.
IHH vice president Huseyin Oruc called the raids on his operations part of a "dirty plot," and Kutluay vowed that the charity would continue its work despite what it called an illegal and politically motivated raid.
"IHH shall never give up helping Syrian people and standing by the side of the oppressed," Kutluay said at a news conference, according to a report on the IHH website.
The Tuesday raids on IHH offices in six provinces -- Istanbul, Van, Kilis, Adana, Gaziantep and Kayseri -- were being cast by leaders in Ankara, the capital, as part of a Gulen-orchestrated effort to discredit Erdogan, who has governed for 11 years and is thought to plan a run for the presidency later this year.
Erdogan's government has provided humanitarian aid to rebel-held areas inside Syria, exposing Ankara to criticism that it is supporting Al Qaeda-allied extremist groups that have joined the Syrian opposition's nearly 3-year-old rebellion against President Bashar Assad.
Turkish officials have denied any links to terrorism, casting their shelter of refugees and aid to those internally displaced inside Syria as humanitarian gestures.
Gulen and Erdogan were once allies in the pursuit of Islamic-guided democracy. But Erdogan's government has recently sought to shut down the schools in Turkey funded by Gulen's Hizmet movement, which means "service for the common good."
The anti-corruption operation became public a month ago, following surprise police raids that nabbed dozens of people and exposed suspicious behavior by high-level figures in the government and its business associates.
Police who searched the home of a state-run bank's top executive found shoe boxes stuffed with $4.5 million in cash, local news agencies reported. The sons of three Cabinet ministers were among those arrested, and one prosecutor disclosed that Erdogan's son Bilal was also under investigation and was swiftly sacked.
Erdogan's Justice and Development Party, known by its AKP acronym, has since proposed legislation to give the government more control over the appointment of judges and prosecutors -- an attempted power grab that instigated fistfights during parliamentary debate over the past weekend.
Erdogan has been lauded by Western leaders for his efforts at modernizing Turkey and aligning the predominantly Muslim country with European democracies. But his moves over the past year to impose Islamic values on secular Turkish society have alarmed political opposition groups and unleashed an angry backlash that drove tens of thousands into street protests in Istanbul and other major cities last spring.
Twitter: @cjwilliamslat
---
Must-read stories from the L.A. Times
Get the day's top news with our Today's Headlines newsletter, sent every weekday morning.
You may occasionally receive promotional content from the Los Angeles Times.