U.N. denounces mortar attacks on schools in the Syrian capital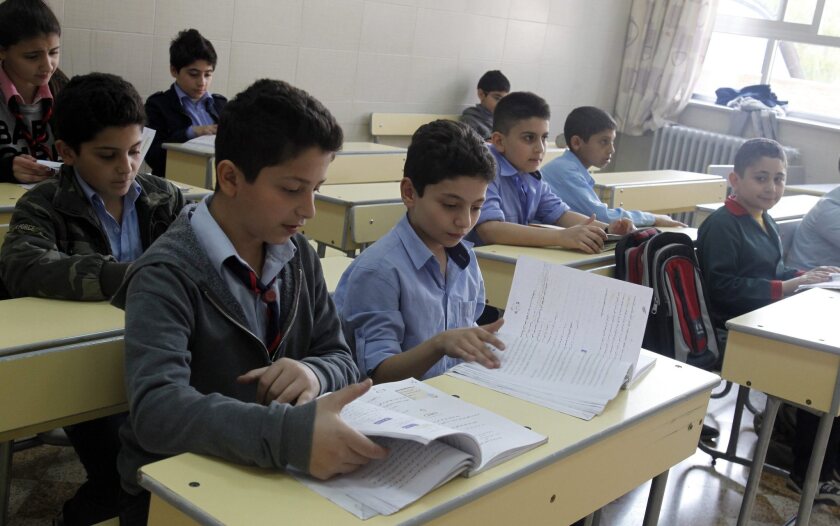 BEIRUT — The United Nations on Tuesday denounced as "barbaric" a series of recent mortar attacks on schools in Damascus, Syria's capital, that have left at least four students dead and dozens others injured.
"These barbaric acts must stop," Maria Callvis, director for the Middle East and North Africa for the United Nations Children's Fund, said in a statement. "All those with influence in Syria have a moral obligation to respect the sanctity of children's lives and ensure that schools remain a place of safe refuge."
No one has taken responsibility for the attacks, but rebel forces based on the outskirts of Damascus daily fire mortar shells at the capital, which is firmly under government control. Civilians often are killed or injured.
The government blames "terrorists'' — its term for armed rebels — for the mortar barrages.
It is not clear whether the attackers are aiming at specific targets or firing randomly into neighborhoods deemed to be largely loyal to the government of President Bashar Assad. Attacks Monday killed and injured schoolchildren in two mostly Christian neighborhoods, whose residents are generally regarded as pro-government. The mortar shells and home-made rockets being fired into the capital from rebel-held suburbs are not especially accurate, experts say.
Human rights groups have regularly condemned large-scale government bombardment of civilian districts under rebel control. The daily shelling of Damascus by rebels has not generated comparable levels of international censure. But the rising number of casualties among schoolchildren prompted UNICEF to voice its outrage.
The government said Monday that four children were killed and four were injured when a mortar round struck a school bus in the Bab Sharqi [Eastern Gate] district of central Damascus. The bus driver was also killed, and two school administrators were injured, according to official accounts. The bus was struck in front of the Risala school, the government said.
Also on Monday, mortar rounds struck St. John of Damascus School in the Qassaa district, injuring 11 children, the government said.
They were the latest in a string of mortar attacks that have hit school facilities in Damascus in recent weeks, injuring more than two dozen children, the U.N. noted.
Schools opened for the fall term in Damascus despite the violence and the fact that many schools have been turned into shelters for people left homeless in the conflict. Educators have instituted double shifts and increased hours in an effort to accommodate additional students, including a huge influx of pupils whose families have fled war-ravaged areas for the relative security of the capital.
According to U.N. figures, about 1 million Syrian children were out of school during the last academic year. The more than two-year war has left some 4,000 Syrian schools — about 1 in 5 — damaged, destroyed or transformed into shelters for displaced families, the U.N. says.
The conflict has left more than 100,000 people dead, according to U.N. estimates.
ALSO:
U.S., Iran trade accusations over hitch in nuclear talks
Aid workers struggle to reach victims of Philippines typhoon
Preah Vihear temple grounds belong to Cambodia, U.N. court rules
Twitter: @mcdneville
---
Must-read stories from the L.A. Times
Get all the day's most vital news with our Today's Headlines newsletter, sent every weekday morning.
You may occasionally receive promotional content from the Los Angeles Times.