Syrian war crimes escalating on both sides, U.N. probe finds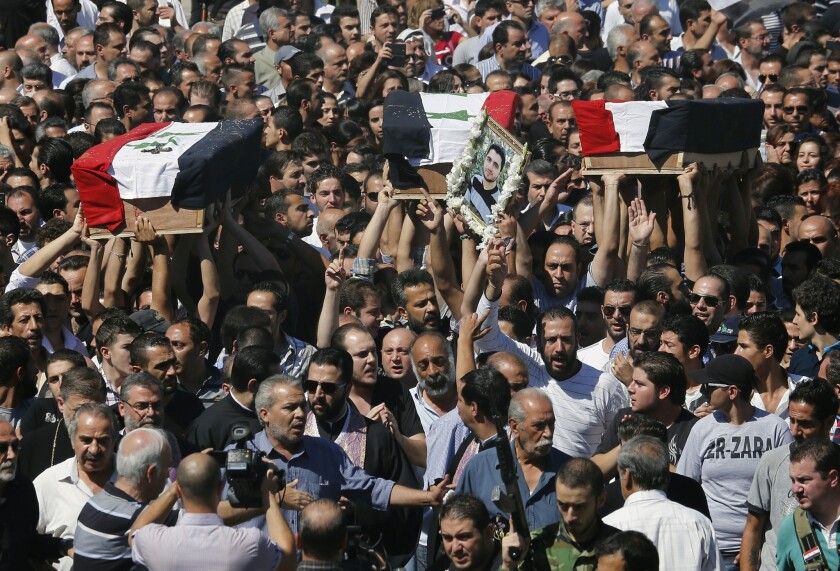 Summary executions, torture, hostage-taking and indiscriminate shelling of civilian homes are among the war crimes committed by both sides in the Syrian conflict, a special investigative panel of the United Nations Human Rights Council reported Wednesday.
The report, based on 258 interviews with survivors of the violence and refugees from Syria, warned of a frightening escalation in recent months of acts in defiance of international law.
Eight of nine investigated massacres in which the perpetrators could be reliably identified were blamed on government forces under Syrian President Bashar Assad, the report of the Independent International Commission of Inquiry said.
"Government and pro-government forces have continued to conduct widespread attacks on the civilian population, committing murder, torture, rape and enforced disappearance as crimes against humanity," the report to the Geneva-based rights council said. "Government forces have committed gross violations of human rights and the war crimes of torture, hostage-taking, murder, execution without due process, rape, attacking protected objects and pillage."
But probes still under way in nine other reported massacres this year and the atrocities found to have been committed by rebels in Dair Alzour in June reflect the radicalization of anti-government factions with the influx of militant jihadist groups, the panel reported. It named the Al Qaeda-aligned Al Nusra Front and the Islamic State of Iraq and Syria as foreign militants that have developed their own strongholds in northern Syria.
The report was based on interviews conducted between May 15 and July 15, prior to the chemical weapons attacks in Damascus suburbs on Aug. 21. The United States and other countries contend there is incontrovertible evidence that the poison gas that killed hundreds was deployed by Assad's forces, for which the Western allies have been urging punitive airstrikes against Syrian government bases.
The investigators took note of intensified fighting around Damascus and Aleppo as Assad's forces seek to recover territory lost to the rebels early in the 2 1/2-year-old civil war in addition to the rising incidence of atrocities. But the report warned that both sides were deluding themselves about the prospect of defeating the other.
"There is no military solution to this conflict," it said of the fighting that has taken more than 100,000 lives. "Those who supply arms create but an illusion of victory."
In Geneva on Monday, the Human Rights Council was told by one of the commission members that a list of suspected war criminals was being compiled as a result of the investigations.
"It's a long list," reporters were told by Carla del Ponte, a former chief prosecutor at the International Criminal Tribunal for the Former Yugoslavia, now deployed on the Syrian mission.
The confidential list of suspects, kept by U.N. High Commissioner for Human Rights Navi Pillay, may be used after the war is over to bring war crimes charges against those who committed atrocities.
Pillay, in her address to Monday's opening of the annual Human Rights Council session, warned that threatened military action against Assad for his alleged use of chemical weapons last month would only worsen the prospects for peace in Syria.
"This appalling situation cries out for international action, yet a military response or the continued supply of arms risk igniting a regional conflagration, possibly resulting in many more deaths and even more widespread misery," Pillay said, while acknowledging that there were "no easy exits, no obvious pathways out of this nightmare."
ALSO:
Car bombs in Egypt's Sinai kill six military personnel
India prosecutors seek death penalty in bus gang rape
Colombia, Nicaragua spat anew about disputed waters
Twitter: @cjwilliamslat
---
Must-read stories from the L.A. Times
Get all the day's most vital news with our Today's Headlines newsletter, sent every weekday morning.
You may occasionally receive promotional content from the Los Angeles Times.