U.S. commander in Afghanistan apologizes for civilian death, injuries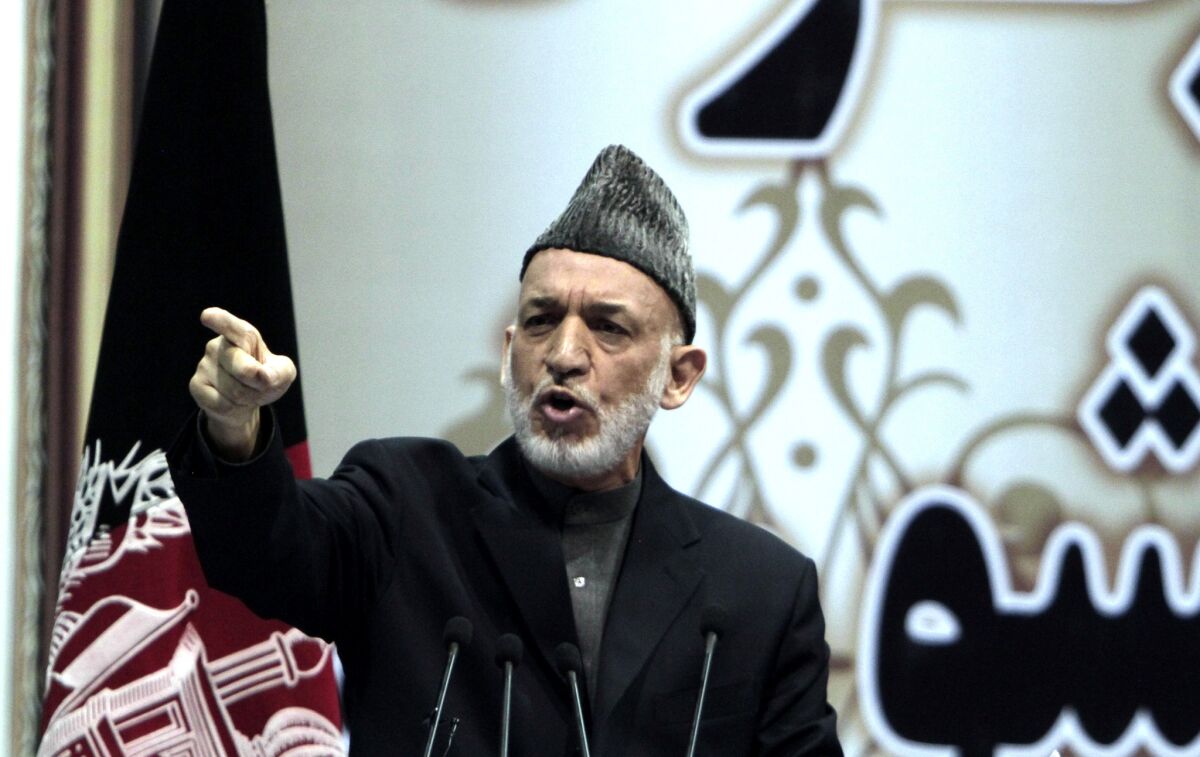 KABUL, Afghanistan – The American commander of coalition forces in Afghanistan telephoned Afghan President Hamid Karzai to apologize for an airstrike that killed at least one Afghan civilian and badly wounded two others, a coalition official said Friday.
Marine Gen. Joseph F. Dunford Jr. "expressed deep regret" for the civilian casualties, the official said, and promised a joint investigation with Afghan officials into circumstances surrounding the attack Thursday. Dunford made the call late Thursday after Karzai angrily denounced the United States, saying it has repeatedly shown disregard for the lives of Afghan civilians.
The airstrike, which Karzai said was from a American drone aircraft, came at a tense moment in U.S.-Afghan relations. Karzai warned earlier this week that if one more Afghan civilian was killed by American forces, he would never sign a proposed post-2014 security agreement.
Citing civilian casualties from so-called "night raids" on Afghan homes by U.S. special operations forces, Karzai has delayed signing the 10-year agreement even after agreeing to the proposed 24-page text. He indicated that he considered Thursday's airstrike sufficient cause to scrap the accord altogether.
Karzai said a child was killed and two women badly wounded in the airstrike, and coalition officials did not dispute him.
"This attack shows that American forces do not respect the safety of the Afghan people in their homes,'' Karzai said in a statement in Dari on his presidential website Thursday night.
Even with Dunford's apology, the standoff over the security pact seemed to harden Friday, given the latest civilian casualties and Karzai's repeated outbursts condemning the United States. The U.S. says the accord must be signed by the end of the year to give U.S. and NATO planners time to prepare for a military mission after foreign combat troops withdraw next year.
An official with the NATO-led International Security Assistance Force, or ISAF, confirmed that the airstrike killed one civilian and wounded two others. The official declined to specify the type of aircraft, but said it fired two missiles at a mid-level Taliban commander riding a motorcycle in southern Helmand Province on Thursday.
The first missile missed and struck civilians near the road. A second missile killed the commander, who was identified, by a spokesman for the Helmand governor, as Mullah Nazar Gul.
The ISAF official said the dead man had helped organize attacks on Afghan security forces.
Karzai said the civilians were struck when a drone fired a missile at a home in the village of Faqiran. The ISAF official said no home was targeted or hit.
"We make ever every effort to avoid civilian casualties . . . . but sometimes we make mistakes," the official said, speaking on background under ISAF policy. "When we do, we fully investigate to identify what went wrong so we can take action to avoid those mistakes in the future."
The official added: "We respect the Afghan people and their homes. We do not target civilians."
In a second, unrelated airstrike in the Nawa Barak Sai district in Helmand on Thursday, a Taliban insurgent named Nawah-Ye Barakzai was killed, according to ISAF.
U.S. Air Force Maj. Gen. Ken Wilsbach, who commands coalition air operations, said pilots and crews follow strict regulations designed to avoid civilian and friendly force casualties.
A detailed list of safeguards must be checked off before firing, including clearly identifying the target and ensuring that no civilians are in the target area. Wilsbach said the investigation into the Helmand attack will determine whether all such procedures were properly followed.
Wilsbach said insurgents are responsible for the vast majority of civilian casualties, often deliberately targeting civilians. They do not conduct investigations, he pointed out.
Wilsbach said the ISAF regrets any loss of life, but he declined to provide details of the Helmand attack. He said flights of RPVs, or remotely piloted vehicles – the Air Force term for drones – have remained at a consistent pace in 2013, despite the drawdown of ISAF combat forces as Afghan forces take over combat missions.
Coalition aircraft fly 300-350 sorties a day, according to Wilsbach. He declined to provide the number of drone flights or the number of confirmed civilian casualties as a result of drone attacks.
U.S. and British forces operate drones in Afghanistan, Wilsbach said. The U.S. flies 27-foot Predator drones and more powerful 36-foot Reaper drones, along with 47-foot Global Hawk surveillance drones and other RPVs.
Unmanned aircraft takeoffs and landings are handled by crews at ground control stations on bases in Afghanistan. After takeoff, the planes are handed over to pilots and crews operating from cockpit-like stations, most of them on military bases in the United States, Wilsbach said.
The drone crews spend the vast majority of their time on surveillance and reconnaissance missions to gather intelligence on enemy activity, Wilsbach said. Armed with Hellfire missiles or laser-guided bombs, the aircraft occasionally fire to protect ISAF and Afghan forces fighting insurgents.
Drones also track and target insurgents. A separate drone program is operated by the CIA in Pakistan.
"These are very useful tools for us and they do a great job every single day,'' Wilsbach said of drones in Afghanistan.
The issue of continued U.S. drone missions in Afghanistan is not addressed in the draft of the Bilateral Security Agreement. Wilsbach said U.S. and coalition commanders are awaiting orders for what, if any, role drones will play in Afghanistan after 2014 if the security agreement is approved.
The agreement provides for U.S. forces to use nine bases in Afghanistan after 2014. Several contain drone ground control stations, which are portable.
ALSO:
Mexico: Police slain in troubled Michoacan state
Eyes water, throats burn as Iran's capital endures siege of smog
Afghanistan: U.S. ambassador says onus is on Karzai to sign pact
Special correspondent Hashmat Baktash contributed to this report.
---
Must-read stories from the L.A. Times
Get the day's top news with our Today's Headlines newsletter, sent every weekday morning.
You may occasionally receive promotional content from the Los Angeles Times.