Will you be our next winner?
Welcome to Los Angeles Times Experiences. The Los Angeles Times is presenting our readers a chance to win extraordinary experiences. These chance-of-a-lifetime prizes are something money can't buy and that only The Times can provide:

• Star treatment at Hollywood award shows
• Behind-the-scenes access at pro sporting events
• VIP status at cultural happenings and concerts
• Invitations to the hottest movie premieres
• Celebrity sightings, fabulous food, exotic locations and more
2016 Experiences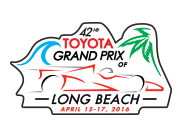 Toyota Grand Prix of Long Beach Experience
Becky, the winner of the Grand Prix of Long Beach Sweepstakes, was in for the ultimate racing experience. From a suite overlooking pit lane with food and beverage, she enjoyed a turbocharged weekend at the fastest beach party in town. This once-in-a-lifetime experience also included rides in a two-seat IndyCar around the Long Beach circuit, access to the race car paddock, two nights at a Long Beach hotel and more.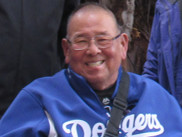 2016 Festival of Books Experience
Our annual literary festival is the largest of its kind in America, and our winner Gary enjoyed an all-access experience. At every turn, he discovered fun and inspiration as part of the exclusive prize package, which included tickets to the Ideas Exchange, the Book Prizes ceremony, and Festival After Dark as well as lunch with LA Times columnist Steve Lopez and a complete set of festival merchandise.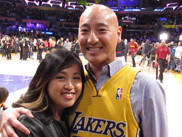 The Los Angeles Lakers Courtside Experience
Our winners will experience one of the last games of a Lakers legend. But sitting courtside in floor seats among the VIPs and celebrities is just the start. They'll also enjoy dinner in the Lexus Club, have photos taken on center court and with the Laker girls, high-five the players in the tunnel, and even meet Lakers co-owner/president Jeanie Buss. For any basketball fan, it's an all-time thrill.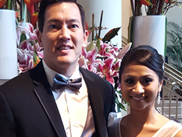 The Screen Actors Guild Awards® Experience
Brian and Susan, the winners of our Screen Actors Guild sweepstakes, enjoyed exclusive access to this star-studded event – from the red carpet rollout and the awards show rehearsal to the live awards ceremony and the after-party gala. Including a two-night stay at a luxurious downtown hotel, limo arrival and formal wear rental, it was a dazzling once-in-a-lifetime experience.

2015 Experiences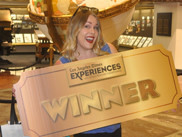 The LA Kings Home Opener Experience
Christina, our LA Times Experiences winner, received the royal treatment at the Kings Home Opener. After stepping onto the ice for a photo op and sitting in the penalty box during warm-ups, she and her guests enjoyed the game from lower level seats, met NHL Hall of Famer Luc Robitaille in the Lexus Club, and even got to ride on the Zamboni.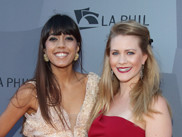 The LA Phil Opening Night Experience
Cynthia and her guest enjoyed the LA Philharmonic's Opening Night Concert and Gala at the Walt Disney Concert Hall. This once-in-a-lifetime experience included a private rehearsal and a backstage meet-and-greet with conductor Gustavo Dudamel. An exclusive pre-concert reception, hotel stay, and formal wear rental completed this extraordinary prize.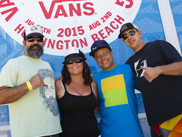 The Vans US Open of Surfing Experience
The winners of the Vans US Open of Surfing Experiences Sweepstakes enjoyed VIP access to Southern California's biggest surfing competition. In addition to premium reserved seating for the finals, they received two nights in a Huntington Beach hotel, $300 towards Vans merchandise, a signed competition jersey and more, all of which made for one epic weekend.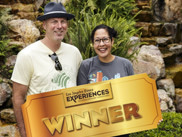 The Redbird Culinary Experience
Gina, our winner of the Redbird Culinary Experience, and her guests enjoyed a once-in-a-lifetime opportunity to shop, dine and cook alongside celebrity chef Neal Fraser. Their prize included a behind-the-scenes tour of Redbird at Vibiana, dinner in a private dining room, special wine pairings, luxurious hotel accommodations and more.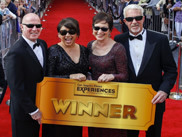 The AFI Tribute to Steve Martin Experience
Vida was the winner of this once-in-a-lifetime experience. On June 4, she and three guests enjoyed an evening among film and television greats. Looking fabulous in their gowns and tuxedos, they walked the red carpet, dined at a Wolfgang Puck-catered pre-reception buffet dinner, watched the award ceremony and even attended the exclusive after-party.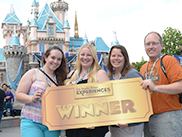 The Disneyland® Resort Diamond Celebration
Wayne Poole was the grand prize winner and got to experience Disneyland® Resort's dazzling 60th celebration. In addition to tickets and hotel accommodations, he and his family enjoyed a sneak peek at the all-new Disneyland® Forever fireworks spectacular and the Paint The Night parade before the general public. (Photos: Robert Downs for The Times)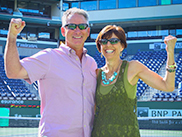 The BNP Paribas Open Tennis Experience
March 21-22 was championship weekend at this world-class tennis tournament in Indian Wells, and our winners Roxanne Morrow and her husband enjoyed box seats for the finals, luxury hotel accommodations, a photo opp with the WTA singles champion, dinner at Nobu and much more. (Photos: Marc Glassman for The Times)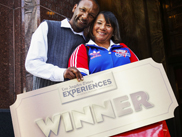 The Clippers Experience
On March 4, Jenny Bethune and her son David experienced a high-flying Clippers game from courtside. They also enjoyed a delicious dinner at the Lexus Club, met Clippers owner Steve Ballmer, and even high-fived the players as they took the court to complete one extraordinary evening. (Photos: Patrick Fallon for The Times)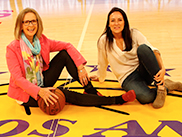 The Lakers Experience
On April 3, Jean Tordella and a guest enjoyed the ultimate Lakers experience. In addition to sitting courtside for a Lakers game, they got to meet Lakers co-owner Jeanie Buss, dined at the Lexus Club, scored some signed keepsakes and took home memories of an extraordinary evening. (Photos: Patrick Fallon for The Times)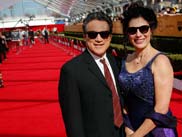 The Screen Actors Guild Awards® Experience
Winner Raul Vega and his wife Jane Bruckner experienced a walk down the red carpet at the 21st Annual Screen Actors Guild Awards®, tickets to the ceremony, a pre-show cocktail reception, and mingled with celebrities at a gala dinner catered by world-renowned Wolfgang Puck. (Photos: Patrick Fallon for The Times)


Copyright © 2016, Los Angeles Times