Claire Messud's 'The Burning Girl' takes on a fraught friendship with splendorous prose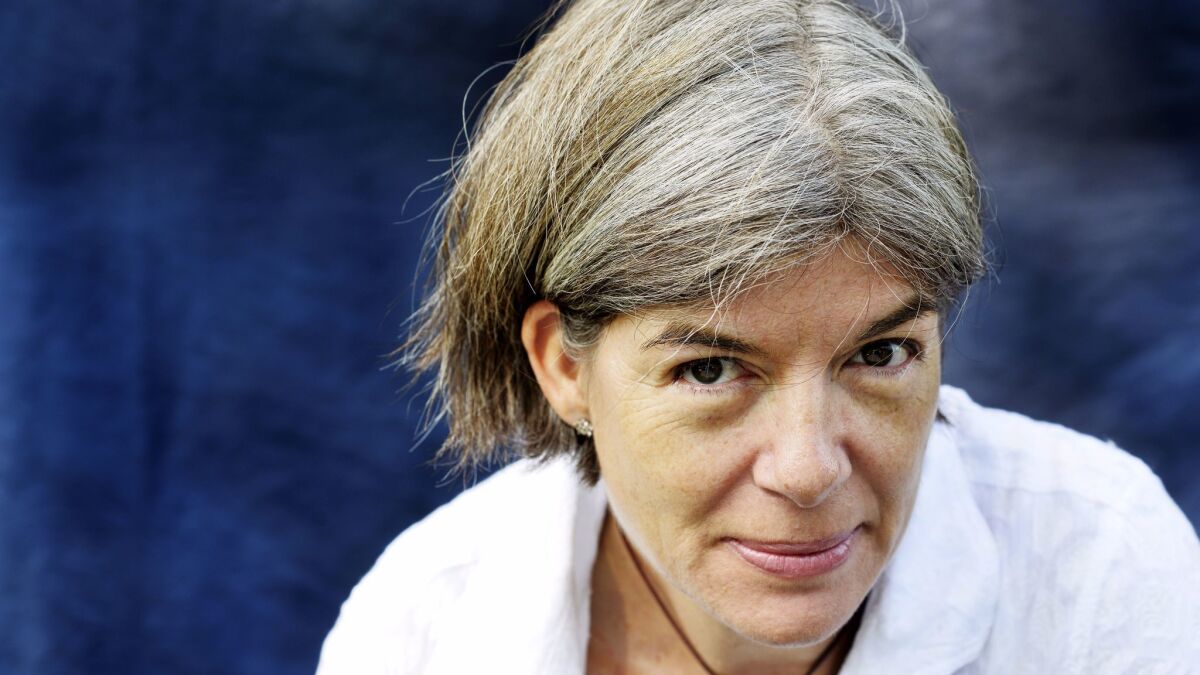 There is something mesmerizing about a girlhood friendship that is so close and adventurous, symbiotic and impenetrable. In real life it can be intoxicating, in fiction, life-changing. Such is the case with Claire Messud's new novel, "The Burning Girl," in which two girls become best friends in nursery school and go on to grow together into the crevices of each other's minds, while also sharing the deep desire to leave the confines of their small fictional town of Royston, Mass.
In many ways, "The Burning Girl" tells a familiar, hyper-gendered tale of adolescent friendship gone awry. The bond between its main characters, Cassie and Julia, evokes Sula and Nel in Toni Morrison's "Sula"; the ill-fated pact between Pauline and Juliet in the 1994 film "Heavenly Creatures," based on the 1954 Parker–Hulme murder case in Christchurch, New Zealand; and of course, the celebrated, fraught and ongoing companionship between Lenu and Lila in the Neapolitan novels by Elena Ferrante. All of these friendships involve a pairing of empathic, compelling and somehow resolutely feminine girls, each with something the other needs or wants, cherishes or romanticizes, rejects or manipulates.
"The Burning Girl" is narrated by Julia, who is looking back on her friendship with Cassie as she's about to start her senior year of high school. When they first met, Cassie "had shiny, white-blond hair, almost albino she was so fair, her skin translucent and a little pink. But you'd be wrong to mistake her size and pallor for frailty." Cassie, who also had "a Georgia Jagger gap between her front teeth," was adventurous, self-assured and bold, whereas Julia was the more responsible of the two, and "as big-boned as Cassie was small."
The summer before middle school, the girls are at their most curious, most attached. It is the apex of their friendship, a time when they listen to Katy Perry and Lady Gaga on their iPods, adopt kittens and name them Electra and Xena, and dream of becoming veterinarians and pop stars. They take jobs at the nearby animal shelter, where Cassie has a freak encounter with a pit bull that ends up dictating the limitations and options for the remaining weeks of the summer. This is when they discover the quarry and what lies beyond it inside the notoriously abandoned women's mental asylum the Bonnybrook, which both solidifies their bond and foreshadows its daunting future.
Messud, whose previous books include the bestselling novels "The Woman Upstairs" and "The Emperor's Children," both of which I read and admire, is an absolute master storyteller and bafflingly good writer: "The woods were at once very quiet and not quiet at all: things popped or flicked or thudded, birds chirped and hooted, the breeze spoke through the leaves." It is that combination of imagination and skill that makes "The Burning Girl" exceptional, more so than the story itself, which sometimes veers into the ordinary and unexamined. Julia's father, a rather nondescript dentist, is always quick to defend his daughter against the predictable harping by his wife regarding homework, behavior and responsibilities, while Julia's mother, a freelance journalist, changes the station when a song by Eminem and Rihanna comes on the car radio because, "I'm sorry, but as a feminist, I object."
'The Burning Girl' is at its best when it amplifies that subtle, piercing shift between Cassie and Julia.
Eminem and Rihanna have collaborated on a number of songs, but given the time frame, one assumes the reference here is to their 2010 hit "Love the Way You Lie," which is about a couple trying to reconcile with their mutually abusive relationship. The song was released just one year after the high-profile incident involving Rihanna and her former boyfriend, Chris Brown, when an argument turned violent and Rihanna was left brutally battered. Rihanna ultimately broke things off with Brown and has since gone on to take complete control over her life and career in a decidedly feminist way. But even if we're just looking at that one song alone, what exactly is it that Julia's mother is objecting to as a feminist?
Cassie's mother, Bev, a "big-bosomed" hospice care nurse, devoutly Christian and otherwise average, is a widow. Cassie's father and the circumstances surrounding his death is the stuff of lore, and this eats away at her as she begins to unravel. When the girls enter middle school, a series of likely events occur: Julia is placed in the advanced math and English classes, while Cassie is not but in true "Mean Girl" spirit, quickly finds preferred companionship in the ostentatious new girl, "starring in a TV show invisible to anyone but herself." Cassie becomes the girlfriend of Julia's longtime crush, Peter, and Bev falls in love with a dubious figure who emerges from the shadows.
Intense friendships in their infancy are something quite other from what they ultimately become — like an early courtship between lovers, when there is everything to learn and love and to grasp at hungrily. As the relationship evolves and the two people in it change, sometimes it feels like wearing an undergarment that's too tight, ill-fitted. Because it's that intimate and that necessary, and no one else can see what you are feeling. "The Burning Girl" is at its best when it amplifies that subtle, piercing shift between Cassie and Julia, made brighter by passages of sheer splendorous prose: "She said to Peter, who repeated it to me, that it was only there — in the park, the prickly packed earth under her and the maple's scaly trunk behind her, its limbs above still winter-bare, that she understood that she was a runaway." Find yourself someone who writes for you like that.
Rebecca Carroll is editor of special projects at WNYC New York Public Radio, and a critic at large for The Times. She is the author of five nonfiction books about race in America, including "Sugar in the Raw" and "Saving the Race."
Claire Messud
W.W. Norton & Co.: 256 pp, $25.95
Get the latest news, events and more from the Los Angeles Times Book Club, and help us get L.A. reading and talking.
You may occasionally receive promotional content from the Los Angeles Times.