Glenn Bray brings his 'Blighted Eye' to collecting comic art
Glenn Bray's art collection is an eclectic mix of comics, original paintings, sculptures and toys-- all housed at his home in the San Fernando Valley. Here, Bray holds a Chinese miniature sculpture hand-carved in ivory, circa 1900, artist unknown. In the background is the Gary Panter painting "Gear" (2002).
(Gary Friedman / Los Angeles Times)
"I never thought of [art] as an investment," says Bray. "That's not my mind-set. I just wanted them because I liked them." Bray leans on his bronze sculpture, "The Astrologer" by Stanislav Szukalski, with the painting "Baby Cowboy" by Bob Zoell (1983) in the background.
(Gary Friedman / Los Angeles Times)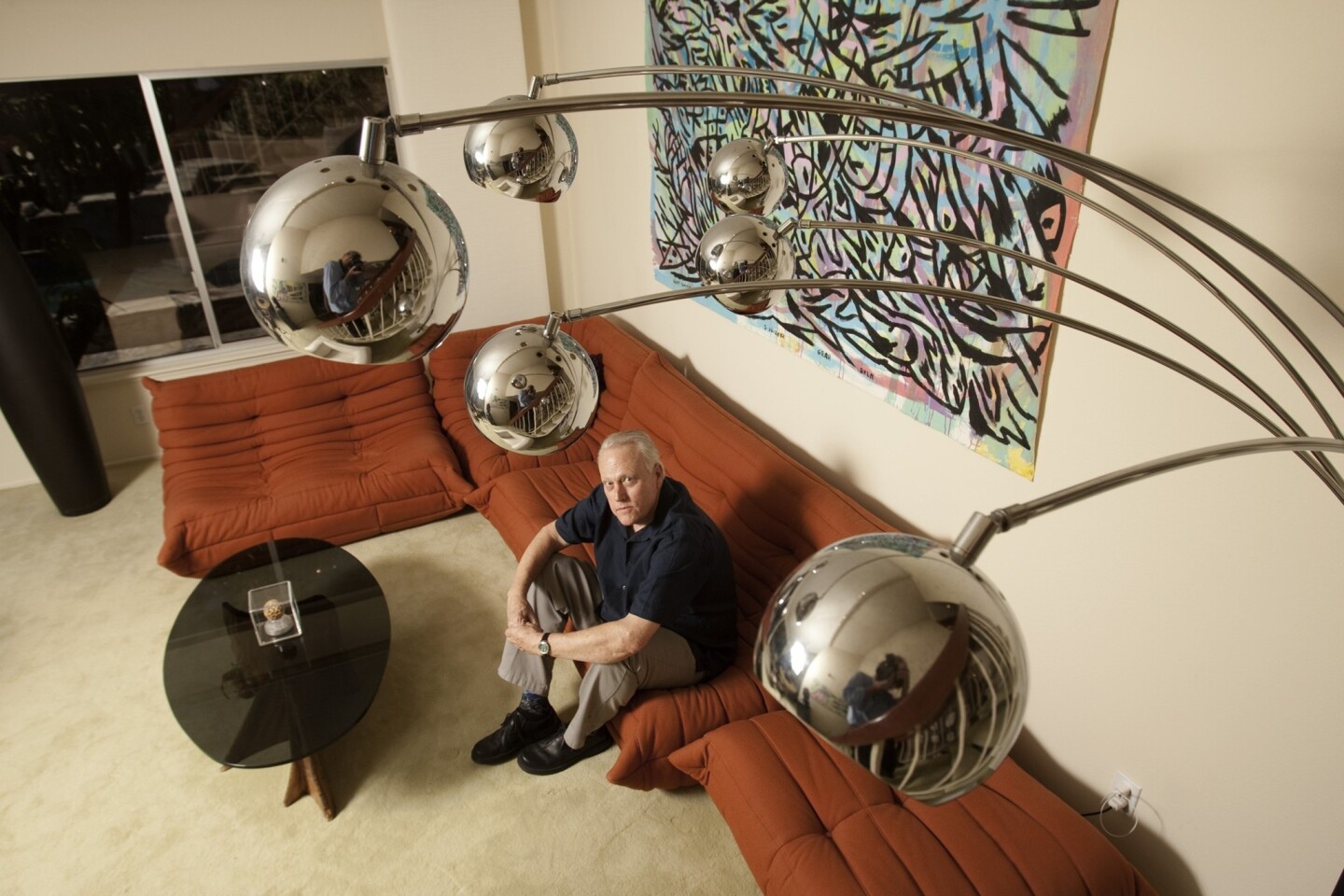 A six-armed octopus lamp from 1970 stands in the foreground, as Bray sits in his home. The Panter painting can be seen in the background. Bray's enthusiasm for collecting has found him a place in the art community; Bray has commissioned original murals from Panter and has even had artist Daniel Clowes over to his house.
(Gary Friedman / Los Angeles Times)
Bray sits beneath the chandelier sculpture, "Atom Bomb" by Hans van Bentem (2006), which hangs over Bray's dining table.
(Gary Friedman / Los Angeles Times)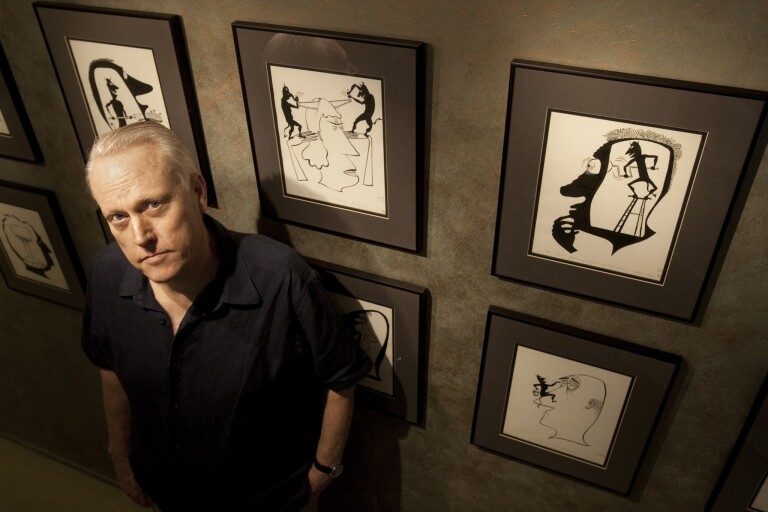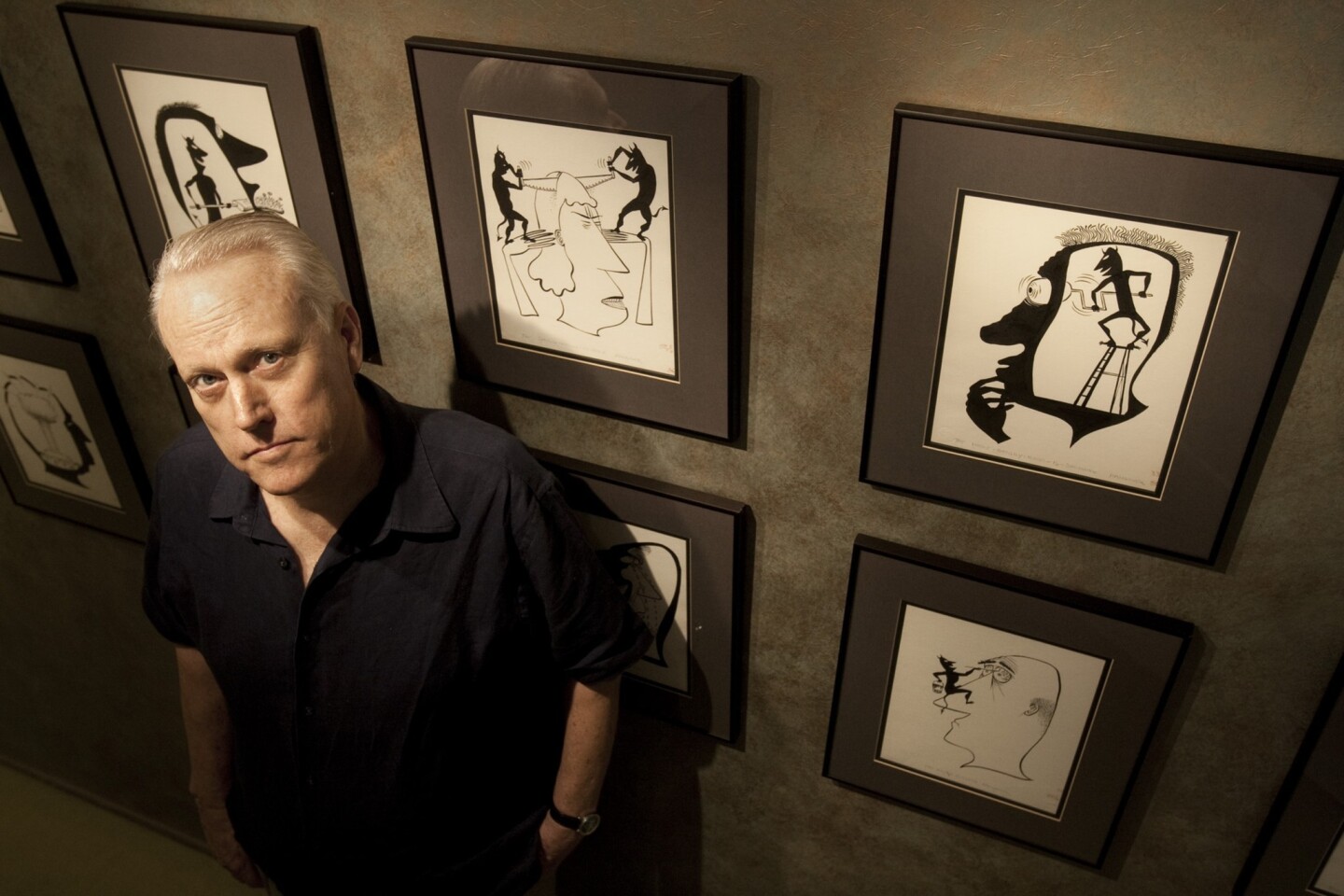 Bray's extensive collection is not for sale and selling isn't even an option. "Everything? I'd have to put a dagger in me. I couldn't live." On the wall are framed artworks of Virgil Parth's "Hangovers" series (1957).
(Gary Friedman / Los Angeles Times)
Years before he became an obsessive collector of art, Glenn Bray was just a kid who loved junk culture. That's what they called it back then, all those comic books and movie posters, the toys and wrestling magazines. All of it disposable.
Bray sensed something more. A San Fernando teen working long hours in his dad's hardware store, he was in thrall to famous monsters and a hilariously subversive comic book called Mad.
"Mad made me understand that comics were art," says Bray, now 65. "They did more than entertain. They were saying something about the status quo, how not to conform."
---
FOR THE RECORD:
Glenn Bray: An article in the March 30 Arts & Books section about comic-book collector Glenn Bray misspelled the last name of former New Yorker cartoonist Charles Addams as Adams.

---
PHOTOS: Glenn Bray's "Blighted Eye" and art-filled home
He began collecting the stuff — not just comics, toys and posters but also original art. Over the decades he amassed a staggering collection of work from his heroes: Mad's Harvey Kurtzman and Basil Wolverton, paintings and drawings by Robert Williams, Robert Crumb, Gary Panter, Krazy Kat's George Herriman, Disney's Carl Barks, Daniel Clowes and Savage Pencil.
The best of this collection is gathered in "The Blighted Eye: Original Comic Art from the Glenn Bray Collection" (Fantagraphics: 410 pp., $100), one more way for Bray to share his enthusiasms. After a biographical Q&A with Bray, the book opens with a 1942 Charles Adams cartoon from the New Yorker and rolls lovingly through a collection that would be virtually impossible to gather today "unless you're a multimillionaire," he says.
"I've been offered a lot of money," Bray adds. "With that money, what am I going to do, go to Bermuda for a month, come back and not have my artwork?"
He keeps the collection at his fingertips at his house in the San Fernando Valley, where the walls are covered (not smothered) with original art, from a slobberingly sexual painting by Williams to an elegant 1947 color drawing of Nat King Cole by Al Hirschfeld.
A chandelier shaped like an A-bomb dangles over his dining table, where Bray sits with his wife, Dutch cartoonist Lena Zwalve, and a plate of cookies. Selling the collection, he says, is not an option. "Everything? I'd have to put a dagger in me. I couldn't live."
At 17, he bought his first original piece of art: a 4-by-6-inch Wolverton drawing made for a Topps trading card. It cost him $10 in 1965. His first major purchase was years later: six pages of original art from a 1954 Wolverton story for Mad. In the 1970s, the artist was selling his pages for $50 or less. Bray eventually bought 400 pieces from him.
"I saw those at such an early age and I was fixated on those images. When I finally got the original art, I said it doesn't get any better than this," Bray remembers. "In a lot of respects, it hasn't. That was a real thrill."
He found that same revolutionary spark in the pages of Zap Comix, which debuted in 1968, and a new generation of artists that included Crumb, Williams and S. Clay Wilson. "It was like Mad all over again, and these guys knew it. They were Harvey Kurtzman's illegitimate kids," Bray says of the group.
As a kid, Bray read his share of superhero comics but moved on. "I spent time with Jimmy Olsen and Lois Lane. At the end of the day, I didn't have to go any further than that." He adds: "If you were over 14 years old, there might be something wrong with you reading that [stuff]."
As an active collector and enthusiast, Bray became an essential part of a creative community. He's commissioned original murals by Panter and ridden in Williams' hot rod. Clowes has been over to the house.
Some of the collection has been lent to museums and was included in "Masters of American Comics," the 2005 exhibition that appeared simultaneously at L.A.'s Hammer Museum and the Museum of Contemporary Art.
His mission as a collector was entirely personal, with no expectations that his growing archive would ever have significant value. "I never thought of it as an investment," says Bray, who retired and closed the family hardware store in 2010. "That's not my mind-set. I just wanted them because I liked them."
Some of the charm and community he remembers from his first decades of collecting has been eclipsed by speculators. Collectible comics are now appraised and sealed in containers made of hard plastic, no longer accessible for reading. "They're buying real estate," he says disdainfully.
And prices went up accordingly. "All it takes is one of those techno-geeks to really like that Superman comic from 1987 — he'll pay $4 million for it."
He no longer goes to San Diego Comic-Con, which he calls "too hectic" and less about comics now anyway. "They should call it 'Movie-Con,' and 'Maybe we'll show you some comics on the side, kids,'" he says.
For Bray, "The Blighted Eye" is more than a vivid catalog of his collection but a chance to share his excitement about some lesser-known creators. Among them is Dutch artist Peter Pontiac, whose inky, sexually charged drawings get 10 pages in the book.
"Nobody knows this guy, but he's one of my favorite artists," says Bray, who commissioned Pontiac to create a color painting for the cover, depicting Bray at the center of storm of eyeballs, demons, books and assorted harried characters.
Pontiac got his world just about right, Bray says. "It had to be a swirling tornado of images."
---
Get the latest news, events and more from the Los Angeles Times Book Club, and help us get L.A. reading and talking.
You may occasionally receive promotional content from the Los Angeles Times.