Review: New Orleans comes alive in Nathaniel Rich's 'King Zeno'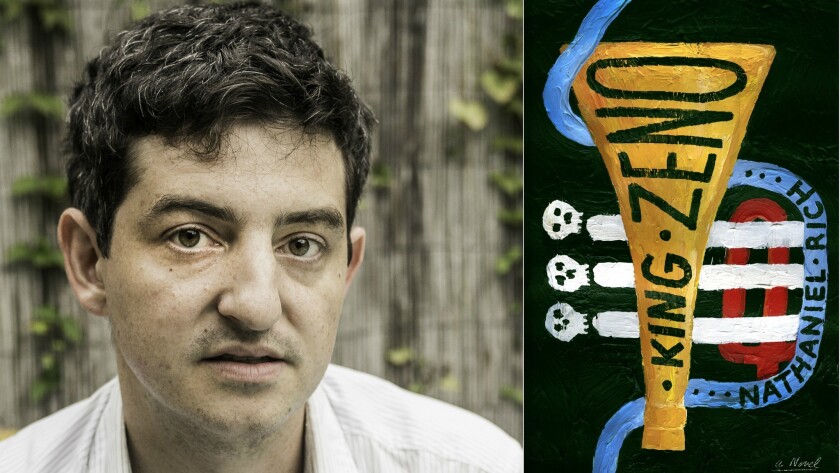 'What do we want out of a historical novel? History, sure. But history is complicated, and American novelists have handled it in different ways over the last century. In his "U.S.A. Trilogy," John Dos Passos shaped three decades of American history into a kind of cubist portrait. At midcentury, the likes of James Michener imagined the historical novel as an edifying brick of historio-socio-geological detail. Today, the historical novel is likely to be a more supple, character-driven affair like National Book Award finalist Min Jin Lee's "Pachinko," in which the past provides a keyhole to our multicultural present.
But there are rare cases, like E.L. Doctorow's 1975 novel, "Ragtime," that manage to capture a multiplicity of virtues — stylistic daring, historical detail, rich characters. Doctorow made the nation itself feel like a character, and Nathaniel Rich, in his third novel, "King Zeno," aspires to do much the same for his hometown of New Orleans. Set a century ago, in 1918 and 1919, it delivers a concrete sense of place and time: the explosion of jazz bands, the devastating Spanish flu, the construction of the canal linking the Mississippi River and Lake Pontchartrain, and an unknown "axman" killing local grocers. Plotwise, it's a crime story, but thematically, Rich uses this historical matter to explore the intersections of corruption, music, business and racism that were secret at the time but are now out in the open. It's not "Ragtime," but it's respectably ambitious for wanting to be.
Central to the novel's theme is the King Zeno of the title — a.k.a. Isadore Pinkett Ernest Zeno, a.k.a. Izzy, a cornet player and would-be bandleader who "understood music as a conversation with the Dark Unknown — the dimension of the world that was hidden to the world." Appropriately, he lives much of his life in a metaphorical underground. Laboring in jazz clubs considered shady by the authorities, he makes ends meet first as a wingman for a robber accused of a police detective's killing, then digging trenches in the putrid, mucky canal-in-progress. The canal becomes a rich metaphor for the racism that forced poor blacks like Izzy into cheap labor, for the mob dollars that financed it and for the heedlessness of environmental damage it would eventually create. (Rich, sticking to his historical frame, never explicitly mentions Hurricane Katrina, but its ghost haunts the novel's pages.)
Plotwise, it's a crime story, but thematically, Rich uses this historical matter to explore the intersections of corruption, music, business and racism.
Rich saves his best rhetorical firepower for those canal scenes: "The mud was alive, not only breathing but also wiggling into every bodily crevice, matting his hair, oozing down his spine, and he couldn't pretend anymore that it wasn't getting into his mouth." Appropriately, everybody in the story's orbit seems to have some dirt on them. Bill, a police officer, is a shellshocked World War I veteran who can't shake the memory of an unethical act during the war and struggles with his moral laxness stateside as well. Beatrice is the widow of a crime boss attempting to go legit by running the construction firm building the canal, but her son's violent tendencies keep stirring memories of the family's Black Hand days — and suspicions that he may be the axman terrorizing the town.
Though Izzy, Beatrice and Bill are fictional, there was a real axman, whose identity remains unknown, one of those mysteries that lingers in the city like Los Angeles' Black Dahlia murder. (Gary Krist's 2014 history, "Empire of Sin," explores the question.) Rich imagines a culprit, though, one who fits his vision of the city as a place with enormous potential (jazz, a pluralistic culture) undone by old-fashioned racism, fear and corruption — a metropolis "run by water-brained bureaucrats and unreconstructed bigots who couldn't make it in St. Louis or Cincinnati, let alone New York City," as Izzy thinks.
Resistance wasn't entirely futile, but it required secrecy. In 1919, the New Orleans Times-Picayune ran an anonymous letter from somebody claiming to be the axman, insisting that he would spare any home where jazz was playing on a particular night: "Some of those persons who do not jazz it on Tuesday night (if there be any) will get the ax." [273] As a motivation for the city's white population to get behind the genre, the letter was exquisite promotion. Which is why imagining a jazz man like Izzy as the letter's author is a brilliant stroke — addressing a civic anxiety by exploiting it. "How do you bring a city to its knees?" Izzy's incarcerated partner in crime asks. "Fear! Fear is how you do it!"
Rich, sticking to his historical frame, never explicitly mentions Hurricane Katrina, but its ghost haunts the novel's pages.
As it was then, so it is now, Rich means to say; we're still in a country that's shaped by social and civic bigotry, just one that (blessedly, knock wood) lacks the devastation of the Spanish flu, which killed tens of millions worldwide and afflicted 350,000 in New Orleans. It's revealing that Rich spends little time on the illness, except for a few coughing fits, newspaper citations and a subplot involving Bill's wife; it's the one aspect of 1918 life that has the least to say about our contemporary perils.
And Rich is nothing if not careful about what he means his novel to do. Indeed, he's a novelist who's a kind of scholar of the form: His debut, 2008's "The Mayor's Tongue," was a foray into neo-Modernism, and he tried his hand at dystopian fiction in 2013's "Odds Against Tomorrow." That doesn't mean "King Zeno" is a mere genre exercise — Izzy is too lively and engaging a figure, and its message is well-formed and relevant. But it also bears some of the stiffness of the form — Bill and Beatrice become less engaging once their chess-piece roles are clear. Profound symbolism giveth, but it also taketh away.
Still, that's a problem common to historical fiction that Rich is willing to face head-on: "Man has no business making rivers," Bill intones toward the end of the story. "Digging up the past." It's the one form of fiction that's arguably most at risk of making a mess. But it can also speak powerfully to the present, and "King Zeno" often does.
Athitakis is a critic and author of "The New Midwest."
Nathaniel Rich
MCD/Farrar, Straus and Giroux: 400 pp., $28
---
Get the latest news, events and more from the Los Angeles Times Book Club, and help us get L.A. reading and talking.
You may occasionally receive promotional content from the Los Angeles Times.