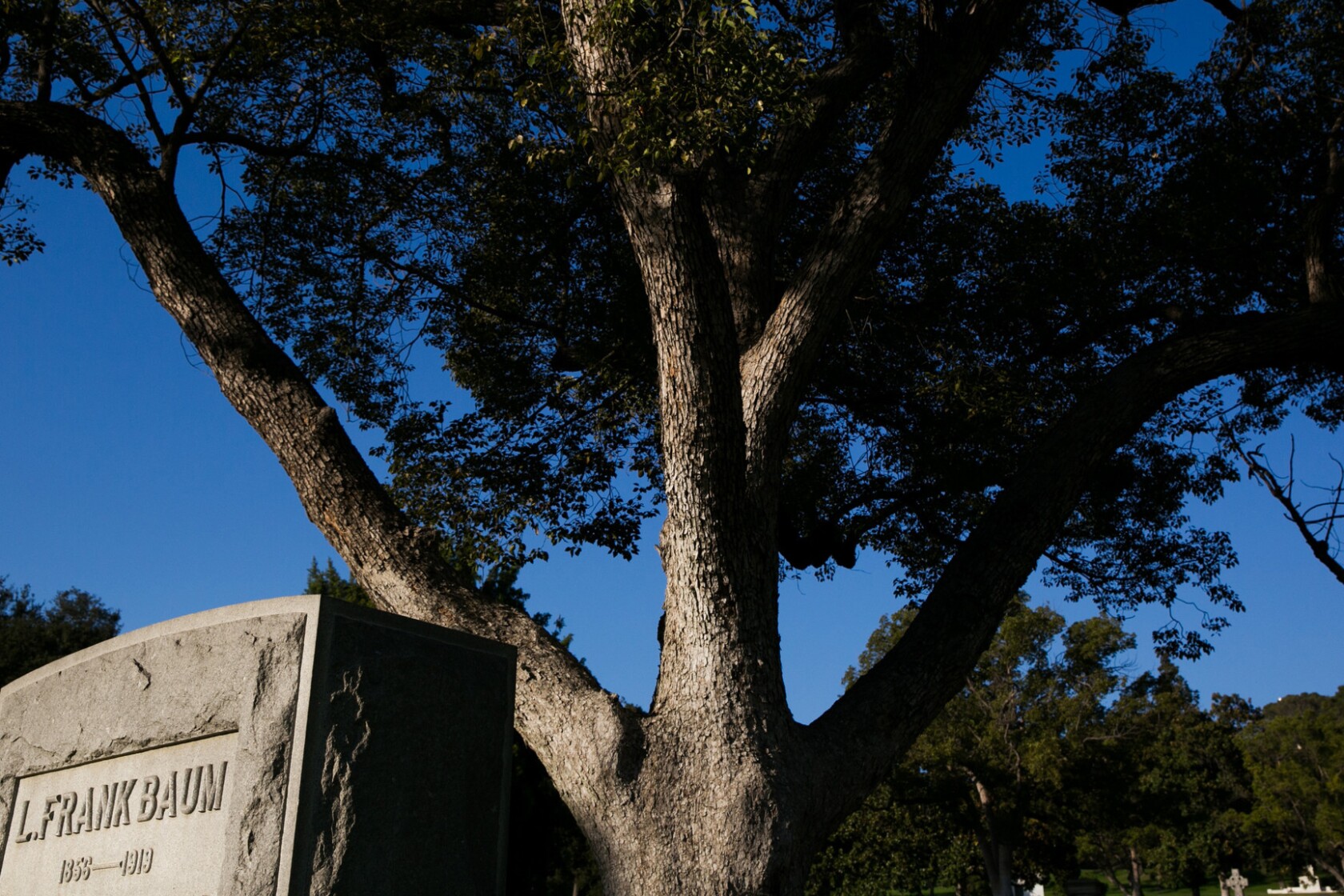 No yellow brick roads or rainbows mark the headstone of L. Frank Baum, who wrote "The Wonderful Wizard of Oz." It can be found at Forest Lawn Memorial Park in Glendale.
(Marcus Yam / Los Angeles Times)
Although Truman Capote was identified with New York, he died in Bel-Air; later some of his remains were "ash-napped," returned and put away for safekeeping at Westwood Village Memorial Park Cemetery.
(Library of Congress / Getty Images)
Theodore Dreiser, author of "An American Tragedy," was one of America's great novelists. He spent his last decade in Los Angeles and is buried at Forest Lawn Memorial Park in Glendale.
(Marcus Yam / Los Angeles Times)
Charles Fletcher Lummis, author of "A Tramp Across the Continent" and an early, rollicking city pioneer, had his ashes placed in a niche at the home he hand-built, El Alisal, in Highland Park.
(Rick Meyer / Los Angeles Times)
Ray Bradbury, author of "Fahrenheit 451" and other science fiction classics, died at 91 in 2012. He's buried at Westwood Village Memorial Park Cemetery.
(Kirk McKoy / Los Angeles Times)
Octavia E. Butler, known for such works as "Parable of the Sower," was the first science fiction writer to get a MacArthur "Genius" Fellowship. She's buried at Mountain View Mausoleum in Altadena.
(Cheung Ching Ming )
Louis L'Amour published the first of his many westerns, "Hondo," in 1953. He had 200 million books in print when he died in 1988. He is buried at Forest Lawn Memorial Park in Glendale.
(Marcus Yam / Los Angeles Times)
Sidney Sheldon, who was best known for blockbuster novels such as "The Sands of Time," also won a 1947 screenwriting Oscar, a 1959 Tony, and was a prolific TV producer. His grave is in Westwood Village Memorial Park Cemetery.
(Lawrence K. Ho / Los Angeles Times)
Iceberg Slim, whose real name was Robert Maupin Beck, was the author of "Pimp," a bestselling pulp novel about life on the street. Beck died in 1992 and is entombed at Forest Lawn Memorial Park in Glendale.
(Marcus Yam / Los Angeles Times)
Edgar Rice Burroughs had his ashes buried beneath this walnut tree in front of his office in Tarzana. The town was named after his famous creation, Tarzan.
(Richard Derk / Los Angeles Times)
Ethologist Edward S. Curtis created the 20-volume set "The North American Indian." His marker is at Forest Lawn Memorial Park in Glendale.
(Marcus Yam / Los Angeles Times)
To pay tribute to London's literary dead, tourists go to Highgate Cemetery. In Paris, it's Père Lachaise. But in Los Angeles, boot up the GPS — our writerly dead authors are buried all over town, befitting L.A. sprawl.
Down in Rancho Palos Verdes, poet Charles Bukowski is buried at Green Hills Memorial Park, the wry motto "Don't try" engraved on his marker. Forty miles north, the ashes of Edgar Rice Burroughs are interred in front of his former office building in Tarzana, the town named for his famous character, Tarzan.
In between are several outposts of Forest Lawn, the cemetery chain wickedly satirized by Evelyn Waugh in "The Loved One." With a particularly Southern California spin, founder Hubert Eaton once proclaimed, "I shall endeavor to build Forest Lawn as different, as unlike other cemeteries as sunshine is unlike darkness, as Eternal Life is unlike death."
Theodore Dreiser, considered one of America's great realist novelists for "Sister Carrie" and "An American Tragedy," lived his last years in Los Angeles and is buried at Forest Lawn in Glendale.
Others buried there include western writer Louis L'Amour, ethnographer Edward Curtis and Robert Maupin Beck, the last the author of "Pimp" and better known as Iceberg Slim. It's also where L. Frank Baum, who died in 1919, can be found. There's nothing, not a picture or a single yellow brick, to indicate that this is the man who created "The Wizard of Oz."
Some authors try harder to demonstrate who they are — or, were. Kate Coscarelli, an L.A.-based author who published her sexy debut, "Fame and Fortune," at age 56, has all six of her titles etched on her gravestone at Pierce Brothers Westwood Memorial Park. Robert Bloch, the Hugo Award-winning author of "Psycho," is in a crypt there ornamented with the spine of a book that reads "1917-1994 — Complete."
Not far away, there's a wedge of stone that reads simply "Ray Bradbury — 1920-2012 — Author of Fahrenheit 451."
To get to the more ornamental marker for MacArthur "genius" grant-winning science fiction writer Octavia Butler, you'll have to travel to Mountain View Cemetery and Mausoleum in Altadena. Or you might use the Internet — almost any grave can be visited virtually at the crowd-sourced website FindaGrave.com.
Which is good, because some of the authors you might hope to find in L.A. aren't here at all. Thomas Mann settled in Pacific Palisades after fleeing the Nazis, then turned around and went back to Europe. F. Scott Fitzgerald died in Hollywood — in his mistress' apartment — but his body was shipped to Maryland. Raymond Chandler, whose detective novels are closely identified with L.A., is buried in San Diego.
One author whose work has been largely forgotten — and is ripe for rediscovery — is Lion Feuchtwanger. The name doesn't quite roll off the tongue, but in 1930 Feuchtwanger was said to be the most widely read German author in the world. Unfortunately, the novelist was Jewish; his cultural prominence made him one of Adolf Hitler's targets. After a dangerous decade in Europe, Feuchtwanger made it to America; he soon helped Bertolt Brecht get out too. Feuchtwanger was a key figure in Los Angeles' community of German expatriate intellectuals and is buried with his wife, Marta.
Arriving in Los Angeles from the Ivy League East Coast decades later, Paul Monette wrote a different literature of displacement. In 1992, Monette won the National Book Award for his memoir "Becoming a Man — Half a Life Story" and became the first author living with AIDS to win the prize. Just weeks before he died, Monette, who wrote 15 books and is buried at Forest Lawn Hollywood Hills, told The Times, "I want my life to matter." He expressed what all authors wish for: "I want my work to survive me."
Of them all — imposing mystery writers, prizewinners, fabulists, bestselling writers Sidney Sheldon, Bebe Moore Campbell and Irving Wallace — the most surprising author of all to be have made a final resting place in Los Angeles is probably Truman Capote, who was born in New Orleans, raised in Alabama and made his home in New York.
Capote died in 1984 at Joanne Carson's Bel-Air home — his ashes were split between her and Capote's partner, Jack Dunphy. Four years later, after Carson's share was briefly ash-napped from her home; the occasion was, of all things, a Halloween party) she had them permanently ensconced in a crypt at Westwood Memorial Park. That (partial) resting place is where Angelenos can pay Capote tribute — perhaps by leaving a copy of his book "In Cold Blood."
Twitter: @paperhaus

---