Reporting from New York —
One day in the fall of 2015, Matthew Weiner was wandering a rarefied block on the Upper East Side when he saw a construction worker leering at an adolescent girl in a school uniform — "tall and slender and a little knock-kneed" — as she walked into a building under renovation.
"What I really notice," he says, remembering the event, "is him stare at her in a way that really just makes me sick. " Now he's tucked into a booth in the velvety bunker of the restaurant at the Carlyle Hotel, near where he witnessed the troubling encounter. "As I was walking around the corner, I just thought, what if her dad saw that?"
That carnal glance inspired "Heather, the Totality," the first work of fiction published by the man best known for creating the Emmy-winning television sensation "Mad Men." The slim novel, written from the perspective of multiple characters, is a taut tale of obsession involving an affluent Manhattan couple, their beloved daughter and a disturbed young man.
While the novel's contemporary timeline and sparse dialogue mark a departure from "Mad Men," its New York setting and exploration of class, marriage and the perils of success will be familiar to viewers of the drama, which followed 1960s ad man Don Draper.
The thing I was making was the thing — not the blueprint of the thing.
When Weiner wrapped post-production on the series in December 2014, he followed the advice of friends and spent several months "refilling the tank." The 52-year-old wore his robe a lot and read, for the first time, Alice Munro and Haruki Murakami. He caught up on TV and re-watched "Angels in America," a favorite because "there's just no rules in that thing."
He even took a break from his long-held habit of jotting down ideas and overheard conversations in a notebook, then gradually tried to start again — a painful process, it turns out. "My ear wasn't there," Weiner says. One day, he scrawled a note in frustration: "So much coming in, nothing coming out."
People kept asking him the same thing: "What's next?" Even his children (Weiner and his wife, Linda Brettler, have four sons) would pose the question in jest, and Weiner would play along. "Well, I'm probably going to go downstairs and make some coffee," he'd say. Then he talked to his friend, the novelist A.M. Homes, who suggested he apply to Yaddo, the famed artists' retreat in upstate New York, to figure out how he'd follow the groundbreaking success of "Mad Men."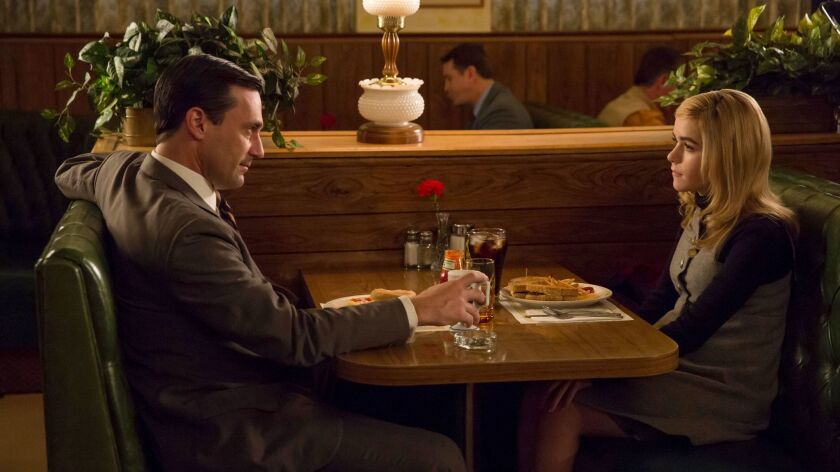 He was on a pit stop en route to Yaddo when he witnessed the schoolgirl and the ogling worker. That week he also saw "Hamilton" and "Fun Home" on Broadway, and read correspondence between Hemingway and Fitzgerald at the Morgan Library — "indisputably inspiring stuff," he remembers. A few days later at Yaddo, "It comes to me that I'm going to do a story about this moment, and I started going backwards: Ok, who is the girl? Who are her parents? Why are they in this neighborhood?"
The resulting story shifts perspectives between Mark and Karen Breakstone, who live in a luxury apartment near Central Park with their daughter, Heather, who is intelligent, empathetic and, from infancy, "so beautiful that … she would inevitably become the center of attention in a park or a store." Early in the narrative, Weiner introduces another character, Bobby Klasky, raised by a drug-addicted single mom, setting up what will be an inevitable collision between their worlds. As he puts it; "You know that these three people are hurtling towards each other."
With an omniscient narrator, "Heather, the Totality" also features very little dialogue — a surprising choice, perhaps, for someone who's spent much of the last two decades writing lines for actors to deliver. But it was a conscious decision to make the few lines of dialogue "really huge," he says. Besides, "When you write a conversation, it's open to interpretation. I didn't want it to be up for debate."
It's tempting to view this last admission in light of "Mad Men," a show that was endlessly dissected by a cottage industry of recappers and faced both ecstatic praise and harsh criticism. Weiner concedes that he "wanted to escape what I had been doing on some level."
The beauty of writing "Heather, the Totality" was that he never had to worry about budget, casting or location. "The thing I was making was the thing — not the blueprint of the thing," he says. "If we want to go back and meet Mark's parents in a flashback, that could cost a fortune in a movie. They go to Paris for one sentence. It's free!"
Often praised for its novelistic style, "Mad Men" was also dense with literary allusions — Frank O'Hara, Mary McCarthy, D.H. Lawrence. Weiner, who grew up in a family where books were revered and TV-watching was strictly limited, has cited John Cheever as a major influence on the series.
While he'd written some poetry, his earlier attempts at fiction had petered out. "I've always wanted to do it and admired it, and maybe it is the highest form in some way," he says. Years in the writers rooms of shows including "The Sopranos" and "Becker" gave him a better understanding of how to see a narrative through to its resolution, Weiner says. "Once you're doing 22 stories a year, you're starting to understand what a story is."
Chatty and digressive — an observation about the physical intimacy of books somehow leads to a defense of "Mad Men's" feminist credentials and thoughts about the Orwellian tendencies of the Trump administration — Weiner possesses a restless intellect and voracious sense of curiosity. He also seems to delight in new artistic challenges, directing the comedic feature "Are You Here" in between seasons of "Mad Men," and a pivotal episode of the prison drama "Orange Is the New Black" last year. He's immersed in writing and directing the upcoming eight-episode anthology series "The Romanoffs" for Amazon Studios. (The long hours, he says, are part of why he's looking so trim.)
Weiner is guided by advice once given to him by Larry Gelbart, the late "MASH" writer: "Don't do anything for money, don't do anything that you've done before and don't do anything that's boring. And you will know if you're bored that you're doing it for money."
Rather than bored, Weiner seems energized — giddy, even — by the process of writing "Heather, the Totality." With a grin, he says, "18-year-old Matt can't believe there's a novel."
---