Review: China Mieville's 'The Last Days of New Paris' makes the surreal real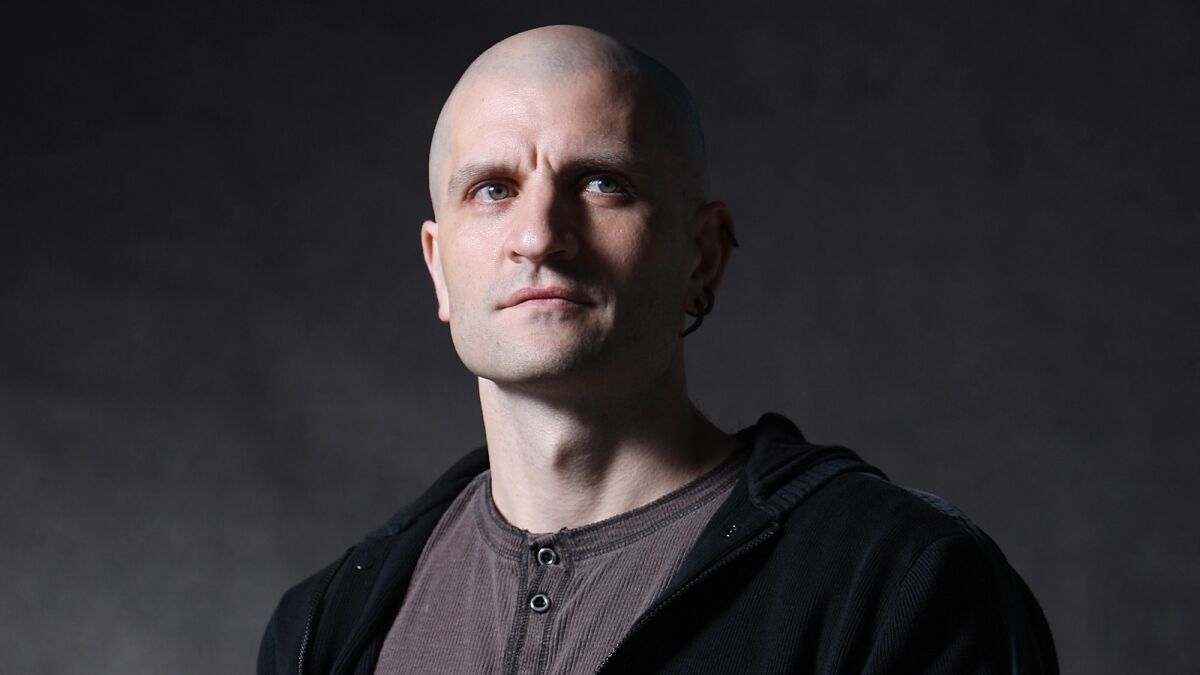 The word "surreal" often serves as a catchall term to describe anything strange. Whether it's used in reference to the paintings of Salvador Dali, the movies of David Lynch, or just a feeling of déjà vu, surrealism has become a cliché. But what if the world itself was surreal — if surrealism was not an exception, but a rule? How would you describe it?
That's the challenge China Miéville sets for himself in "The Last Days of New Paris," an alternative-history novel about World War II. In previous books Miéville, one of the most decorated authors of contemporary science fiction and fantasy, has tackled specific subgenres — urban steampunk, legendary monster, space romance — as well as more conventional sci-fi. Here he takes on alt-history, albeit with his own weird twist.
The year is 1950, and France is still occupied by Germany. In addition to Nazis and resistance groups, the city is populated by mysterious "manifs," or "manifestations," surrealist artworks come to life. There is a rider-less bicycle called the "Velo" with the figurehead of a woman, her "pupil-less eyes the same color as her skin"; a giant plant bearing "fruit the size of human heads" that rises from the ground to ensnare passing aircraft; a tall knight that walks on "a pair of women's high-heeled feet."
Unable to defeat or control the manifs, the Nazis have opted to seal off Paris from the rest of the world. But that doesn't mean there's no way in or out, either for desperate Parisians looking to escape, or for international adventurers trying to get in.
A rider-less bicycle called the "Velo" has the figurehead of a woman, her "pupil-less eyes the same color as her skin."
— From China Mieville's "The Last Days of New Paris"
Miéville divides the narrative between 1950 and 1941, when a group of refugee artists gather at the home of Varian Fry in Marseille. Like most of the characters in the book, Fry is based on a real person — in this case an American journalist who helped thousands of refugees escape from Vichy France. Only here, his salon allows a scientist and occultist named Jack Parsons to capture the artists' creative power in a battery, which, he believes, can be used to re-create the legendary Golem of Prague. Instead, through an unintended sequence of events, the battery sets off the "S-Blast," an explosion of surrealistic energy in Paris.
Nine years later a young man named Thibaut roams the ruined city, his parents and friends already dead. A follower of the surrealist movement since before the war, Thibaut joined a surrealist resistance group called "Main à plume" (based on a real group that took its name from a Rimbaud poem), only to see his comrades die at the hands of unscrupulous treasure hunters. Now he plans to leave the city for good, and to escape from its ongoing nightmare.
In the meantime, the Nazis have been trying to create and control their own manifs, with increasing success. They have also made the leap between surrealism and the occult, and have employed a renegade priest who has succeeded in summoning demons to aid the Nazi cause. Worst of all, they are trying to create a super-manif — or perhaps a demon — against which resistance will be futile.
Thibaut has heard only vague rumors of the Nazis' plan until he runs into Sam, an American photographer documenting the city for posterity. After saving her from a pack of sentient wolf-tables, Thibaut teams up with her and an "exquisite corpse" manif, come to life from a drawing by Andre Breton, Jacqueline Lamba and Yves Tanguy, which follows them around obediently. Together the trio sets out to uncover the Nazi scheme, and to thwart it as best they can.
This is a fun scenario, and Miéville grounds his story in an intricate web of real world references, which are explained at length in endnotes. But as a work of fiction the novel remains flat. We follow Thibaut and Sam through the maze of Miéville's plot, yet we never learn much about them, or are inspired to care about their fate. The narrative proceeds artificially from crisis to crisis, without an impression of cause and effect. It often seems that things happen just so Miéville can show off another bit of art historical lore.
Like Miéville's other books, "The Last Days of New Paris" draws on the world of role-playing games. In her quest to photograph all of the manifs Sam says that she wants to "catch them all," which sounds like a prescient reference to the newly repopularized Pokémon. Thibaut finds a card depicting the psychic Hélène Smith, which he "plays" to cataclysmic effect. The penultimate scene with the Nazi super-demon feels like the boss character at the end of an old school arcade game. While such narrative techniques may work well for video games, however, in a novel they seem contrived.
The biggest problem with "The Last Days of New Paris" is that for a book about surrealism, it fails to feel surreal. One of Miéville's literary models seems to be "Roadside Picnic," a sci-fi novel by the Russian writers Boris and Arkady Strugatsky. Like Miéville's Paris, "Roadside Picnic" is about a closed zone — in this case the site of an alien visitation — where inexplicable phenomena proliferate, and where treasure hunters risk their lives to extract valuable artifacts. But whereas the Strugatskys managed to evoke a genuine feeling of the uncanny, Miéville's novel reads like an educational tool. Though his prose is elegant and precise, it serves didactic ends.
The most surrealistic part of the book is an afterword, in which Miéville describes how he was told the story of "new Paris" by an elderly man at an old hotel. After a meeting lasting some 39 hours, he comes to believe that the man is Thibaut himself, and undertakes to write down the story that the reader has just read. Though presented as fact, it's apparent that this too is part of the fiction, and has some of the strangeness that the main narrative lacks.
But for the most part, "The Last Days of New Paris" comes across as an elaborate thought experiment, rather than a compelling fiction. At one point Miéville writes of the manifs that they produce a "stir of recognition" even when they're "something inconceivable… never previously seen." That's a good description of surrealist art, and of what this book fails to do. There are plenty of strange details here, but nothing truly surreal.
Ezra Glinter is a freelance writer and critic. His work has appeared in the New Republic, the Paris Review and the Boston Globe, among other publications.
::
China Miéville
Del Rey: 224 pp., $25
A talk with Neil Gaiman about his 'View from the Cheap Seats'
'The Fireman' may be the best apocalyptic read of the year, if you can stand the heat
Charlie Jane Anders' 'All the Birds in the Sky' has the hallmarks of an instant sci-fi classic
Get the latest news, events and more from the Los Angeles Times Book Club, and help us get L.A. reading and talking.
You may occasionally receive promotional content from the Los Angeles Times.