New spring nonfiction dips into social issues and politics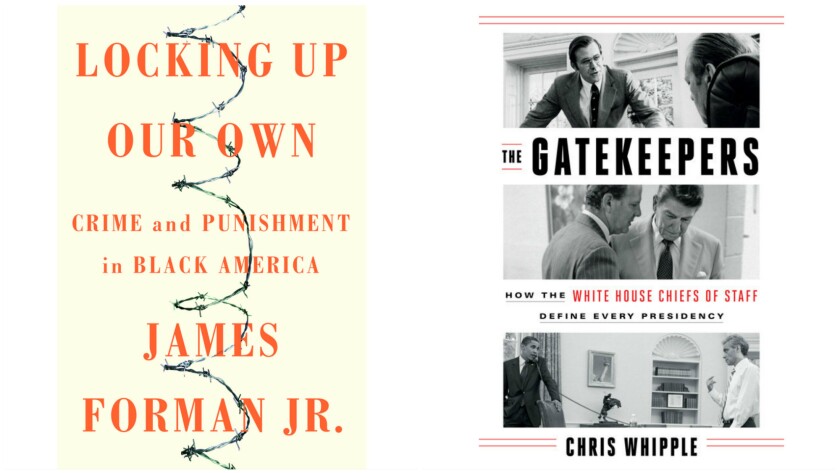 Some great nonfiction for spring about race, politics, adversity and ambition:
"Locking Up Our Own: Crime and Punishment in Black America" by James Forman Jr.
James Foreman Jr. — a Yale Law School professor and one-time public defender in Washington, D.C. — is a child of the civil rights movement. His parents met on the front lines of the Student Non-Violent Coordinating Committee and his father became one of the movement's most prominent leaders. While Foreman appreciates what was accomplished in that era, his new book focuses on what was left undone. "The nation's prison population was growing darker," he writes. "In 1954, the year of Brown v. Board of Education, about one-third of the nation's prisoners were black." Four decades later, that number approached 50%. Foreman digs down deep on the racial politics of crime and punishment in Washington, D.C., and notes a stark reality: A large percentage of the lawmakers writing the gun and drug laws, which locked so many black youth away, and the police, prosecutors and judges enforcing them, were themselves black. In this important book, Foreman takes on the fundamental question: "What was going on? How did a majority-black jurisdiction end up incarcerating so many of its own?" (Farrar, Straus and Giroux: 320 pp., $27)
"A Colony in a Nation" by Chris Hayes
In this smart history, the host of MSNBC's "All In With Chris Hayes" twists an old Richard Nixon phrase and provides a new perspective to the fight for social justice. His last book, "Twilight of the Elites: America After Meritocracy," was about the implosion of powerful American institutions; now Hayes takes on criminal justice, focusing on America, the nation with the world's highest incarceration rate. He draws from his own personal experiences — he was caught with marijuana, for instance, with no consequences — and blends them with the political commentary and social analysis for which he is known on his popular television show. Hayes argues that America can be divided into two parts: the "Nation," the affluent, white elite, and the "Colony," largely urban, overwhelmingly black, brown and poor, with an increasing number of poor white people mixed in, who lead lives of discrimination and subjugation. (W.W. Norton: 256 pp., $26.95)
"Double-Bind: Women on Ambition" by Robin Romm
Between Leaning In, Pussy Hats and Fearless Girl, it might seem as though women are confidently forging ahead with no underlying apprehensions of seeming "aggressive" or "strident." But tap into the psyches of individual women and ambition is a vexed notion. Romm's provocative and fascinating essay collection points to a perpetual "double-bind" of "success paired eternally with scrutiny and retreat." Readers will be spared essays by CEOs on the joys of breastfeeding or dressing for success. Instead, this wise and satisfying collection explores a variety of aspects of ambition, with advice on how to embrace it with confidence. Romm, a fiction writer, memoirist and teacher, has marshaled an intellectually wide-ranging contributors roster. Roxane Gay and Cristina Henriquez reflect on their experiences being ambitious women of color. Lan Samantha Chang, director of the famed Iowa Writers' Workshop, recounts how she and her sisters "were launched into our American lives on the rocket fuel of my parents' hope and desperation." And actress and fiction writer Molly Ringwald writes of asking her 12-year-old daughter what her biggest ambition was. She replied: "'Not to stress about ambition. . . . I just want to be happy.'" Maybe, Ringwald muses, this new generation is on to something. (Liveright: 320 pp., $27.95)
"Option B: Facing Adversity, Building Resilience, and Finding Joy" by Sheryl Sandberg and Adam Grant
"Grief is a demanding companion," Sheryl Sandberg reflects in "Option B," written after the sudden death of her husband, the father of her two children. "Simmering, lingering, festering. Then like a wave, it would rise up and pulse through me, as if it were going to tear my heart right out of my body." Sandberg, the COO of Facebook and author of the bestseller "Lean In," has teamed up with Adam Grant, a Wharton professor of psychology and author. Together they have written a book that transcends the how-to shelf and grief shelves. "Option B" combines Sandberg's personal experience and Grant's research on surviving tragedy and resilience to create a book "about the capacity of the human spirit to persevere." The book discusses, in Sandberg's brassy voice, how to regain confidence, speak about tragedy, comfort suffering friends and rediscover joy. (Knopf: 240 pp., $25.95)
"The Gatekeepers: How the White House Chiefs of Staff Define Every Presidency" by Chris Whipple
The chief of staff is the power in front of the throne — controlling which people and what information reaches the president. The influence of the position began during the Nixon administration, when H.R. Haldeman established the protocols that still prevail today. In "The Gatekeepers" Whipple, a Peabody- and Emmy Award-winning documentary filmmaker, chronicles how the role has shifted in the last half-century, and what it has meant for the successes and failures of each administration. Moving beyond the written historical record, Whipple interviewed living chiefs of staff, and their insights make "The Gatekeepers" an unusually candid and illuminating study of presidential power. (Crown: 384 pp., $28)
Already a subscriber? Thank you for your support. If you are not, please consider subscribing today. Get full access to our signature journalism for just 99 cents for the first four weeks.
---
Get the latest news, events and more from the Los Angeles Times Book Club, and help us get L.A. reading and talking.
You may occasionally receive promotional content from the Los Angeles Times.