Percival Everett's 'So Much Blue' takes on art and secrets — and he doesn't have the broad audience his writing deserves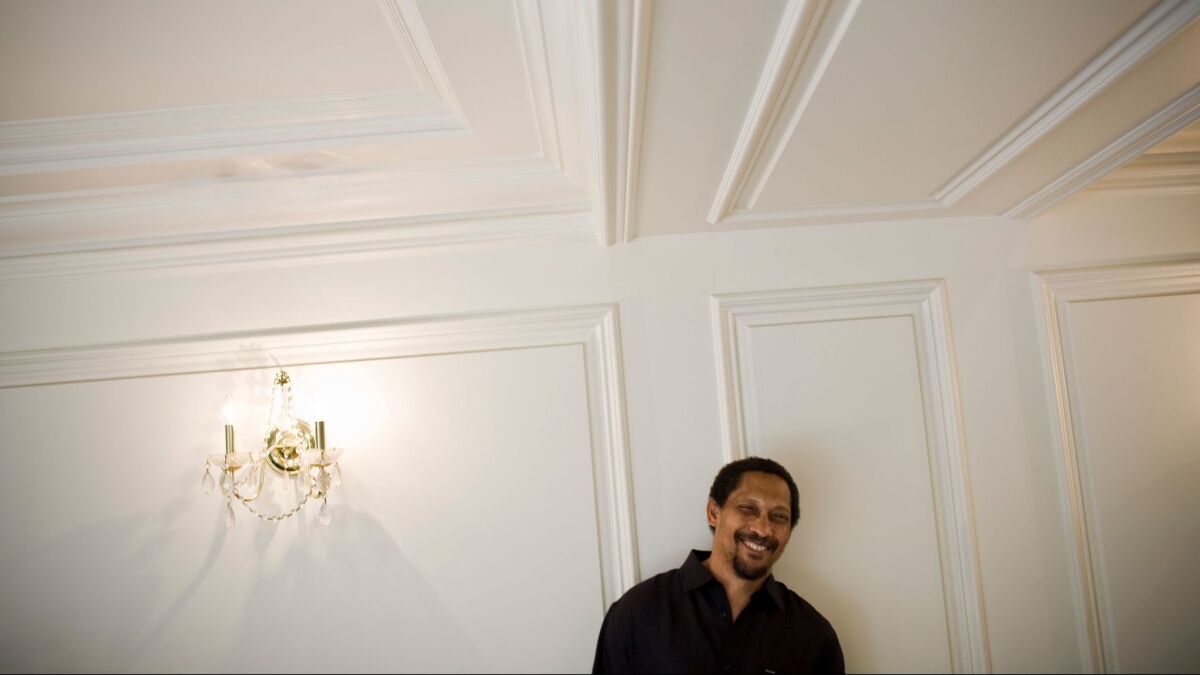 When we meet Kevin Pace, the protagonist/narrator of Percival Everett's new novel, "So Much Blue," he's 56 years old and has found the space and medium for fashioning himself finally. Since the bulk of this kind of measuring happens in the "unassailable privacy of the soul," as James Baldwin names it in "No Name in the Street," we might think of Everett's novel as Pace's memoir or confession. Everett's complex exposition offers Pace's private self, his secret self, to us through three interlaced narratives that telescope Pace's present, his near past and distant past: "House," "Paris and "1979," respectively.
In May 1979, while graduate students at the University of Pennsylvania, Pace, a painter, and his best friend, Richard, a medievalist, travel to Central America. They leave their Philadelphia digs in search of Tad, Richard's drug-addled drug-dealing brother. They track him down in El Salvador, then on the brink of civil war. What Pace experiences on that trip rearranges him existentially. Though ambivalent about his relationship with his girlfriend, Linda, Pace is so troubled that he proposes marriage, hoping it will save him from the unspeakable traumas that breach his sleep.
I married Linda. She was happy. I was content. We set about life. Years passed and my arrested development stalled our having children. But all of us finally develop and I did too and so we did have children. I loved both my daughter and my son. I felt normal. I felt safe. But the dreams persisted. I drank too much on occasion but was always excused, disappeared on occasion but was forgiven.
In the late 1990s, while helping his gallerist in Paris launch an exhibition of his works, Pace — 46 years old, on-the-wagon, a successful abstract painter and studio art professor at Rhode Island School of Design — "disappears" into a three-week affair with Victoire, a young French watercolorist. Planning all along to return to Linda and their children, Pace's new romance offers him psychological release, the freedom to reveal the secret self he cannot at home. Back in Rhode Island, both missing his 22-year-old lover and acknowledging that his affair is a cliché, Pace feels "different" enough to initiate a large-scale, autobiographical painting that some call his "masterpiece" even though he keeps the piece hidden from view.
No one else has seen the painting and it has a name that he keeps secret, Pace hopes that what's emerging from the blues is a legible portrait of himself.
This intricately structured novel opens 30 years after the Salvadoran expedition and a decade beyond Pace's Parisian peccadillo. The middle-aged Pace wants little else than to tuck himself away in his private backyard art studio, an outbuilding designed specifically for his still in-process painting. No one can enter Pace's workspace, neither his family members nor Richard. Nailed along one studio wall, Pace has stretched a canvas "twelve feet high and twenty-one feet and three inches across." "This is my painting," Pace explains, "colors on raw linen." Working with powders and linseed oil, Pace mixes a pallet of blues — "phthalo blue, Prussian mixed with indigo…. cerulean blending into cobalt" — for his abstract image, a painting large enough to reckon all secrets about El Salvador, Paris, family life and himself. His narrating and painting are not nostalgia driven. Rather, out of the chaos of his experience, he's arranging an abstract form that allows him to weigh his personal history privately and identify himself in the present. Though no one else has seen the painting and it has a name that he keeps secret, Pace hopes that what's emerging from the blues is a legible portrait of himself.
While my synopsis makes "So Much Blue" seem linear, Pace's storytelling is more like a three-suit deck of cards shuffled so that a card from each suit appears alternately, each card its own short story. With 25 books of fiction and poetry to his name, Everett doesn't have the broad audience his writing deserves. Nonetheless, among his fans, he has a reputation for writing humorous, philosophical, innovative and formally challenging works such as "Erasure" (2000), "I Am Not Sidney Poitier" (2009) and "Percival Everett by Virgil Russell" (2013).
In "So Much Blue," two sections ("1979" and "Paris") have progressive plotlines arcing toward revealed secrets. But "House" has no plot and shifts into its own past in order to illuminate a new secret animating the Pace family's present. Writing in straightforward, seemingly effortless prose, Everett puts these secrets in conversation. He creates suspense by subtly withholding information.
Everett has done this before; it worked in "Assumption" (2011), with the protagonist, a sheriff, trying to solve a murder mystery. It's harder to pull this off with Pace, who we expect, as narrator, to have control of the story he's telling and its meaning. The crosstalk and suspense Everett creates switching among "So Much Blue's" narrative tracks delays both revelations of the secrets and how they explain each other. Pace must first earn control of each short narrative burst before he can learn the truths they hold collectively. Though I don't think that the short story form accentuates the breadth of Everett's talents, he has carried over from the best pieces in "Half an Inch of Water" (2015) his skill for brisk character construction and for making character motivation rise from scene and action.
Writing in straightforward, seemingly effortless prose, Everett puts these secrets in conversation. He creates suspense by subtly withholding information.
In "Salvador" (1980), Joan Didion writes that when she first experienced demoralizing, humiliating fear in post-revolution El Salvador, she recognized "the exact mechanism of terror." Similarly, Pace must identify and narrate his terror in that country to launch his painting. Yet he wants to ward off any easy comparisons between painting and storytelling: "A painting has many surfaces. To say that a painting is like a story is a pedestrian utterance, not altogether untrue, but uninspired." He knows that "the shapes in the painting were unique element in unique situations .... organisms with volition and a desire for self-assertion." But he doesn't press these notions "beyond" his canvas because that would move him in contact with the world.
Though he means to keep the autobiographical painting to himself, Pace wonders if its purpose — a certain connective or explicating energy — might be lost. "Abstract as it was," the protagonist offers, "it was essentially a time line, simple as that, but time didn't move along it, there were no intervals, nothing changed, accelerated or stopped. The fact that it was secret served its secrets, my secrets, and suddenly I understood at least one rather simple perhaps obvious forehead-flattening truth, that a secret can exist only if its revelations, discovery, even betrayal is possible." Through his art, Pace earns an emotional intelligence that unburdens him from his secrets.
At first glance, "So Much Blue" seems to be Everett doing what he's known for: crafting a complicated, cerebral but funny narrative. Early in the novel, however, Pace recalls his grandfather's appraisal of one of his apprentice canvases:
It was medium-sized canvas, perhaps three by four feet, with lots of greens and blues, the colors applied beside each other in rough, quick strokes, a sphere of ocher and Indian yellow loosely mixed with white trying to erupt near the center. Stenciled across the bottom of the canvas in a fairly straight line was the word depiction in lowercase letters. My grandfather smiled at me, said, 'I like it. But Kevin, do any roads lead home from irony?'
This critique implicates both the massive canvas Pace is in the midst of creating and the novel itself. "So Much Blue" presents Everett, one of our culture's preeminent novelists, a nonpareil ironist-satirist, turning away from the familiar terrain of his recent fictions. On this new turf, however, a problem arises for the author: Though ironic art may not lead the protagonist home, irony is a basic component of the kind of self-critique that will. Yet this crucial element — necessary to the character's development and his realizations about secrets and art — is lost in the shuffle somewhat. Nonetheless, captivating and pleasurable, especially those pages devoted to El Salvador, "So Much Blue" is a "coming of middle-age" story worth gazing into.
Muyumba is writer and sits on the board of the National Book Critic Circle. He's a professor at Indiana University and is on Twitter @wmuyumba.
Percival Everett
Graywolf: 236 pp., $16 paper
---
Get the latest news, events and more from the Los Angeles Times Book Club, and help us get L.A. reading and talking.
You may occasionally receive promotional content from the Los Angeles Times.