Now Ann Coulter likes Donald Trump so much she's writing a book, 'In Trump We Trust'
Ann Coulter has never been one to shy away from controversy. The conservative author has urged America to bring back literacy tests and poll taxes for voters, referred to Muslims with a racist slur, and has suggested that soccer brings about "moral decay."
So on the one hand, it's not surprising that she's found her political soul mate in Donald Trump, the presumptive Republican nominee with a penchant for making controversial statements.
Coulter will release a new book praising the candidate, "In Trump We Trust: The New American Revolution," this summer, her publisher Sentinel announced.
See the most-read stories this hour >>
"In Trump We Trust" will be Coulter's 12th book. Her previous work includes "Godless: The Church of Liberalism," "Mugged: Racial Demagoguery from the Seventies to Obama" and "Adios, America: The Left's Plan to Turn Our Country Into a Third World Hellhole."
On the other hand, Coulter has criticized Trump in the past. In March, she told fellow conservative writer Milo Yiannopoulos that Trump was "mental," and suggested the candidate have electrodes applied to his genitals to shock him whenever he said something foolish.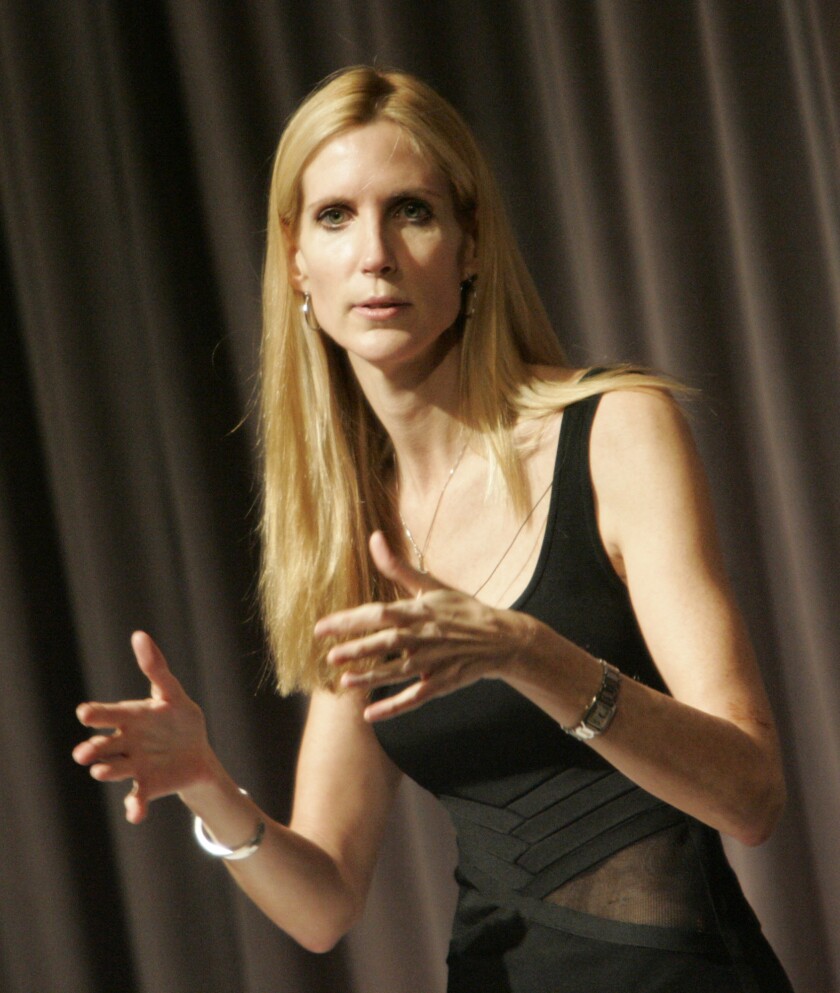 Coulter apparently jumped on the Trump train in April, when she praised the presidential candidate, saying he would help protect the U.S. from "Latin American rape culture."
Coulter's book is likely to be just one of many about Trump to be released in the coming months. Trump's own "Crippled America: How to Make America Great Again" is currently the No. 1 bestseller in Amazon's American national politics category. A book about Trump written by reporters at the Washington Post will be released on the same day as Coulter's book.
Comedian Michael Ian Black will release "A Child's First Book of Trump" about the candidate in July.
"In Trump We Trust" will follow; its publication date is Aug. 23.
Sentinel describes "In Trump We Trust" as a "short but powerful book" that "explains why conservatives, moderates, and even disgruntled Democrats should set aside their doubts and embrace Trump."
"If you're already a Trump fan, Ann Coulter will help you defend and promote your position," the publisher says. "If you're not, she might just change your mind."
ALSO
Remarks by Sanders — and Trump — indicate more turbulence ahead for Clinton's campaign
A white nationalist is among Donald Trump's pledged delegates in California
'Dump Trump' shirts initially banned by O.C. high school, later OK'd
---
Get the latest news, events and more from the Los Angeles Times Book Club, and help us get L.A. reading and talking.
You may occasionally receive promotional content from the Los Angeles Times.