Bill Clinton and James Patterson are writing a book together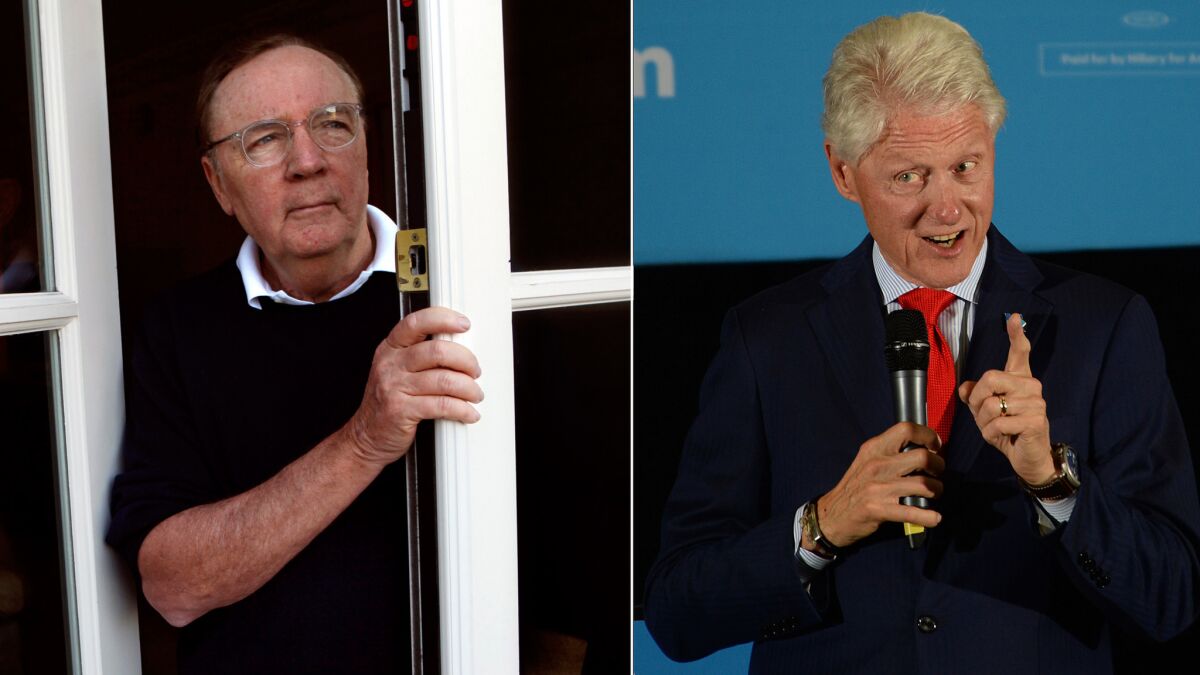 Meet James Patterson's newest co-author: former President Clinton.
Patterson and Clinton are co-writing a thriller titled "The President Is Missing," which is scheduled for release in June 2018. The book is about the disappearance of a sitting president.
The book will be published jointly by Alfred A. Knopf and Little, Brown and Co., Patterson's publisher. According to a news release from Knopf, the novel "will offer readers a unique amalgam of intrigue, suspense and behind-the-scenes global drama from the highest corridors of power."
"The President Is Missing" will be the first novel from Clinton, who has previously written or co-written five books, including the 1,008-page memoir "My Life" in 2004 and 2011's "Back to Work."
Patterson, who frequently appears on bestseller lists with more than one title at a time, is credited as the author or co-author of more than 150 books.
Clinton praised Patterson, best known for his thrillers featuring Washington detective Alex Cross.
"Working on a book about a sitting President — drawing on what I know about the job, life in the White House, and the way Washington works — has been a lot of fun," Clinton said in the news release. "And working with Jim has been terrific. I've been a fan of his for a very long time."
Patterson also had kind words for Clinton, and said the collaboration was the highlight of his career.
"I'm a story-teller, and President Clinton's insight has allowed us to tell a really interesting one," he said. "It's a rare combination — readers will be drawn to the suspense, of course, but they'll also be given an inside look into what it's like to be President."
Patterson, who frequently works with co-authors and recently published a book with his son Jack, has been actively exploring new avenues for books. He has penned books for middle-graders; launched Bookshots, a series of novella-style short, fast-read books; given more than 1 million dollars in grants to independent bookstores nationwide and set up a $1.75-million fund with Scholastic Books for school libraries across the country. In 2016, he was presented with The Times' Innovators Award at the Los Angeles Times Book Prizes. His books have sold hundreds of millions of copies.
Clinton will be Patterson's highest-profile co-author since former Fox News host Bill O'Reilly, who collaborated with the novelist on "Give Please a Chance," a 2016 children's book about the merits of politeness.
Patterson and Clinton plan to go on a book tour together after "The President Is Missing" is published next year, the release said.
Get the latest news, events and more from the Los Angeles Times Book Club, and help us get L.A. reading and talking.
You may occasionally receive promotional content from the Los Angeles Times.