James Patterson wants you to read. And you and you and you. He gets our Innovator's Award April 9.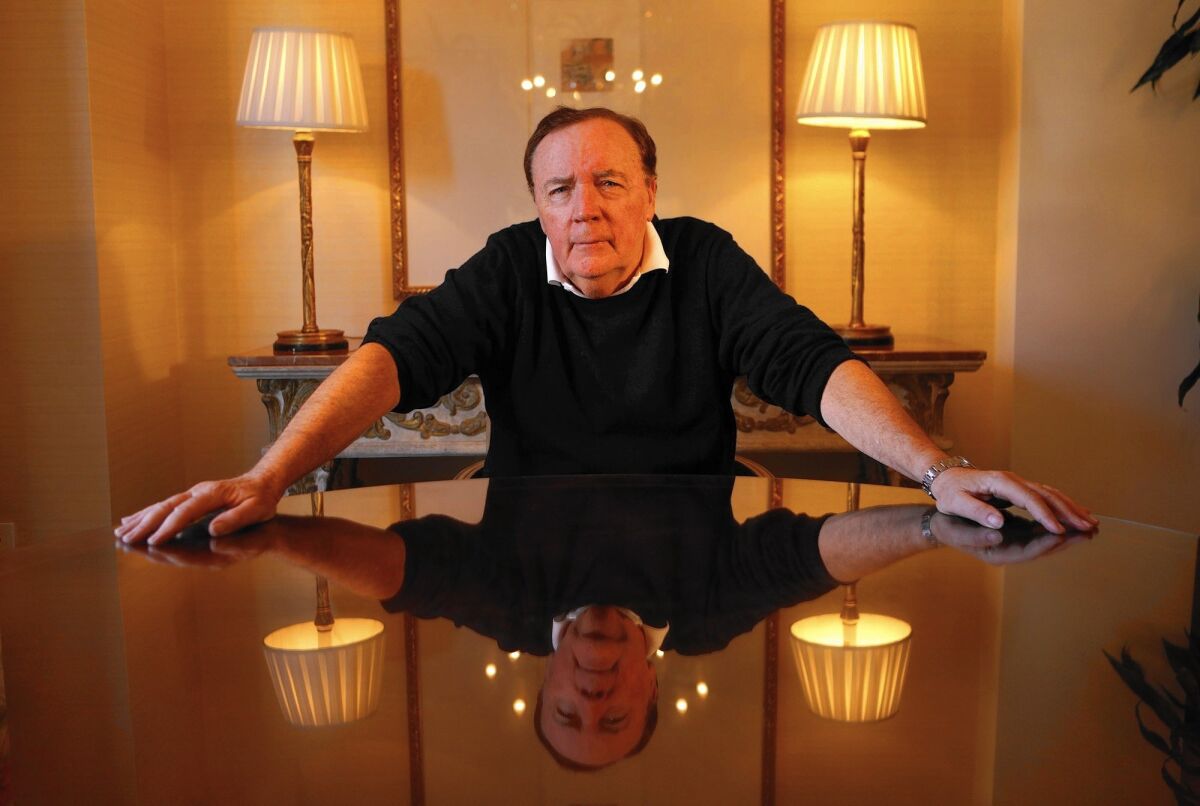 James Patterson, the bestselling writer made famous by his Alex Cross thrillers, has written or co-written 152 books and has sold, worldwide, more that 350 million copies — not just thrillers but also young adult and middle grade. While occasionally trading places with J.K. Rowling and Stephen King, Patterson consistently comes in as one of the top-earning writers in the world, according to Forbes.
It's his success as a writer that has allowed Patterson to pave wider avenues for books — both in his book publishing ventures and in philanthropy.
And it took him a little while to commit to being a writer. He published his first book, "The Thomas Berryman Number," in 1976 when he was working at the advertising firm J. Walter Thompson. He couldn't quite kick the ad habit — he stayed and rose to the top of the agency — but, he jokes, "I've been clean for 23 years now."
Patterson could have stuck to his winning model of writing thrillers for adults, but concern for his son Jack, when he was 8, prompted Patterson to think about kids and books.
"He wasn't a big reader," Patterson said during a phone call from his house in Palm Beach, Fla. "So we got him a dozen books — all the books we thought he was going to like, ranging from 'Percy Jackson' to 'A Wrinkle in Time' — and made him read every day for an entire summer."
It worked — from that summer on his son became an avid reader.
Patterson began writing books for children, and by 2015 he had decided to start his own children's line of middle-grade and YA books called Jimmy Patterson — the list includes the reprint of "Middle School: The Worst Years of My Life," written with Chris Tebbetts and which has been adapted to a movie to be released in October.
Author James Patterson makes a cameo in the upcoming film "Middle School," based on his book. 
He started a website called ReadKiddoRead, which helps teachers and librarians and features book reviews, author contributions and book giveaways.
Yet he hasn't forgotten about his adult readers. In March, Patterson announced a publishing venture called BookShots — short books of no more than 150 pages.
"Look around you, the world is going fast," Patterson explained. "A lot of people don't want to read books that are long. These books are inspired by the novella."
------------
FOR THE RECORD
March 31, 5:40 p.m.: An earlier version of this article quoted James Patterson as saying, "People don't want to read books that are long." It has been corrected with his complete quote. The article also stated that "By 2012, he had added to his body of work six young-adult novels." He had begun work on those books. The article also stated that Patterson would write "about half the BookShots." He will write or co-write all the BookShots, except the romances. The post also stated: "The next round of funds for school libraries will be announced late this year." The announcement was made March 30.
April 1, 9:30 a.m.: An earlier version of this article stated, "Patterson set up a fund of $1.75 million with Scholastic Books and disbursed the money to public libraries across the country." The fund is for school libraries.
------------
BookShots will be available in print and as e-books, priced at $4.99 for print and $3.99 as an e-book. The first BookShots title will be released June 7; one is timed to the presidential elections: "Trump v. Clinton."
Elmore Leonard was once asked at what point did he start becoming successful, Patterson recalls. Leonard responded, "When I left out the parts that people skimmed." These books follow that philosophy.
Patterson will write or co-write all the BookShots, save the romances. His strategy is to "get people reading who do not read as much."
It's the drive to get people — adults and kids — to read that inspired Patterson's many efforts to bolster the literary world.
In 2014, he gave $1 million to independent bookstores nationwide. "For the individual stores," Patterson explained, "the money is beneficial in terms of morale and to shine a light on the stores for publicity. It draws attention to the problem that you actually have to stop in the store — not just that your town has one."
The following year, he distributed $250,000 in holiday bonuses to bookstore employees. Each was nominated by peers or customers.
Also in 2015, Patterson set up a fund of $1.75 million with Scholastic Books and disbursed the money to school libraries across the country. It too had a nominating process for libraries in need.
"Within the first 10 days of the program we got 28,000 pleas for help from libraries," Patterson said. He realized that effort wasn't enough. "We're doing it again this year. We will help a couple thousand libraries — and in the process help draw attention to them from local governments."
The next round of funds for school libraries was announced March 30 (the deadline for applications to nominate a school is May 31; www.scholastic.com/pattersonpartnership).
He has also set up a program that awards scholarships to college students studying to be teachers at more than 20 colleges and universities, including those he and his wife had attended — Manhattan College, Vanderbilt and University of Wisconsin — with strict guidelines: "If you lose a kid in the program, you lose the scholarship," Patterson said.
For Patterson, the desire to support literacy came from his upbringing in Newburgh, N.Y., in the 1950s. "It's the way my family was," he said. "It was the way of small-town America. So I decided to focus on an area that I understood — let's get our kids reading."
Rotella is the author of "Stolen Figs" and "Amore: The Story of Italian American Song."
Patterson will receive the Los Angeles Times Book Prize's Innovator's Award on April 9.
Get the latest news, events and more from the Los Angeles Times Book Club, and help us get L.A. reading and talking.
You may occasionally receive promotional content from the Los Angeles Times.