Donald Trump's reading list: books on Hillary Clinton and Richard Nixon
It's a standard question for presidential candidates: What books have you been reading lately?
Most politicians have the answer in their back pocket, but it may have caught presumptive Republican presidential nominee Donald Trump off guard. He knew who the books were about, but he couldn't think of two of their titles.
In an interview with the Hollywood Reporter, Trump was asked the literary question by journalist Michael Wolff (who adds in a surprise aside that the real estate magnate didn't cite the Bible, a standard politician's response).
"I'm reading the Ed Klein book on Hillary Clinton," Trump answered, without specifying which one — Klein has written two, "The Truth About Hillary: What She Knew, When She Knew It, and How Far She'll Go to Become President" and "Unlikeable: The Problem with Hillary."
SIGN UP for the free Essential Arts & Culture newsletter >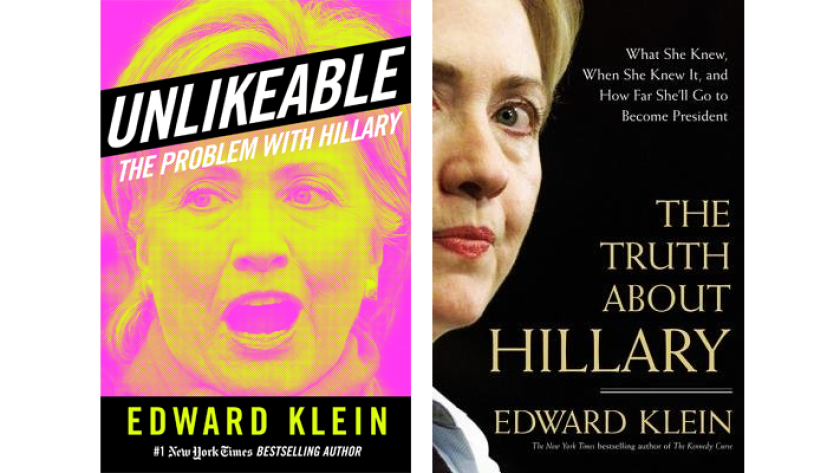 Trump then said that he's reading a book about Richard Nixon, but was unable to recall the title or author, telling Wolff, "[W]ell, I'll get you the exact information on it."
An Amazon book search for "Richard Nixon" turns up more than 13,000 results.
The candidate also said he's been revisiting a classic. "I'm reading a book that I've read before, it's one of my favorite books, 'All Quiet on the Western Front,' which is one of the greatest books of all time."
It's not the first time Trump has praised Erich Maria Remarque's World War I novel. In an interview with Megyn Kelly, Trump said that "All Quiet on the Western Front" was one of his favorite books. That time he did cite the Bible, in addition to one of his own books, "The Art of the Deal."
Hillary Clinton, the likely Democratic nominee for president, also discussed her reading habits recently.
In a story by Rebecca Traister in New York magazine, Clinton revealed a weakness for mystery novels, naming authors Jacqueline Winspear and Donna Leon as favorites.
"I've read so much over the course of my life that now I'm much more into easier things to read," Clinton told Traister. "I like a lot of women authors, novels about women, mysteries where a woman is the protagonist … It's relaxing."
On the campaign trail in the fall, Clinton said that Fyodor Dostoyevsky's "The Brothers Karamazov" is her favorite book; she has also praised authors Maya Angelou, Alice Munro and Barbara Kingsolver.
ALSO
David Mitchell has a new book, but you'll have to wait 98 years to read it
Lisa Lucas, head of the National Book Foundation, wants you to love reading
6 intriguing new nonfiction books
---
Get the latest news, events and more from the Los Angeles Times Book Club, and help us get L.A. reading and talking.
You may occasionally receive promotional content from the Los Angeles Times.