Earthquake preparedness for bookish types: Reading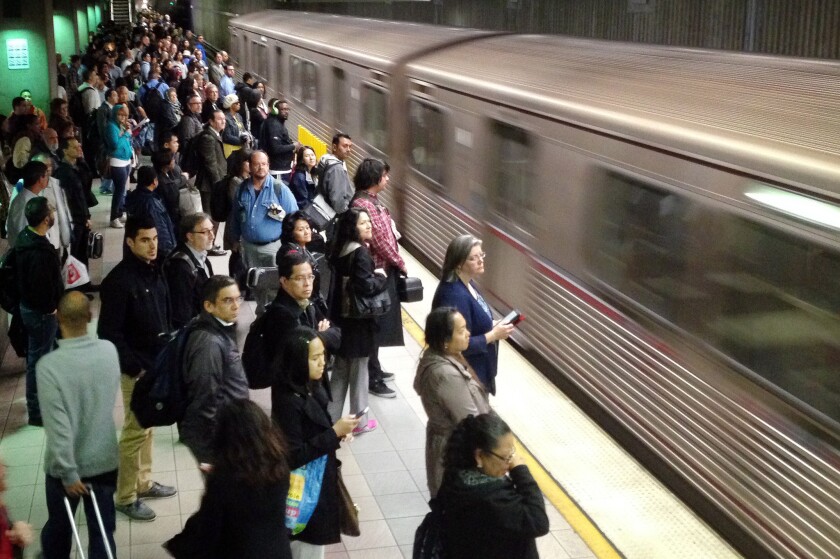 Many Angelenos were shaken awake at 6:25 a.m. Monday by a 4.4 magnitude earthquake centered north of Westwood. As earthquakes go, it wasn't really so bad: As of this writing, no major damage or injuries have been reported, water and power systems seem to be intact across the city, and, well, it was time to get up anyway.
It was literally a wake-up call for earthquake preparedness. We're all supposed to have earthquake kits stocked with water and canned goods and first-aid supplies, just in case.
Another way to prepare is to read up. Leaving the technical survival planning to the experts, we have some recommendations of nonfiction that asks as many questions as it answers, and fiction that incorporates earthquakes as drama and humor.
L.A. EARTHQUAKE: 4.4-magnitude temblor hits near Westwood
One of the best books about the cognitive dissonance of living in Los Angeles, a city built in an earthquake zone, is "The Myth of Solid Ground: Earthquakes, Prediction, and the Fault Line Between Reason and Faith" by Los Angeles Times book critic David L. Ulin.
Part research, part essay, Ulin explores the city and its underpinnings. He writes: "The first time I ever came [to Hollywood], I was stunned by this, by the way the reality so contradicted the illusion, the way the neighborhood -- the streets, the people, the very atmosphere -- was so completely antithetical to the myth. This, of course, is the story of Los Angeles, of California, the story of earthquakes and seismicity, as well. Everywhere I turn, there are overlays and underlays, narratives and threads and bits of inference, adding up to a chaotic landscape in which the deeper I look, the more complex all these interactions seem.... I considered again the leap of faith required to lay down roots in a seismic region, the way we must come to terms with our doubts, our fears, our most awful divinations, if we are to get on with the business of living at all."
FULL COVERAGE: Southern California earthquakes
Ulin, of course, is a colleague whose writing often appears here, and he has previously shared with us some of his favorite writing about earthquakes. Here is what he had to say about those specifically about Los Angeles:
Set in the late 1960s, in Hollywood, Rudolph Wurlitzer's 1974 novel "Quake" is a phantasmagoria that unfolds across the landscape of a broken city, in which narrative, never solid to begin with, has deserted the survivors of a massive earthquake. "It's going to be a long day," one man says to another amidst the wreckage of the Tropicana Motel. "But if we're not dead now we probably won't be. I'm hemorrhaging or something. I'll wait here. You forget me and I'll come after you. Everything is in my wallet. Room six. I got credit cards."
In the 1939 novel "Ask the Dust" by John Fante, generally regarded as a cornerstone of the Southern California literary canon, Fante describes the struggles of a young man named Arturo Bandini, based directly on himself. In one particularly memorable set piece, Bandini survives the 1933 Long Beach earthquake, which he interprets as divine retribution for his sins. "You did it, Arturo," he reflects. "This is the wrath of God. You did it.... Repent, repent before it's too late. I said a prayer but it was dust in my mouth. No prayers. But there would be some changes made in my life. There would be decency and gentleness from now on. This was the turning point."
Carey McWilliams wrote the essay "The Folklore of Earthquakes" in response to the Long Beach earthquake. It is a clear-eyed guide to what we might call earthquake myths and the powerful terror the shaking provokes. "On the basis of their reaction to the word earthquake," he writes, "Californians can be divided into three classes: first, the innocent late arrivals who have never felt an earthquake but who go about avowing to all and sundry that 'it must be fun'; next, those who have experienced a slight quake and should know better, but who none the less persist in propagating the fable that the San Francisco quake of 1906 was the only major upheaval the State has ever suffered; and, lastly, the victims of a real earthquake -- for example, the residents of San Francisco, Santa Barbara, or, more recently, Long Beach. To these last, the word is full of terror. They are supersensitive to the slightest rattles and jars, and move uneasily whenever a heavy truck passes along the highway."
Published in 1933, Myron Brinig's novel "The Flutter of an Eyelid" is the great modernist fantasy of Los Angeles (every city needs one), although it is essentially unread today. The book ends with a massive earthquake, in which the entire state of California breaks off from North America and crumbles into the Pacific, "Los Angeles toboggan[ing] with almost one continuous movement into the water, the shore cities going first, followed by the inland communities; the business streets, the buildings, the motion picture studios in Hollywood where actors became stark and pallid under their mustard-colored makeup."
In his 1990 monologue "Monster in a Box," Spalding Gray uses seismicity as a way to poke fun at Los Angeles and the city's much-criticized lack of street life, after he has come here from New York to work on a film. '[T]he whole neighborhood is buzzing," he tells us, describing the aftermath of an earthquake. "There's a whole grapevine of conversation. Suddenly everyone is out there, talking. They're all talking, talking, talking about the earthquake.... Then everyone stopped talking about the earthquake and went back to talking about their film scripts."
ALSO:
An optimistic solution to climate change in 'Soil Will Save Us'
Simon Schama's 'Story of the Jews' sets stage for an even darker tale
Chimamanda Ngozi Adichie among National Book Critics Award winners
---
Get the latest news, events and more from the Los Angeles Times Book Club, and help us get L.A. reading and talking.
You may occasionally receive promotional content from the Los Angeles Times.